via FIRST
True
There's no shortage of companies, governments and organizations around the world searching for talented workers with a deep knowledge of science, technology, engineering and math (STEM). The demand is providing a clear pathway to rewarding, world-changing and well-paying STEM careers for many young people.

However, some students are missing these incredible opportunities because they haven't envisioned themselves in STEM or encountered any mentors to show them a pathway for success.
FIRST is a global nonprofit that provides robotics-based programs and mentorship from adult volunteers such as educators and STEM professionals to students ages 4 to 18. FIRST is a mission-based robotics community that aims to get kids excited about STEM and allows them to build these talents, along with critical life skills such as communication and leadership, through team-based robotics competitions.
FIRST has a proven impact in guiding young people into STEM careers, all while having fun and making useful connections.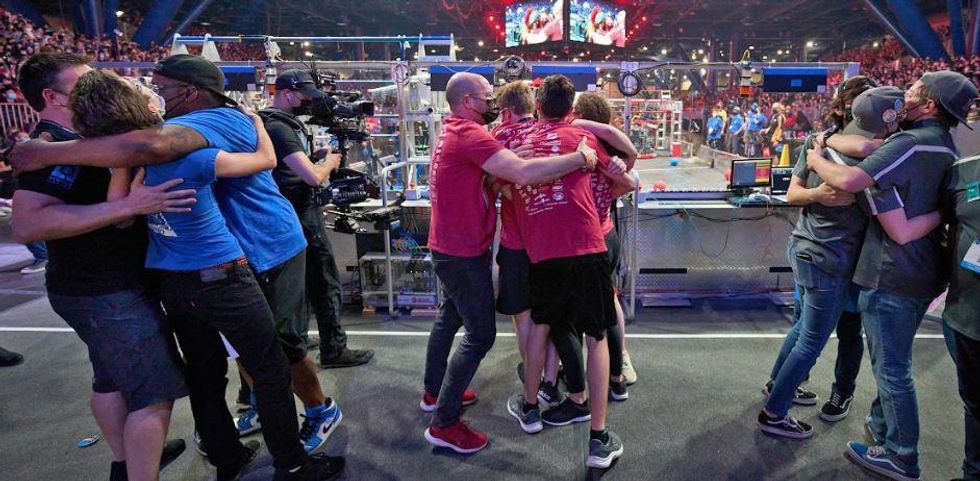 FIRST Championshipvia FIRST
Nearly 700,000 students and 320,000 adult mentors, coaches, judges and volunteers participate in the nonprofit community year over year, and the transformational power of FIRST programs was featured in the 2022 Disney+ documentary "More Than Robots." Students develop problem-solving skills and learn confidence, cooperation, empathy and resilience—skills that will serve them well in their future careers.
Fazlul "Fuzz" Zubair, systems engineering department manager at Raytheon Technologies, an American multinational aerospace and defense conglomerate, mentors FIRST Team 4201, The Vitruvian Bots, in Los Angeles.
Zubair has hired 15 Raytheon Technologies employees from his FIRST team, creating a FIRST-to-work pipeline. Better yet, many of the new employees then give back to FIRST by mentoring their own teams. Zubair's dedication to mentorship has created a cycle of positivity that continues to grow.
"Here, at FIRST, it's a sport where everyone can go pro. They can come out of this program, and they can get a good-paying job and contribute positively to society and solve the tough problems that we have," Zubair told Upworthy.
"Raytheon Technologies understands this, so it supports students in the program and its employees who mentor. Through FIRST, we've created a pipeline of people who already know how to collaborate with engineers and when they come into our companies, they have a head start," Zubair continued.
Wireless communications innovator Qualcomm Incorporated is another multinational company that supports FIRST. It has been hiring FIRST students because of their advanced skill sets since 2006.
"They're working on robots and learning things like coding and critical thinking, but they also have 21st-century skills like teamwork and the ability to collaborate with students that come from diverse backgrounds. Those are all things that are important in the workplace," Natalie Dusi, corporate social responsibility manager at Qualcomm Incorporated, told Upworthy.
As employees, FIRST students join the workforce with experience and vital collaboration skills. "They roll up their sleeves and start innovating right away. When FIRST students come into Qualcomm Incorporated, they are confident," she added.
Zubair says that FIRST students are valuable, in part because they understand that failure is part of learning and innovation.
"Learning through failure is something that's really hard to teach," he said. "You must go through that process. I like to tell my students all the time, 'I'd rather you fail on this robot than a billion-dollar satellite. Learn now, fail often, fail early.'"
For FIRST CEO Chris Moore, the opportunity to gain confidence in STEM is an important and deeply personal issue. When he was in middle school, a teacher dissuaded him from pursuing a career in technology and he believes it had lasting, negative effects on his career. "Even now, as someone with decades of experience leading youth-serving organizations, this STEM inferiority complex has stuck with me, and at times I still doubt my own STEM competency," he told Upworthy. "The reality is, STEM is achievable and rewarding for everyone, no matter their gender, age, race, economic standing orientation nor any other factor."
Statistics point to a high demand for STEM workers and a short supply, especially in the United States and especially among women, underserved, and underrepresented groups. FIRST provides young people from any background with the skills they need to succeed in their STEM studies and future careers. Notably, FIRST reached more than 20,300 youth in underserved communities during its 2019 season.
FIRST students are twice as likely to express interest in a STEM career than their peers.
FIRST understands the value of inspiring all students and does so by providing innovation grants to teams from underserved communities and developing strategic alliances with the Society of Hispanic Professional Engineers, National Society of Black Engineers and Girls, Inc., and other like-minded organizations.
One of the lasting impacts FIRST has on students is an understanding that no matter who they are or where they come from, they can solve the world's most pressing issues.
The theme for the 2022 – 2023 season is energy. Students will explore the essential role that energy plays in keeping the world moving forward, the possibilities that different energy sources unlock, and how we can all realize a brighter future through innovative ideas in energy generation, efficiency, and use.
Cooperation, empathy, and resilience are skills that last a lifetime and it's never too early for a child to enjoy their benefits. Learn more about FIRST programs in your area and how you can become involved!
Go to firstinspires.org to learn more.
Joy
Here kitty, kitty! Oh wait, there are 12 more of you?
Who can resist a sweet little kitten trying to cross the road? Even if you're not a fan of cats, you'd likely stop for a baby animal in the street. That's what happened to Robert Brantley of Louisiana. Brantley was on his way to work and spotted a tiny white and gray kitten trying to get across the street. Being a kind human, he stopped his car to bring the kitten to safety. But he got more than he bargained for, because as he was scooping up the little thing, several more kitty cat siblings came running out of the nearby grass.
In all, Brantley counted 13 kittens. Twelve more than he planned on caring for, but by the looks of his Instagram page, his family has taken their role of cat rescuers seriously. With kitten season being in full effect in these warmer months and pet surrenders remaining high since the return to work from the pandemic, Brantley taking on fostering 13 kittens is much needed. Humane societies across the country are reportedly full or even over capacity. My own local humane society currently has nearly 150 animals over its limit and is begging for foster families and adopters to help clear the shelter.
It's not only humane societies that have reached or exceeded capacity. Animal rescues across the board are in dire need of people to take animals to make room for the inevitable drop off of puppies and kittens from the current litter season. Mating season, which subsequently turns into puppy and kitten season, starts in early spring and lasts throughout the summer. This inundates local shelters and rescues.
Some shelters, like my local humane society, are asking people who find litters of puppies or kittens to do exactly what Brantley is doing. Foster them and attempt to adopt them out on their own. It looks like Brantley's wife decided to get these now cleaned up kitties in their Sunday best to have a photoshoot in her makeshift studio. One kitten sported a bow tie while the others climbed around the enclosure patiently awaiting their turn. It also seems Brantley himself is having fun with the situation—in one video he talks about what he packs to go on a marksmanship match and includes 13 kittens along with his tripod and toolkit.
In one of Brantley's most recent updates, he says that two of the kittens, Michael Scott and Nala, have been adopted by a family in Alexandria, Louisiana. In the same update he informs his followers that one of the kittens still left to be adopted is currently on daily medication and the family is keeping up with check-ups for the rest of the furry crew.
Here's hoping that all of these little guys get adopted out soon. And may more people take Brantley's lead to foster the kittens or puppies they find if they have the means. This can also serve as a reminder to spay and neuter your pets and any strays you may be caring for outside of your home.
Get stories worth sharing delivered to your inbox
Get stories worth sharing delivered to your inbox