Democracy
GOP Congressman refused to shake hands with police officer nearly killed in Capitol riot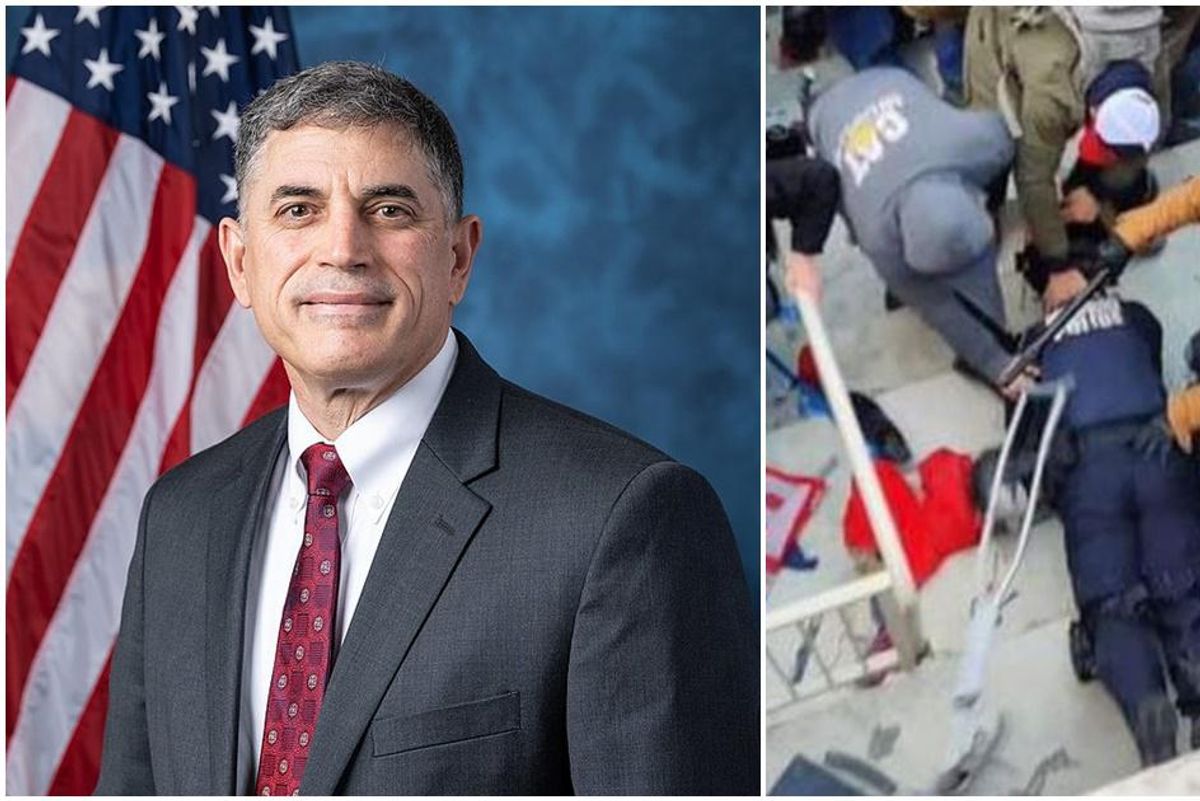 via Wikimedia Commons
On January 6, D.C. police officer Michael Fanone was nearly murdered when he rushed to the Capitol building to defend it from insurrectionists.

In what he describes as a "Medieval battle scene" his helmet was stolen from his head, he was thrown to the ground and then dragged down a set of stairs on his stomach. Rioters beat him with metal pipes and a pole with an American flag attached.
During the melee, he was hit with a stun gun multiple times while people chanted "USA! USA! USA!" During the assault, he suffered a mild heart attack and traumatic brain injury.
Since the riot, the 40-year-old father of four, who joined the police force after 9/11, has been speaking out against Republicans who've attempted to "whitewash" what happened.
---
On Tuesday, the House held a vote to honor all police officers who responded to the insurrection. Twenty-one Republicans voted against the measure, including Representative Andrew Clyde of Georgia.
Clyde once characterized the deadly riot as "a normal tourist visit." Fanone has a different opinion.
Clyde's characterization of the day's events quickly falls apart when one looks at photos taken from January 6 that show him in mortal terror in the House chamber.
Here's Republican representative Andrew Clyde absolutely terrified on January 6th and being defended by people whos… https://t.co/C5OmeJU3ca

— Seth Abramson (@Seth Abramson) 1623945568.0
Fanone and Capitol Police Officer Harry Dunn returned to the Capitol on Wednesday to meet up with the 21 Republicans who don't believe that the police who put their lives on the line to fight back against a deadly insurrection should be honored.

The two men saw Clyde in an elevator and jumped in to have a word with him.
"I simply extended my hand and said, "How are you doing today, Congressman.' I knew immediately he recognized me by the way he reacted. He completely froze. He just stared at me," Fanone said in an interview.
Fanone says that Clyde refused to shake his hand in return and said, "I don't know who you are."
"'I'm sorry, sir, my name is Michael Fanone," he said. "I'm a D.C. police officer and I fought to defend the Capitol on January 6." He then described the ordeal that he miraculously lived through.
"His response was nothing," Fanone said. "He turned away from me, pulled out his cellphone, and started thumbing through the apps." Fanone believes that Clyde was trying to record the interaction.
Then, as soon as the elevator door opened, Fanone says Clyde "ran as quickly as he could like a coward."
Listen to how @Rep_Clyde treated Capitol Police officer Michael Fanone. https://t.co/B83chkBaFC

— Mark Elliott (@Mark Elliott) 1623938888.0
Clyde's cowardice goes to show what lengths some Republicans will go to perpetuate the "Big Lie" that Trump won the election and to downplay the Capitol riot. Interestingly, Clyde tweeted out a message of support for the police last month where he says he "knows the risks brave officers face." But when it comes to honoring those who risked their lives during the January 6 riot, he'd rather please Donald Trump.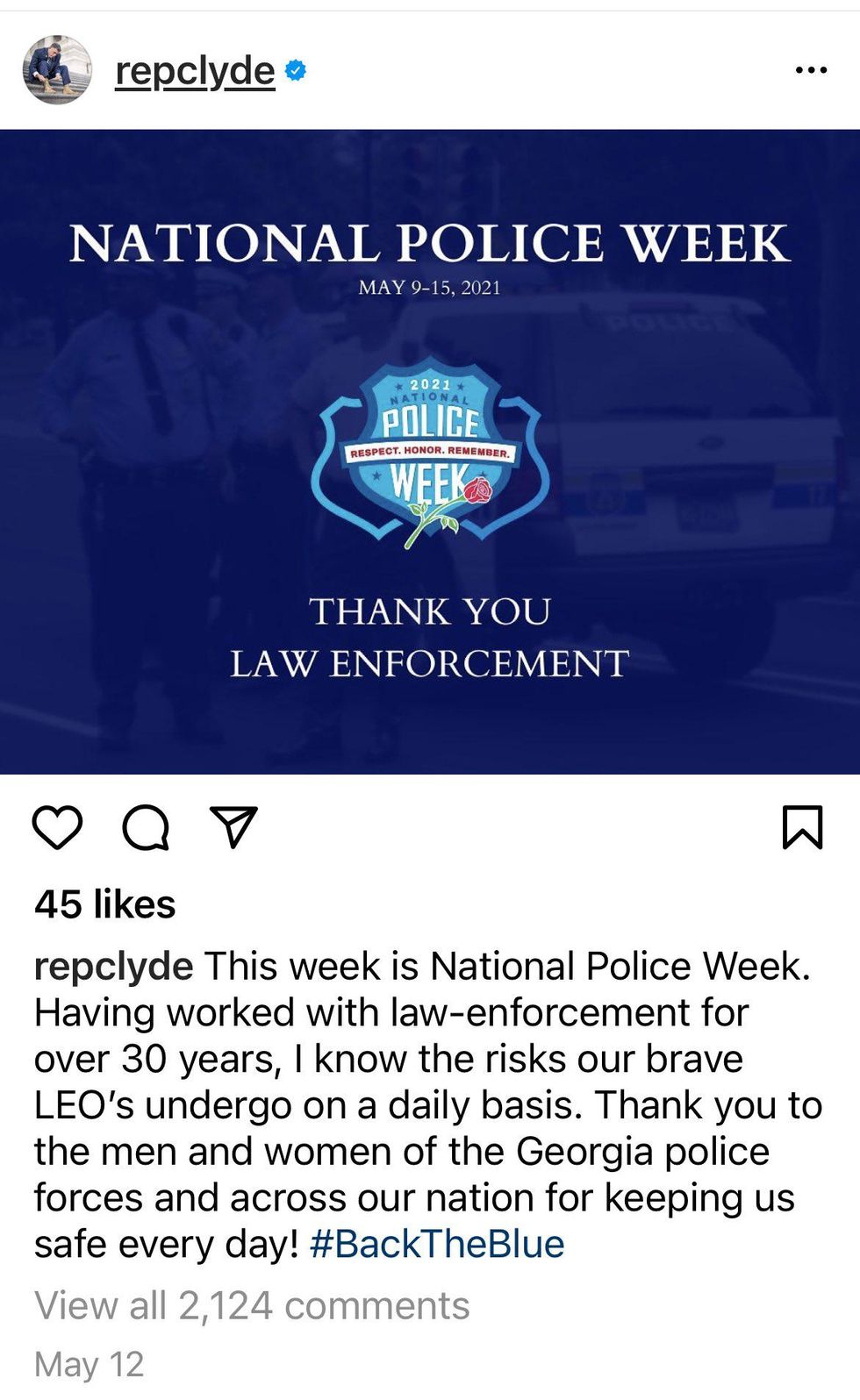 via RepClyde / Instagram
"Every now and again I think, we have to be at the bottom of how low we can get," Republican Representative Adam Kinzinger of Illinois told The Washington Post after the incident. "You don't have to admit you should have voted for [the Gold Medal] by shaking a guy's hand. The presence of these heroes can make some people uncomfortable."