More
This is your brain on drug policy.
Rachael Leigh Cook is back with the sequel to 1997's "your brain on drugs" PSA we didn't know we needed until now.
You might think that if she were going to bring back a famous character, she'd go for Laney Boggs from "She's All That" or maybe Josie from "Josie and the Pussycats," but this is even better (and honestly, much more important).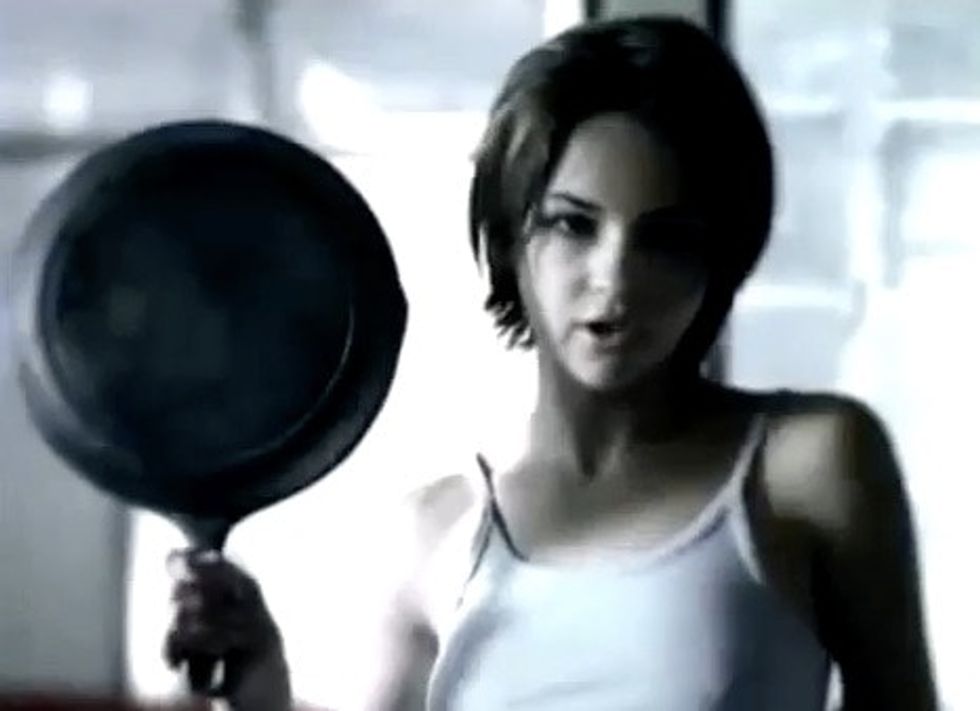 Cook in the 1997 PSA. Photo from Partnership for a Drug-Free America/YouTube.
<p>You might remember <a href="https://www.youtube.com/watch?v=dAHoxaphbEs" target="_blank">the original ad</a>, courtesy of the Partnership for a Drug-Free America, in which Cook smashes her way through a diner with a frying pan to illustrate all the ways that doing drugs will ruin your life. It was a powerful TV spot with an effective message:<em> Use drugs at your own peril! </em></p><p>But there's one issue: The original ad left out some important details about <em>who </em>is affected by the War on Drugs, <em>what</em> effect it actually had, and <em>why </em>we need to put an end to it.</p><h2>In the new PSA, Cook again picks up a frying pan, this time to lay out a solid case for putting an end to the soul-crushing consequences of the newly revived War on Drugs.</h2><p>Millions of people use drugs, but not all of them will get caught. Cook's updated PSA tells the story of the lives of two drug users: one who gets caught and one who doesn't. </p><p>A user convicted of a drug-related crime might struggle to find employment, housing, or even education. These crimes can be relatively small — such as <a href="http://reason.com/archives/2012/08/06/how-a-single-oxycontin-pill-nearly-ruine" target="_blank">possession of a single Oxycontin pill</a>, <a href="https://www.nytimes.com/2014/07/29/opinion/high-time-the-injustice-of-marijuana-arrests.html?_r=0" target="_blank">possession of two joints</a>, or <a href="https://www.vice.com/en_us/article/how-drug-trafficking-conspiracy-laws-put-regular-people-in-prison-for-life-930" target="_blank">trafficking</a> — with hefty, decades-long sentences and a wrecked future.</p><p class="shortcode-media shortcode-media-rebelmouse-image"><img type="lazy-image" data-runner-src="https://assets.rebelmouse.io/eyJhbGciOiJIUzI1NiIsInR5cCI6IkpXVCJ9.eyJpbWFnZSI6Imh0dHBzOi8vYXNzZXRzLnJibC5tcy8xOTUyNzQ2MC9vcmlnaW4uanBnIiwiZXhwaXJlc19hdCI6MTYxNTc2MTM2MH0.PuHBh2nzv9Av9v0qMvcfuSk5OqiWBU64IFYF7QtcLyU/img.jpg?width=980" id="9c029" class="rm-shortcode" data-rm-shortcode-id="e4eecdde28aa35cbe1c20c4cc08cf3a3" data-rm-shortcode-name="rebelmouse-image"><small class="image-media media-caption" placeholder="add caption...">Image from Green Point Creative/<a href="https://www.youtube.com/watch?v=AKXN6Vdr3g0">YouTube</a>.</small></p><p><strong>The War on Drugs <a href="http://www.politifact.com/truth-o-meter/statements/2016/jul/10/cory-booker/how-war-drugs-affected-incarceration-rates/" target="_blank">fuels mass incarceration</a>, <a href="https://www.aclu.org/other/drug-war-new-jim-crow" target="_blank">targets people of color</a>, <a href="http://reason.com/archives/2016/07/14/how-the-war-on-drugs-fails-black-communi" target="_blank">destroys communities</a>, and <a href="http://www.drugpolicy.org/wasted-tax-dollars" target="_blank">costs billions of dollars</a>. So why do we do it?</strong></p><p>Maybe that's why Cook looks and sounds just as righteously pissed-off as she did in the '97 original, and maybe that's what we all need to do — because the War on Drugs just doesn't make sense. </p><p class="shortcode-media shortcode-media-rebelmouse-image"><img type="lazy-image" data-runner-src="https://assets.rebelmouse.io/eyJhbGciOiJIUzI1NiIsInR5cCI6IkpXVCJ9.eyJpbWFnZSI6Imh0dHBzOi8vYXNzZXRzLnJibC5tcy8xOTUyNzQ2MS9vcmlnaW4uanBnIiwiZXhwaXJlc19hdCI6MTY0MzczNjc2N30.rM_VfX-eSNk2eZxEjD6w5QIvwoJwsiqXCMHeHQ9PAJs/img.jpg?width=980" id="80e52" class="rm-shortcode" data-rm-shortcode-id="3d7ad9c8d6f3fdebf6ea3e569efaf3c7" data-rm-shortcode-name="rebelmouse-image"><small class="image-media media-caption" placeholder="add caption...">Cook in 2017. Image from Green Point Creative/<a href="https://www.youtube.com/watch?v=AKXN6Vdr3g0">YouTube</a>.</small></p><h2>Watch the updated PSA below, and learn more about how you can get involved in the fight against the War on Drugs at the <a href="http://www.drugpolicy.org/" target="_blank">Drug Policy Alliance</a>.</h2><div><div data-card="youtube" data-reactroot=""><div><span style="display:block;position:relative;padding-top:56.25%;" class="rm-shortcode" data-rm-shortcode-id="4c6102aca5b961b128203466835f5eb2"><iframe type="lazy-iframe" data-runner-src="https://www.youtube.com/embed/AKXN6Vdr3g0?rel=0" width="100%" height="auto" frameborder="0" scrolling="no" style="position:absolute;top:0;left:0;width:100%;height:100%;"></iframe></span></div></div></div>