Joy
Get your strut on, beautiful little man.
Look out San Diego, a penguin has found his waddle and it's adorable. Lucas, a 4-year-old African penguin who lives at San Diego Zoo, was recently fitted for prosthetics to help him walk properly. If you're surprised to hear that Africa has penguins, yes, it's true and they're just as adorable as the ones from Antartica.
This particular penguin was born with a condition called bumblefoot, which causes ulcers to form on its feet and can result in sepsis and death. Who knew a condition that sounded so cute could be so cruel? Bumblefoot is a chronic condition and can cause the penguin to not be able to walk properly. The condition doesn't just affect penguins, but it does seem to be more prevalent in penguins that live in captivity than those in the wild. Thankfully for Lucas, he's got some new shoes to show his little penguin friends. The permanent tuxedo wearing bird was gifted a pair of custom orthopedic shoes made out of neoprene and rubber, according to the zoo.
\u201cLucas the penguin suffers from a chronic condition called bumblefoot and was recently fitted with custom orthopedic shoes. https://t.co/ZbzhESUTJ7\u201d

— CNN (@CNN) 1662338706
Lucas' special shoes were made by Thera-Paw, an organization that designs custom orthotics and products for animals that have special needs. San Diego Zoo vet Dr. Beth Bicknese explained in a press release, "The boots are cushioned and Velcroed in place, so they will help Lucas to fully participate in the colony and showcase behaviors that are more typical for a penguin—such as climbing the rocks, swimming, nesting and finding a suitable mate."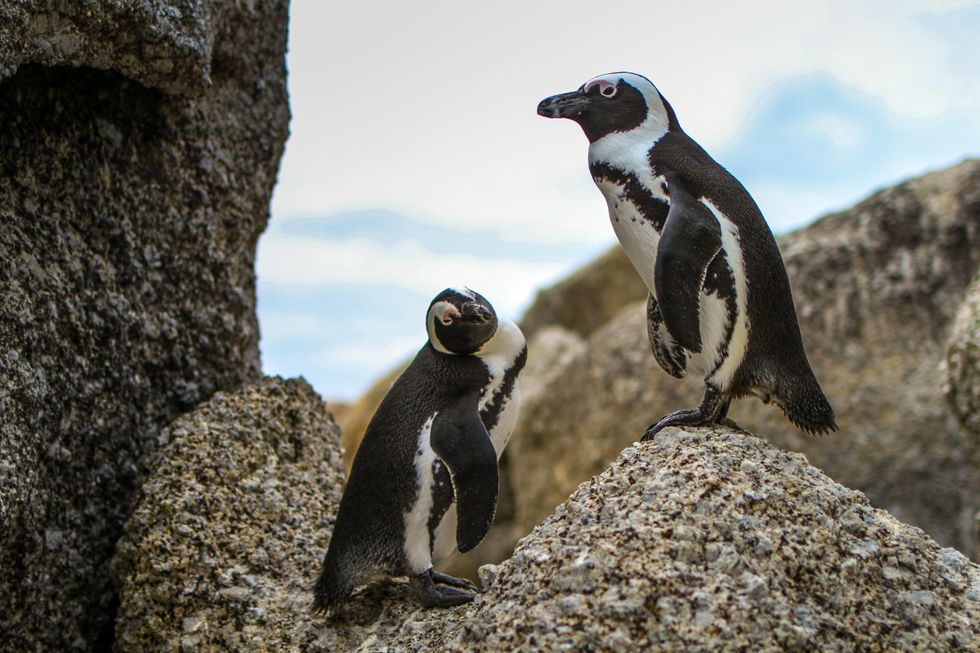 Photo by
Fungai Tichawangana
on
Unsplash
Lucas started having problems with his feet after a spinal infection left him unable to stand properly, which put pressure on his ankles and legs and caused sores to form. The little guy got the full spectrum of treatments, including acupuncture, before the zoo turned to prosthetics. Amazingly, immediately after putting his new penguin shoes on, he had an improved posture. Debbie Denton, senior wildlife care specialist at San Diego Zoo, said in the press release, "We were pleasantly surprised at the immediate change in Lucas after we fitted him with his new boots. Seeing him move about now gives us hope that he may be OK going forward, and able to live a full life."
The zoo, according to its press release, participates in the Association of Zoos and Aquariums' Species Survival Plan (SSP) program. African penguins are currently endangered. The penguins made the endangered species list for a variety of reasons, including climate change and overfishing. But San Diego Zoo is doing its part for penguins like Lucas to allow them to not only survive but to thrive.
Lucas is probably strutting around his enclosure with his new shoes, climbing all of the rocks his heart desires. Maybe one day there will be a children's book about a penguin who had to get new shoes. Whether the story of Lucas turns into a book or not, Thera-paw is clearly making a difference in these animals' quality of life.
Ilaria Borghese, founder and president of Thera-paw, noted in the press release, "Over the years, we've tackled challenging cases like Lucas's, and each is special and memorable. One thing that never gets old is seeing an animal's life dramatically improve after using one of our aids. It inspires and drives us every day."