True
Dignity Health
On Oct. 1, 2017, in Las Vegas, 59 people were killed and over 500 more were injured in a mass shooting. It was devastating, but that didn't stop people from trying to help.
"People were calling nonstop to our ER, and I'm sure every other ER, asking if they could show up and donate blood," recalls Carolyn Smith, an ER trauma nurse at Dignity Health in Henderson, Nevada. "People were showing up at the door to donate blood at 2 in the morning."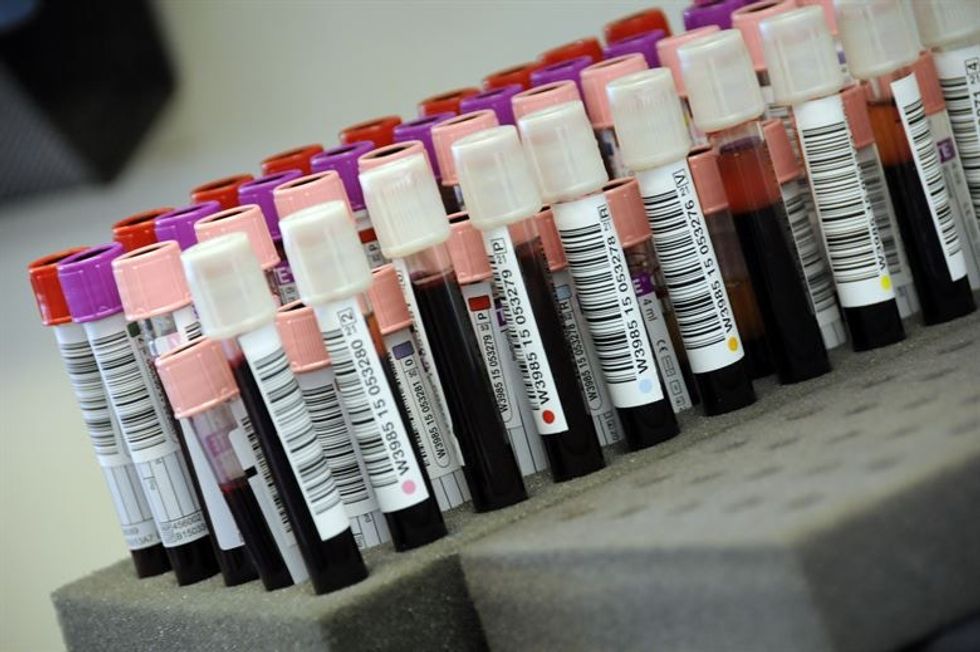 Photo by Master Sgt. Patricia F. Moran/U.S. Air National Guard.
<p>Smith has been a first responder on the scene at many disasters, both natural and human-caused. <strong>One thing she's noticed is that there are often countless people who want to offer their assistance. This was especially apparent in Houston after Hurricane Harvey.</strong></p><p>"It was a very humbling experience to see people, not only in Houston, but from all over the state, coming to help no matter what color, what race, what religion, what tax bracket," she recalls. </p><p>Obviously giving blood after one of these tragedies is helpful, but what about in the immediate aftermath of something like a shooting? What can you do if someone is actually bleeding out in front of you?</p><p>It's easy to feel helpless in the presence of such a situation, but it's in those precise moments that you can be the most helpful. </p><h2>There are simple steps you can take to try to save someone's life if they're bleeding uncontrollably. They just require some know-how. </h2><div id="bb8d0" class="rm-shortcode" data-rm-shortcode-id="SCD0LP1559249013"><blockquote class="twitter-tweet twitter-custom-tweet" data-twitter-tweet-id="952520109087711235" data-partner="rebelmouse"><div style="margin:1em 0">It's 2018. Do you know how to use a tourniquet? https://t.co/5vRKIP20NZ #StopTheBleed https://t.co/H2qfs0PaES</div> — BleedingControl.org (@BleedingControl.org)<a href="https://twitter.com/bleedingcontrol/statuses/952520109087711235">1515933465.0</a></blockquote></div><p>This graphic comes from a program called "<a href="https://www.bleedingcontrol.org/" target="_blank">Stop the Bleed</a>," which was launched after the Sandy Hook shooting in 2012. It's designed to teach people the basic skills needed to stop a serious bleed from becoming life-threatening. </p><p><strong>"They found that there were a significant number of what we call 'preventable deaths' [at Sandy Hook]," explains Dr. Sean Dort, a surgeon at Dignity Health. "If somebody knew the skills we're teaching, they would've been able to save lives."</strong></p><p>The free Stop the Bleed program offers explicit guides to help prepare civilians to act in a situation where someone is bleeding profusely. <strong>You can also access free <a href="https://cms.bleedingcontrol.org/class/search" target="_blank">bleeding control classes</a> in every state, where trained professionals teach you how to properly put on a tourniquet and pack a wound. </strong></p><p>Teachers regularly oversee classes at capacity, which makes sense given that 2017 saw <a href="http://time.com/5010973/sutherland-springs-texas-mass-shootings-history/" target="_blank">more mass shootings </a>than any other year in modern U.S. history. Gun-shot wounds have become far too commonplace, and people seem to be tired of feeling helpless in the face of them.</p><p class="shortcode-media shortcode-media-rebelmouse-image"><img type="lazy-image" data-runner-src="https://assets.rebelmouse.io/eyJhbGciOiJIUzI1NiIsInR5cCI6IkpXVCJ9.eyJpbWFnZSI6Imh0dHBzOi8vYXNzZXRzLnJibC5tcy8xOTM5ODAzOS9vcmlnaW4uanBnIiwiZXhwaXJlc19hdCI6MTY1OTM2MjQwMX0.nyWD7PEfu8dwSKoI9U3i1grBcZjthkm_9xGspsb9zFc/img.jpg?width=980" id="09d06" class="rm-shortcode" data-rm-shortcode-id="7e5f272c5a9e9c9c48d10332ffe90bf0" data-rm-shortcode-name="rebelmouse-image"><small class="image-media media-caption" placeholder="add caption...">A woman putting a tourniquet on a practice dummy. Photo via Dignity Health.</small></p><p>Medical professionals like Smith and Dort hope this impulse to be prepared will be a trend that continues.</p><h2>"We need to embed [bleeding control] into the American subconscious the way CPR is," says Dort.</h2><p>If bleeding control was taught, alongside CPR, in schools across the country, kids would head into adulthood armed with two vital sets of lifesaving skills. <strong>As a result, future mass shootings and other catastrophic events may not be nearly so devastating. </strong></p><p>The more people on the scene equipped to stop bleeding, the better chance victims have of surviving until medical professionals can get to them. </p><p><strong>It could be the difference between giving over to panic and turning a potentially bleak situation around. </strong></p><p>For more information on how to stop bleeding, check out the video below:</p><div><div data-card="facebook" data-reactroot=""><div class="fb-video fb_iframe_widget fb_iframe_widget_fluid_desktop" data-href="https://www.facebook.com/Upworthy/videos/2246993662008146/" fb-iframe-plugin-query="app_id=&amp;container_width=810&amp;href=https%3A%2F%2Fwww.facebook.com%2FUpworthy%2Fvideos%2F2246993662008146%2F&amp;locale=en_US&amp;sdk=joey" fb-xfbml-state="parsed" style="width: 100%;"><span style="vertical-align: top; width: 100%; height: 0px; overflow: hidden;"><iframe allow="encrypted-media" allowfullscreen="true" allowtransparency="true" frameborder="0" height="1000px" name="fd1d2d841ebb7c" scrolling="no" src="https://www.facebook.com/v2.10/plugins/video.php?app_id=&amp;channel=https%3A%2F%2Fstaticxx.facebook.com%2Fconnect%2Fxd_arbiter.php%3Fversion%3D44%23cb%3Df1b71ff7ff9e134%26domain%3Dupworthy.rebelmouse.com%26origin%3Dhttps%253A%252F%252Fupworthy.rebelmouse.com%252Ff2d71706e8f075%26relation%3Dparent.parent&amp;container_width=810&amp;href=https%3A%2F%2Fwww.facebook.com%2FUpworthy%2Fvideos%2F2246993662008146%2F&amp;locale=en_US&amp;sdk=joey" style="border: none; visibility: hidden; width: 100%;" title="fb:video Facebook Social Plugin" width="1000px"></iframe></span></div></div></div>