Pop Culture
Dad's TikTok for son showing what his 80s childhood was like is total Gen X nostalgia
Take a trip down memory lane.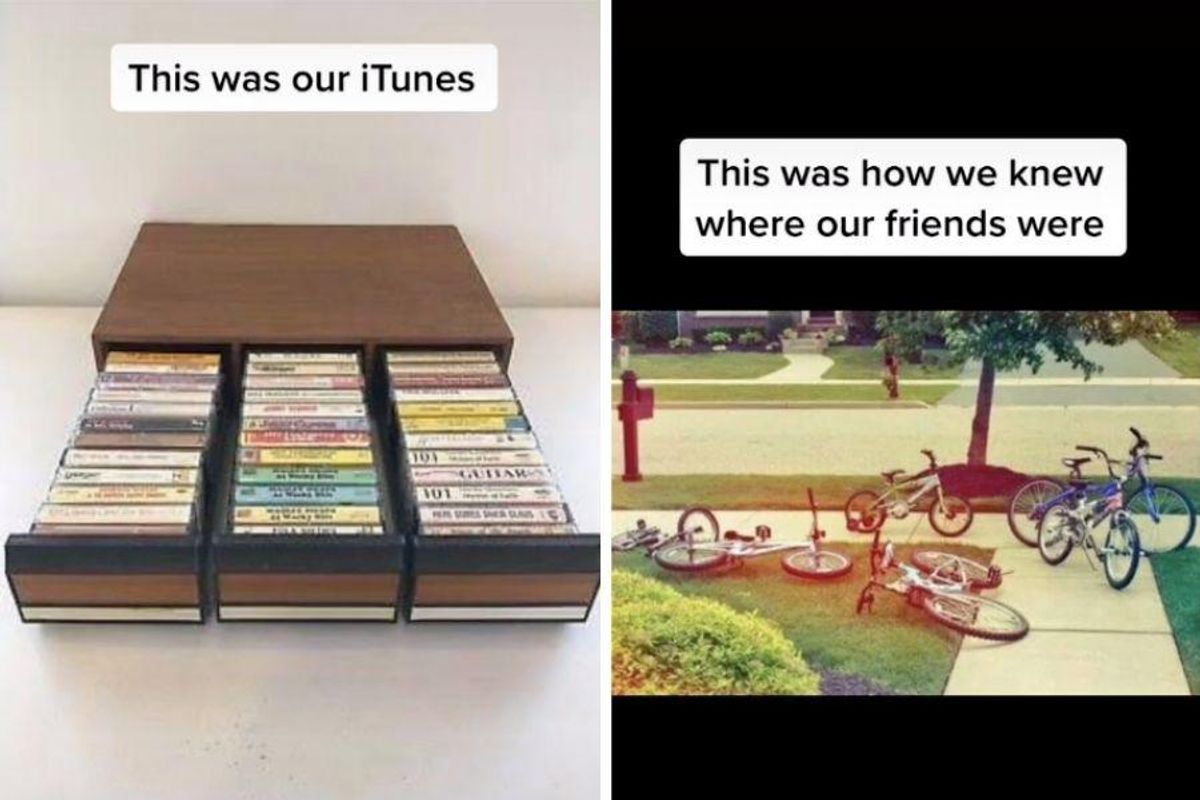 As a Gen X parent, it's weird to try to describe my childhood to my kids. We're the generation that didn't grow up with the internet or cell phones, yet are raising kids who have never known a world without them. That difference alone is enough to make our 1980s childhoods feel like a completely different planet, but there are other differences too that often get overlooked.

How do you explain the transition from the brown and orange aesthetic of the '70s to the dusty rose and forest green carpeting of the '80s if you didn't experience it? When I tell my kids there were smoking sections in restaurants and airplanes and ashtrays everywhere, they look horrified (and rightfully so—what were we thinking?!). The fact that we went places with our friends with no quick way to get ahold of our parents? Unbelievable.
---
One day I described the process of listening to the radio, waiting for my favorite song to come on so I could record it on my tape recorder, and how mad I would get when the deejay talked through the intro of the song until the lyrics started. My Spotify-spoiled kids didn't even understand half of the words I said.
And '80s hair? With the feathered bangs and the terrible perms and the crunchy hair spray? What, why and how?
In some ways, that era was simpler. We weren't bombarded with information and opinions about every issue in the world 24/7 and had the freedom to just be kids. At the same time, I personally have no desire to go back. (My straight, fine hair was not made for the '80s.)
However, one dad is bringing full-on nostalgia to millions of Gen Xers with a viral TikTok he made about sharing his '80s childhood with his 8-year-old son. Justin H (who goes by @shadyraro on TikTok) included photos and descriptions of things all '80s kids will recognize and it's like hopping into a time machine.
Like, the unwound cassette tape struggle was genuinely real. Grab a pencil, start winding and pray. "The A-Team"? Totally. Streetlight curfew? Yep.
@shadyraro

The 80's was the best decade #80s #80skid #oldschool #genx #parents #funny #family #foryou #fyp
The video has been viewed more than 10 million times this week, with commenters neck-deep in their feelings about their childhood flashbacks.
"I miss them days, technology has taken away so much," wrote one commenter.
"Miss the 80s era but unfortunately us kids were the remote control," wrote another. (So true. Changing the channel was exercise.)
"The 80's cannot be explained...it was an experience...a complete vibe all its own...and if you missed it I'm so sorry for you!" wrote another.
And if you feel like there were some things missing, no worries. There's a Part Two:
@shadyraro

The 80's was the best decade Part 2 #80s #80skid #oldschool #genx #parents #funny #family #foryou #fyp
The ashtray in the back of the car seat! The phone booth! The Walkman! The overhead projector. So my childhood. I can practically taste the Tang and Twinkies.
Kids today will never know the ugly beauty of growing up in the '80s, but someday they'll have their own tales to tell their kids that they'll look on with fondness and nostalgia. "We used to spend hours building things with little digital blocks in Minecraft…"
There's never been anything like the '80s and there never will be again. Thanks for the trip down memory lane, Justin H.
This article originally appeared on 05.21.22