More
It's time to change the conversation about immigration from walls to bridges.
President Donald Trump has been busy making changes to our immigration system — for better or for worse.
Between the border wall, "deportation force," and travel ban, Trump is taking bold action to address our country's broken immigration system. His focus on removing undocumented immigrants and making it more difficult to enter the country legally, however, may actually make things a lot worse.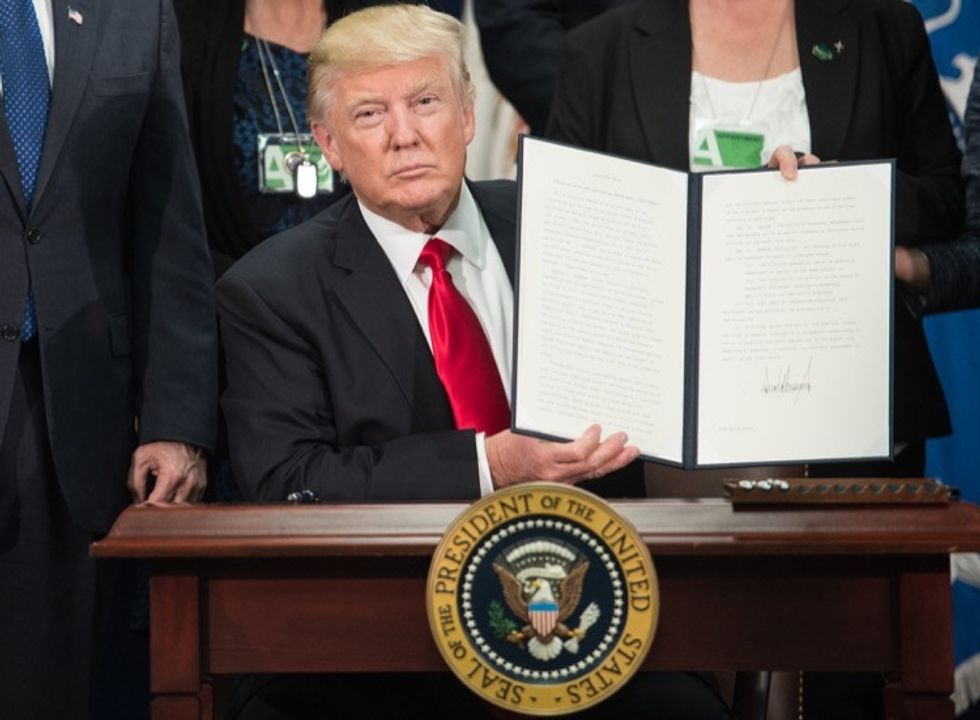 </div></div></div><h2>Immigrants are essential to the U.S. economy, and deporting millions of them will only weaken us as a nation.</h2><p>Trump's assumption is that immigrants are a drain on the country and its resources, but the data just doesn't back him up. A new resource from <a href="http://www.newamericaneconomy.org/" target="_blank">New American Economy</a>, a group of more than 500 mayors and business leaders <a href="http://www.newamericaneconomy.org/feature/why-republican-governor-rick-snyder-calls-immigrants-job-generators/" target="_blank">across the political spectrum</a>, makes a strong case for immigration reform by highlighting just how much immigrants <em>do</em> contribute to the economy.</p><div><div class="push-wrapper--mobile" data-card="image" data-reactroot=""><img type="lazy-image" data-runner-src="https://assets.rebelmouse.io/eyJhbGciOiJIUzI1NiIsInR5cCI6IkpXVCJ9.eyJpbWFnZSI6Imh0dHBzOi8vYXNzZXRzLnJibC5tcy8xOTUyNDg3Mi9vcmlnaW4uanBnIiwiZXhwaXJlc19hdCI6MTY1NTgxOTQyMn0.ztEIpyRt_3sPdsCdW7ZPE5ps8RwV5sBt8IhIu2W05TQ/img.jpg?width=980" id="d1624" class="rm-shortcode" data-rm-shortcode-id="e3f8fde2fa87a35c64b5d28533ab6341" data-rm-shortcode-name="rebelmouse-image"><div class="image-caption"><p>Protestors speak out against Trump's immigration policies at the Milwaukee County courthouse in Wisconsin on Feb. 13, 2017. Photo by Darren Hauck/Getty Images.</p></div></div></div><p>In 2014, <a href="http://www.newamericaneconomy.org/issues/taxes-spending-power/" target="_blank">immigrants in the U.S. earned $1.3 trillion</a> and paid more than $329 billion in taxes. Immigrants play a vital role in making America function. In other words: Without immigrants, we're sunk. </p><div><div class="push-wrapper--mobile" data-card="image" data-reactroot=""><img type="lazy-image" data-runner-src="https://assets.rebelmouse.io/eyJhbGciOiJIUzI1NiIsInR5cCI6IkpXVCJ9.eyJpbWFnZSI6Imh0dHBzOi8vYXNzZXRzLnJibC5tcy8xOTUyNDg3My9vcmlnaW4uanBnIiwiZXhwaXJlc19hdCI6MTYwMzc2ODgxN30.Ng7alkfVJsQv66LRmL-1YBdw994GUPcJmmNzUlwI_68/img.jpg?width=980" id="f29fc" class="rm-shortcode" data-rm-shortcode-id="452aa607f5c25bcf1f83754aa24d0f56" data-rm-shortcode-name="rebelmouse-image"><div class="image-caption"><p>Image via New American Economy.</p></div></div></div><h2>As members of Congress are heading to town halls, NAE rolled out a new <a href="http://www.newamericaneconomy.org/locations/" target="_blank">Map the Impact</a> website to help measure immigrant contributions, broken down by congressional district.  </h2><p>Simply type in your address, and the interactive feature will show you some fascinating local immigration information, as well as how immigrants affect state and local economies.</p><div><div class="push-wrapper--mobile" data-card="image" data-reactroot=""><img type="lazy-image" data-runner-src="https://assets.rebelmouse.io/eyJhbGciOiJIUzI1NiIsInR5cCI6IkpXVCJ9.eyJpbWFnZSI6Imh0dHBzOi8vYXNzZXRzLnJibC5tcy8xOTUyNDg3NC9vcmlnaW4uanBnIiwiZXhwaXJlc19hdCI6MTYyMDY0OTA4Nn0.jhN1spYCUIuR0__ixe_H-0SQLBfO4PKJ2Qbfbz3eMTg/img.jpg?width=980" id="aff5e" class="rm-shortcode" data-rm-shortcode-id="4ac558820aa546a193b926d7db435bf4" data-rm-shortcode-name="rebelmouse-image"><div class="image-caption"><p>Here's a look at my congressional district, Illinois' 9th. Screenshot from New American Economy.</p></div></div></div><h2>Immigration reform is long past due. The proof is in the fact that the "right way" to immigrate is <a href="http://reason.com/archives/2008/09/18/get-in-line" target="_blank">often inaccessible to many</a>. </h2><p>Lots of factors play into this, such as whether a person is able to get a visa (which, at times, may be backlogged by years if not decades) or whether they have an American relative sponsor who can sponsor them for a green card. But it's not as though there's some sort of "line" people can get in to wait their turn.</p><div><div class="push-wrapper--mobile" data-card="image" data-reactroot=""><img type="lazy-image" data-runner-src="https://assets.rebelmouse.io/eyJhbGciOiJIUzI1NiIsInR5cCI6IkpXVCJ9.eyJpbWFnZSI6Imh0dHBzOi8vYXNzZXRzLnJibC5tcy8xOTUyNDg3NS9vcmlnaW4uanBnIiwiZXhwaXJlc19hdCI6MTYyNTE4MjIyNX0.G4VLx-TZvDtnWNcmFcFu5we873evS1eY0vJMZ8bhyn0/img.jpg?width=980" id="c78bc" class="rm-shortcode" data-rm-shortcode-id="be4d09c8bce69c18ea86d4a477158431" data-rm-shortcode-name="rebelmouse-image"><div class="image-caption"><p>A newly sworn-in U.S. citizen leaves a naturalization ceremony at the Los Angeles Convention Center on Feb. 15, 2017. Photo by Justin Sullivan/Getty Images.</p></div></div></div><p>While undocumented immigration is an issue that needs to be addressed, the solution is not as simple as kicking people out and telling them to come back in "the right way." <a href="http://www.newamericaneconomy.org/issues/undocumented-immigrants/" target="_blank">Undocumented immigrants have a strong net benefit on our economy</a>, contributing to systems they'll never benefit from, such as Medicare and Social Security, and paying more than $20 billion in taxes each year.</p><div><div class="push-wrapper--mobile" data-card="image" data-reactroot=""><img type="lazy-image" data-runner-src="https://assets.rebelmouse.io/eyJhbGciOiJIUzI1NiIsInR5cCI6IkpXVCJ9.eyJpbWFnZSI6Imh0dHBzOi8vYXNzZXRzLnJibC5tcy8xOTUyNDg3Ni9vcmlnaW4uanBnIiwiZXhwaXJlc19hdCI6MTYwOTEyMjAxN30.3oDG9_rb52f0yUQVoe361k7vj6EKRaCkh16--bXhR5o/img.jpg?width=980" id="2f54c" class="rm-shortcode" data-rm-shortcode-id="913002d337cab531ac47dee0c47828ca" data-rm-shortcode-name="rebelmouse-image"><div class="image-caption"><p>A woman holds a sign as she protests President Donald Trump's plan to build a border wall along the United States and Mexico border on January 26, 2017 in Chicago, Illinois. Photo by Joshua Lott/AFP/Getty Images.</p></div></div></div><h2>It's time to shift discussion away from deportation forces and travel bans and toward finding humane common-sense solutions — and that's where you come in.</h2><p>When your member of Congress comes home for a town hall, let them know that immigration reform matters to you. NAE has a great <a href="http://www.newamericaneconomy.org/wp-content/uploads/2017/02/MTI_SocialMediaToolkit_Feb2017.pdf" target="_blank">social media toolkit</a> with shareable graphics, and they encourage supporters to make videos sharing their <a href="http://www.newamericaneconomy.org/video/video-whats-your-reasonforreform/" target="_blank">#ReasonForReform</a>.</p><p>Let's get away from some of the <a href="https://www.nytimes.com/2015/03/29/magazine/debunking-the-myth-of-the-job-stealing-immigrant.html" target="_blank">harmful</a> <a href="https://qz.com/577833/debunking-the-four-biggest-myths-about-us-immigration/" target="_blank">myths</a> that dominate discussion around immigration and get to work creating a country where we can all thrive.</p><div><div data-card="youtube" data-reactroot=""><div><span style="display:block;position:relative;padding-top:56.25%;" class="rm-shortcode" data-rm-shortcode-id="d51c8129a75098ddd88004b18c27c613"><iframe type="lazy-iframe" data-runner-src="https://www.youtube.com/embed/y0VdpqGO33s?rel=0" width="100%" height="auto" frameborder="0" scrolling="no" style="position:absolute;top:0;left:0;width:100%;height:100%;"></iframe></span></div></div></div>