The girls in Troop 6000 look like any other Girl Scouts, sporting patch-covered vests and asking people to buy cookies. The difference? The girls are homeless.
Troop 6000 was created in 2016 to serve girls living in New York City's homeless shelter system. It's a unique but wonderful idea — a Girl Scout troop with leaders trained from inside the shelter system itself, to empower both women and girls and give them the opportunity to benefit from everything the Girl Scouts program has to offer.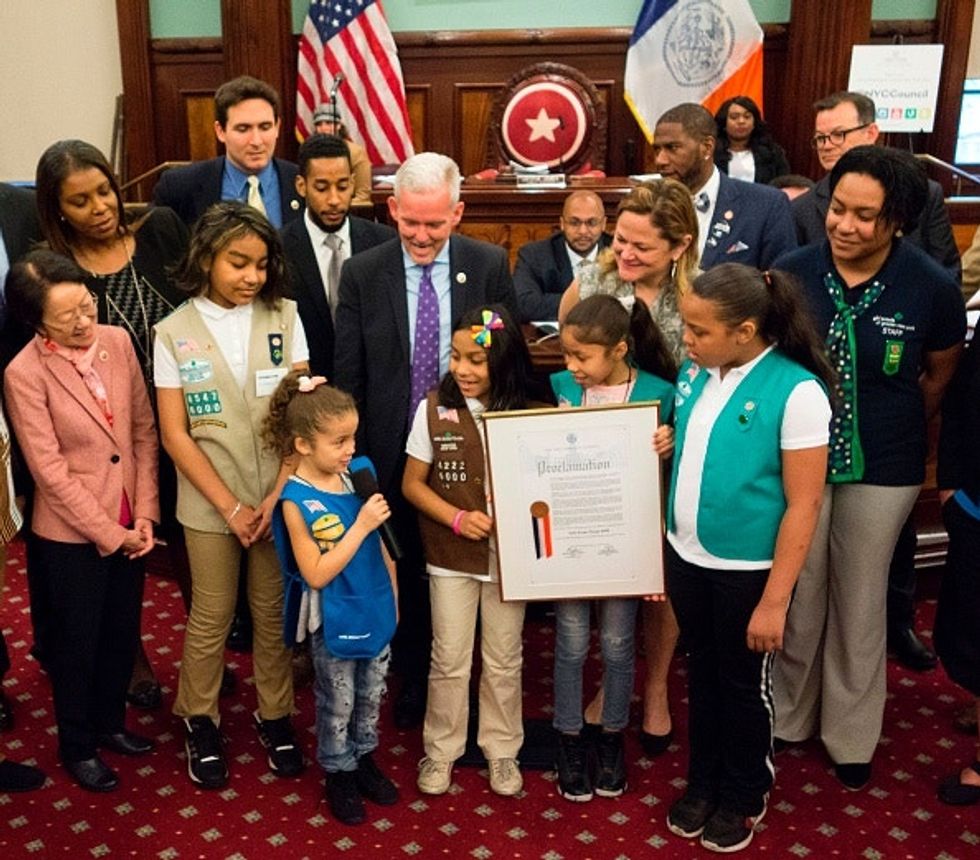 Troop 6000 members met with New York legislator and community leaders to celebrate their unique status as the first Girl Scout troop for homeless girls. Photo by Don Emmert/Getty Images.
<p>According to the <a href="http://www.girlscouts.org/research/pdf/girl_scouting_works_the_alumnae_impact_study.pdf" target="_blank">Girl Scouts website</a>, "Research has shown that Girl Scout alumnae have a stronger sense of self, achieve higher levels of education, and are more likely to reach a higher socio-economic status."</p><p>No doubt the community, consistency, and confidence-building that Girl Scouts offer would be especially beneficial for girls facing the challenge of homelessness. But as it turns out, these girls are also good for Girl Scouts.</p><h2><strong>They not only surpassed their first cookie sales goal — they totally obliterated it.</strong></h2><p>According to <a href="https://www.nbcnewyork.com/news/local/Girl-Scout-Troop-for-NYC-Homeless-Girls-Sells-More-Than-32K-Boxes-of-Cookies-at-Their-First-Cookie-Sale-480586341.html" target="_blank">NBC News</a>, this was the first year the troop participated in the traditional cookie fundraiser. They arranged to set up shop and sell their cookies at Kellogg's NYC Café in Union Square. </p><div id="51a27" class="rm-shortcode" data-rm-shortcode-id="STQ2XI1559350348"><blockquote class="twitter-tweet twitter-custom-tweet" data-twitter-tweet-id="985669315016962048" data-partner="rebelmouse"><div style="margin:1em 0">The Girl Scouts of Troop 6000, the first homeless shelter-based troop in New York City, hope to sell 6,000 boxes of… https://t.co/0aPnvOqIC9</div> — Good Morning America (@Good Morning America)<a href="https://twitter.com/GMA/statuses/985669315016962048">1523836852.0</a></blockquote></div><p>The girls set a goal to sell 6,000 boxes of cookies in six days. <strong>They ended up selling more than 32,500.</strong></p><p>Customers stood in hour-long lines to buy cookies from the girls, in addition to donating at total of $15,000 additional funds to the troop. Meridith Maskara, CEO of Girl Scouts Greater New York, called the sale a "resounding success." Um, yeah. I'd say so. </p><p>Cookie proceeds and donations go toward funding the troop's various learning and service projects. I see awesome things coming for these girls.</p><h2><strong>When a community comes together to serve those who are struggling, amazing things can happen.</strong></h2><p>Troop 6000 was launched by Giselle Burgess, a mother of five who became homeless while working for the Girl Scouts of Greater New York in 2016. Her rental home was put up for sale, and she found herself at a Sleep Inn along with other families facing homelessness.</p><p class="shortcode-media shortcode-media-rebelmouse-image"><img type="lazy-image" data-runner-src="https://assets.rebelmouse.io/eyJhbGciOiJIUzI1NiIsInR5cCI6IkpXVCJ9.eyJpbWFnZSI6Imh0dHBzOi8vYXNzZXRzLnJibC5tcy8xOTUzMjY4MC9vcmlnaW4uanBnIiwiZXhwaXJlc19hdCI6MTYzNjM2Mjk2N30.eC5j_wuq50RZiUyhYkD0iFwKjjZ4X0n7l584rcIirNE/img.jpg?width=980" id="e098d" class="rm-shortcode" data-rm-shortcode-id="2c6b41b03244e6f5aa92def70145b62e" data-rm-shortcode-name="rebelmouse-image"><small class="image-media media-caption" placeholder="add caption...">Members of Troop 6000 with Giselle Burgess, who spurred the troop's founding. Photo by Don Emmert/Getty Images.</small></p><p>"When I first became homeless myself, I'd always thought homelessness was the man outside with the cardboard sign asking for money," Burgess <a href="https://www.buzzfeed.com/juliareinstein/troop-6000?utm_term=.fw6Raz4zq#.owPaQRyR9" target="_blank">told BuzzFeed </a>News. "But it's working women, it's working families." </p><p>With the help of Girl Scouts of Greater New York, Mayor de Blasio, and the city's Department of Homeless Services, Burgess' idea for Troop 6000 came to fruition. At a little more than a year old, it's thriving. Thousands of children live in the New York City homeless shelter system, and the troop now has <a href="http://www.ny1.com/nyc/all-boroughs/news/2018/04/12/girl-scout-troop-6000-homeless-girl-scout-troop-hold-first-cookie-sale-union-square-nyc" target="_blank">nearly 300 members</a>.</p><p class="shortcode-media shortcode-media-rebelmouse-image"><img type="lazy-image" data-runner-src="https://assets.rebelmouse.io/eyJhbGciOiJIUzI1NiIsInR5cCI6IkpXVCJ9.eyJpbWFnZSI6Imh0dHBzOi8vYXNzZXRzLnJibC5tcy8xOTUzMjY4MS9vcmlnaW4uanBnIiwiZXhwaXJlc19hdCI6MTYwNjQ5NDEzNn0.sdNQOxdjLrBX_c3krvU7k2o_jscLH9nRjft31OU0GMM/img.jpg?width=980" id="42024" class="rm-shortcode" data-rm-shortcode-id="e07f5b7c23e26cb448d7bea4ca237fac" data-rm-shortcode-name="rebelmouse-image"><small class="image-media media-caption" placeholder="add caption...">Troop 6000 sold more than five times as many cookies as they had planned. Photo by John Moore/Getty Images.</small></p><p>Girls in the troop say their Girl Scout experiences have changed their lives.</p><p>"The difference between me and before Troop 6000 is that I can speak up more," Troop 6000 member Sanaa <a href="http://www.ny1.com/nyc/all-boroughs/news/2018/04/12/girl-scout-troop-6000-homeless-girl-scout-troop-hold-first-cookie-sale-union-square-nyc" target="_blank">told Spectrum News NY1</a>, "and I don't have to feel like I'm different at all."</p><p>"All of us envision we're so powerful, and we have a voice," said another scout, Karina. "Even if our voice is small, we have a voice and we can impact this world."</p><p><strong>Can't wait to see what impact these girls make next. </strong></p>