Most Shared
Best holiday gift-giver of 2016: Amy Schumer.
At a very young age — long before she was selling out Madison Square Garden or starring in blockbuster films — Amy Schumer learned about the sting of heartache.
Her father, Gordon, once owned a successful furniture company, which meant Amy was born into relatively well-off circumstances on Manhattan's Upper East Side. But things took a dramatic turn long before she reached her teen years.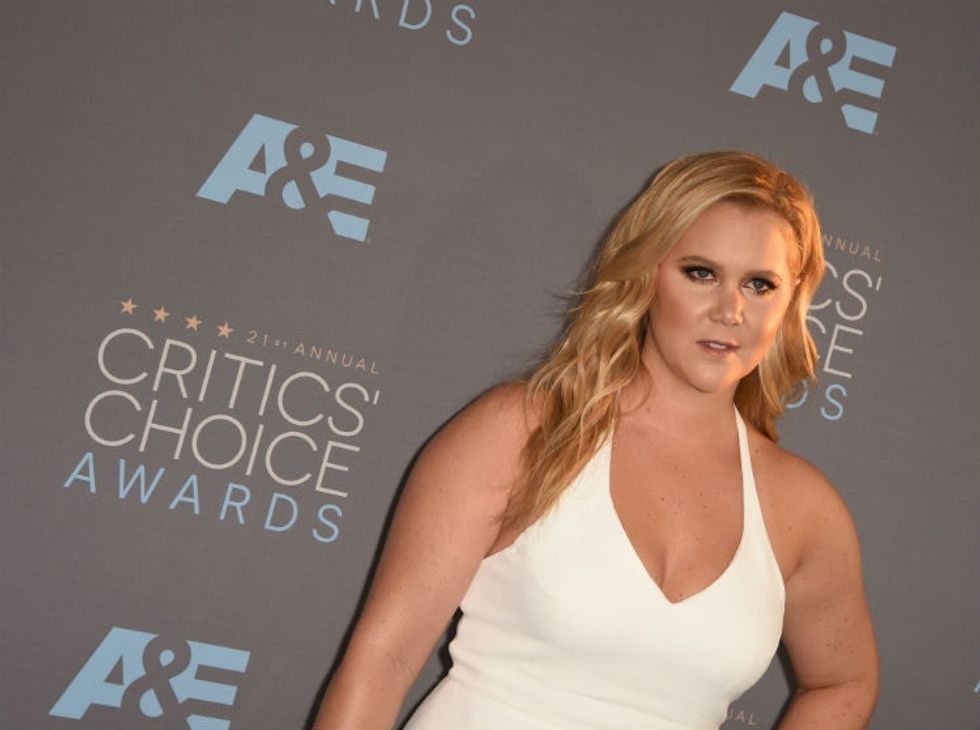 </div></div></div><h2>When Amy was just 9 years old, Gordon Schumer was diagnosed with multiple sclerosis. It was life-changing in more ways than one.</h2><p>To make matters worse, the diagnosis coincided with her father's business failing, according to <a href="http://www.huffingtonpost.com/entry/no-one-will-ever-top-the-gift-amy-schumer-gave-her-dad-for-the-holidays_us_585943c2e4b08debb78b0689" target="_blank">Huffington Post</a>. <strong>Unable to cover the overwhelming medical costs, <a href="http://www.nytimes.com/2013/04/21/arts/television/amy-schumers-comedy-central-show-from-the-inside.html?pagewanted=all" target="_blank">the family went bankrupt</a>. </strong>The pain and instability that ensued helped mold Amy's comedy for decades. The storyline of her 2015 film "Trainwreck," for instance, was largely autobiographical; her on-screen dad (played by actor Colin Quinn) really did live in a senior center with multiple sclerosis.</p><p>"It's the most painful thing in the world to just watch this person that you love ultimately just digress and kind of decompose," Schumer told <a href="http://www.npr.org/2013/04/30/179992129/comedian-gets-her-own-show-inside-amy-schumer" target="_blank">NPR</a> in 2013. <strong>"And it's too heavy and you have to find a way to laugh at it."</strong></p><div><div data-card="instagram" data-reactroot=""><div><blockquote class="instagram-media" data-instgrm-captioned="" data-instgrm-version="7" style=" background:#FFF; border:0; border-radius:3px; box-shadow:0 0 1px 0 rgba(0,0,0,0.5),0 1px 10px 0 rgba(0,0,0,0.15); margin: 1px; max-width:658px; padding:0; width:99.375%; width:-webkit-calc(100% - 2px); width:calc(100% - 2px);"><div style="padding:8px;"> <div style=" background:#F8F8F8; line-height:0; margin-top:40px; padding:37.4537037037037% 0; text-align:center; width:100%;"> </div> <p style=" margin:8px 0 0 0; padding:0 4px;"> <a href="https://www.instagram.com/p/BJOcvhEBhvo/" style=" color:#000; font-family:Arial,sans-serif; font-size:14px; font-style:normal; font-weight:normal; line-height:17px; text-decoration:none; word-wrap:break-word;" target="_blank">Reading my book to my dad felt pretty good.</a></p> <p style=" color:#c9c8cd; font-family:Arial,sans-serif; font-size:14px; line-height:17px; margin-bottom:0; margin-top:8px; overflow:hidden; padding:8px 0 7px; text-align:center; text-overflow:ellipsis; white-space:nowrap;">A photo posted by @amyschumer on <time datetime="2016-08-17T21:59:19+00:00" style=" font-family:Arial,sans-serif; font-size:14px; line-height:17px;">Aug 17, 2016 at 2:59pm PDT</time></p></div></blockquote></div></div></div><p>It's clear Amy's father has made an enormous impact on her life. And this week, she was able to thank him in a very big way.</p><h2>On Dec. 19, 2016, Amy announced that she bought back her father's farm — a property the family was forced to give up long ago due to the bankruptcy.</h2><div><div data-card="instagram" data-reactroot=""><div><blockquote class="instagram-media" data-instgrm-captioned="" data-instgrm-version="7" style=" background:#FFF; border:0; border-radius:3px; box-shadow:0 0 1px 0 rgba(0,0,0,0.5),0 1px 10px 0 rgba(0,0,0,0.15); margin: 1px; max-width:658px; padding:0; width:99.375%; width:-webkit-calc(100% - 2px); width:calc(100% - 2px);"><div style="padding:8px;"> <div style=" background:#F8F8F8; line-height:0; margin-top:40px; padding:62.48665955176094% 0; text-align:center; width:100%;"> </div> <p style=" margin:8px 0 0 0; padding:0 4px;"> <a href="https://www.instagram.com/p/BONs_T2A4nm/" style=" color:#000; font-family:Arial,sans-serif; font-size:14px; font-style:normal; font-weight:normal; line-height:17px; text-decoration:none; word-wrap:break-word;" target="_blank">Today I bought my father's farm back.</a></p> <p style=" color:#c9c8cd; font-family:Arial,sans-serif; font-size:14px; line-height:17px; margin-bottom:0; margin-top:8px; overflow:hidden; padding:8px 0 7px; text-align:center; text-overflow:ellipsis; white-space:nowrap;">A photo posted by @amyschumer on <time datetime="2016-12-19T21:39:01+00:00" style=" font-family:Arial,sans-serif; font-size:14px; line-height:17px;">Dec 19, 2016 at 1:39pm PST</time></p></div></blockquote></div></div></div><h2>On Instagram, Amy shared an adorable video of her much younger self on the farm, about to run away into a towering maze of corn.</h2><p>"My dad was taunting me because I wanted him to come with me," she wrote in the <a href="https://www.instagram.com/p/BONtWdMg1r2/?taken-by=amyschumer&amp;hl=en" target="_blank">caption</a>. "We lost the farm when we lost everything else. But today I got to buy it back for him."</p><div><div data-card="instagram" data-reactroot=""><div><blockquote class="instagram-media" data-instgrm-captioned="" data-instgrm-version="7" style=" background:#FFF; border:0; border-radius:3px; box-shadow:0 0 1px 0 rgba(0,0,0,0.5),0 1px 10px 0 rgba(0,0,0,0.15); margin: 1px; max-width:658px; padding:0; width:99.375%; width:-webkit-calc(100% - 2px); width:calc(100% - 2px);"><div style="padding:8px;"> <div style=" background:#F8F8F8; line-height:0; margin-top:40px; padding:28.10185185185185% 0; text-align:center; width:100%;"> </div> <p style=" margin:8px 0 0 0; padding:0 4px;"> <a href="https://www.instagram.com/p/BONtWdMg1r2/" style=" color:#000; font-family:Arial,sans-serif; font-size:14px; font-style:normal; font-weight:normal; line-height:17px; text-decoration:none; word-wrap:break-word;" target="_blank">Video from the farm when I was running away in the cornfield and my dad was taunting me because I wanted him to come with me. We lost the farm when we lost everything else. But today I got to buy it back for him.</a></p> <p style=" color:#c9c8cd; font-family:Arial,sans-serif; font-size:14px; line-height:17px; margin-bottom:0; margin-top:8px; overflow:hidden; padding:8px 0 7px; text-align:center; text-overflow:ellipsis; white-space:nowrap;">A video posted by @amyschumer on <time datetime="2016-12-19T21:42:10+00:00" style=" font-family:Arial,sans-serif; font-size:14px; line-height:17px;">Dec 19, 2016 at 1:42pm PST</time></p></div></blockquote></div></div></div><h2>Although Schumer's act is an admirable one, it's also a harsh reminder that she's definitely one of the <em>very</em> lucky ones. </h2><p>The comedian's millionaire status means she's, of course, more able than most to open up her wallet to help her aging parent. <strong>But, put in historical context, Schumer is even more privileged than many might realize.</strong></p><iframe width="100%" height="150" scrolling="no" class="rm-shortcode twitter-embed-806932253804593153" id="twitter-embed-806932253804593153" type="lazy-iframe" data-runner-src="/res/community/twitter_embed/?iframe_id=twitter-embed-806932253804593153&amp;created_ts=1481222616.0&amp;screen_name=JustinWolfers&amp;text=Chance+of+out-earning+your+parents+by+age+30%2C+by+year+of+birth%3A%0A1940%3A+92%25%0A1950%3A+79%25%0A1960%3A+62%25%0A1970%3A+61%25%0A1980%3A+50%25%E2%80%A6+https%3A%2F%2Ft.co%2FmcVLAHt8Xc&amp;id=806932253804593153&amp;name=Justin+Wolfers" frameborder="0" data-rm-shortcode-id="STN6QZ1559347027"></iframe><p>A new study by <strong><a href="http://www.equality-of-opportunity.org/" target="_blank">The Equality of Opportunity Project</a> </strong>found that half of 30-year-olds won't make as much money as their parents at the same age, <a href="http://time.com/money/4595743/30-year-olds-parents-earnings/" target="_blank">Time's Money magazine</a> reported. It's a dramatically different figure than Americans born in 1940, who had a 92% chance of out-earning their parents.</p><p>Most of us won't have the luxury of buying up old properties for our parents, to say the least.</p><h2>But Schumer's gift is also a beautiful reminder that giving back to the people we treasure most — regardless of the price tag involved — may just be one of the best ways to spend our money.</h2><p>And it never hurts to keep things light either — especially when life gets the most serious.</p><p><strong>"I love to laugh," </strong>Schumer told "<a href="http://www.cbsnews.com/pictures/amy-schumer/6/" target="_blank">CBS Sunday Morning</a>" in 2015. "I seek laughter all the time. I think that's something that also comes with having a sick parent is you don't know what's going to happen, and so I'll be like, 'I'm psyched my legs still work.' And I want to, like, experience all I can and make as many memories as I can."</p><div><div data-card="instagram" data-reactroot=""><div><blockquote class="instagram-media" data-instgrm-captioned="" data-instgrm-version="7" style=" background:#FFF; border:0; border-radius:3px; box-shadow:0 0 1px 0 rgba(0,0,0,0.5),0 1px 10px 0 rgba(0,0,0,0.15); margin: 1px; max-width:658px; padding:0; width:99.375%; width:-webkit-calc(100% - 2px); width:calc(100% - 2px);"><div style="padding:8px;"> <div style=" background:#F8F8F8; line-height:0; margin-top:40px; padding:50.0% 0; text-align:center; width:100%;"> </div> <p style=" margin:8px 0 0 0; padding:0 4px;"> <a href="https://www.instagram.com/p/BLgkZUMBwcx/" style=" color:#000; font-family:Arial,sans-serif; font-size:14px; font-style:normal; font-weight:normal; line-height:17px; text-decoration:none; word-wrap:break-word;" target="_blank">#tbt happy me. #samearms</a></p> <p style=" color:#c9c8cd; font-family:Arial,sans-serif; font-size:14px; line-height:17px; margin-bottom:0; margin-top:8px; overflow:hidden; padding:8px 0 7px; text-align:center; text-overflow:ellipsis; white-space:nowrap;">A photo posted by @amyschumer on <time datetime="2016-10-13T15:55:18+00:00" style=" font-family:Arial,sans-serif; font-size:14px; line-height:17px;">Oct 13, 2016 at 8:55am PDT</time></p></div></blockquote></div></div></div>