In case you didn't know, libraries are cool as heck.
They've been around for — well — ever (or at least thousands of years), there are more than 17,000 of them in the U.S., and they serve a myriad of purposes beyond just access to an unlimited number of free books (which, let's be honest, is pretty great in itself). Nearly all libraries offer access to computers and Wi-Fi, and many serve double as venues for community events. Best yet, libraries can help people develop the tools they need to combat the spread of false stories on the internet and identify reputable sources of information.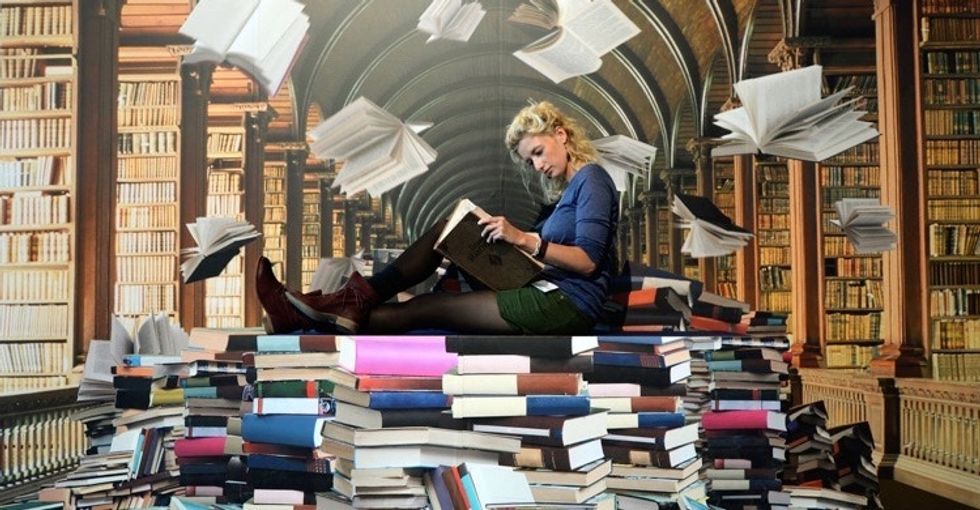 Don't worry! No books were harmed in the making of this photo. Photo by Thomas Lohnes/Getty Images.
<h2>With all those awesome things about libraries, it's kind of mind-boggling that someone call for them to be replaced by Amazon.</h2><p>Economics professor <a href="https://www.forbes.com/sites/panosmourdoukoutas/2018/07/21/amazon-should-replace-local-libraries-to-save-taxpayers-money/" target="_blank">Panos Mourdoukoutas published</a> a <a href="https://gizmodo.com/behold-this-disastrously-bad-op-ed-calling-for-amazon-t-1827789820" target="_blank">(since deleted) blog at Forbes</a> on July 21 arguing for shutting down local libraries in favor of brick and mortar Amazon stores "in all communities." His argument centers around the idea that "third places" like Starbucks and affordable content-streaming options like Netflix and Amazon Prime have all but made libraries irrelevant. </p><p>He wrote: </p><blockquote>"Amazon Books is a chain of bookstores that does what Amazon originally intended to do; replace the local bookstore. It improves on the bookstore model by adding online searches and coffee shops. Amazon Go basically combines a library with a Starbucks.<br><br>At the core, Amazon has provided something better than a local library without the tax fees. This is why Amazon should replace local libraries. The move would save taxpayers money and enhance the stockholder value of Amazon all in one fell swoop."<br><br></blockquote><p>According to the American Library Association, Americans check out an average of eight books a year, which costs them an average of $36.96 in total taxes. As far as plans to "save taxpayers lots of money" go, this is a pretty huge dud.</p><h2>Naturally, librarians weren't exactly thrilled about the idea.</h2><p>Not to get too snarky here, but if you're planning to write an opinion article about why a private company should replace a public good, a librarian would be the perfect person to help with your research.</p><div id="72036" class="rm-shortcode" data-rm-shortcode-id="BK3YJ21559350607"><blockquote class="twitter-tweet twitter-custom-tweet" data-twitter-tweet-id="1020867942467219458" data-partner="rebelmouse"><div style="margin:1em 0">That Forbes article on how Amazon stores should replace public libraries is pure garbage. The only thing worse than… https://t.co/XV4LUxGrKL</div> — Librarianry (@Librarianry)<a href="https://twitter.com/LibrarianRy/statuses/1020867942467219458">1532228858.0</a></blockquote></div><p>Many (correctly) said that the article's premise seemed to ignore the fact that there are millions of low-income individuals who rely on libraries. Replacing them with Amazon stores would take away their ability to apply for jobs, learn new skills, or just be able to read bedtime stories to their kids.</p><div id="74ae9" class="rm-shortcode" data-rm-shortcode-id="LH2CPV1559350607"><blockquote class="twitter-tweet twitter-custom-tweet" data-twitter-tweet-id="1021373505093455873" data-partner="rebelmouse"><div style="margin:1em 0">As a librarian I find this idea horrific. Low-income people would lose access. Does not cost tax payers much to run… https://t.co/JCWq1QaYSa</div> — Michelle Burton (@Michelle Burton)<a href="https://twitter.com/mlynnburton/statuses/1021373505093455873">1532349394.0</a></blockquote></div><p>And not everyone has the cash to dish out for a Netflix account, either. A year of Netflix costs more than the average taxes that go to local libraries.</p><div id="bc888" class="rm-shortcode" data-rm-shortcode-id="EWXEF01559350607"><blockquote class="twitter-tweet twitter-custom-tweet" data-twitter-tweet-id="1020716316876066817" data-partner="rebelmouse"><div style="margin:1em 0">Do you not understand how unbelievably classist it is to say that everyone has a Netflix account or an Amazon Prime… https://t.co/ggaOrLPt01</div> — Lyndsey R.💜⚪️🖤 (@Lyndsey R.💜⚪️🖤)<a href="https://twitter.com/lyndztanica/statuses/1020716316876066817">1532192708.0</a></blockquote></div><p>Plus, there's a community element that just can't be replaced by a for-profit company like Amazon. When the end goal is to make money versus to provide a service, events that don't help increase profits get cut.</p><div id="28ef3" class="rm-shortcode" data-rm-shortcode-id="C8ZAWQ1559350607"><blockquote class="twitter-tweet twitter-custom-tweet" data-twitter-tweet-id="1021182568002195457" data-partner="rebelmouse"><div style="margin:1em 0">@PMourdoukoutas @Forbes Ridiculous. I don't want to own every book I ever read. Will Amazon bring us authors, or ho… https://t.co/wt2OGjkJNw</div> — Clare Lund 📚 (@Clare Lund 📚)<a href="https://twitter.com/LundLibrarian/statuses/1021182568002195457">1532303871.0</a></blockquote></div><p>The idea that physical books are some kind of relic of the past is simply false. </p><div id="6b63c" class="rm-shortcode" data-rm-shortcode-id="KRZF7B1559350607"><blockquote class="twitter-tweet twitter-custom-tweet" data-twitter-tweet-id="1020886625549783040" data-partner="rebelmouse"><div style="margin:1em 0">@lyndztanica @Forbes Really? "Technology has turned physical books into collector's items" guess you didn't see th… https://t.co/LRmK7GLThZ</div> — Barbara Moon (@Barbara Moon)<a href="https://twitter.com/moonb2/statuses/1020886625549783040">1532233313.0</a></blockquote></div><p>Some suggested that maybe, <em>just maybe</em>, the author hadn't actually visited a library in recent years.</p><div id="26fe7" class="rm-shortcode" data-rm-shortcode-id="MXD69W1559350607"><blockquote class="twitter-tweet twitter-custom-tweet" data-twitter-tweet-id="1021031356992819201" data-partner="rebelmouse"><div style="margin:1em 0">@PMourdoukoutas @Forbes Hi, I did read your article, and you found the biggest innovation that Amazon Books would d… https://t.co/PJs1mzhUzZ</div> — The Lesbian Librarian (@The Lesbian Librarian)<a href="https://twitter.com/comixandkoshki/statuses/1021031356992819201">1532267820.0</a></blockquote></div><p>And others reiterated this idea wouldn't actually save people who need libraries any money.</p><div id="94137" class="rm-shortcode" data-rm-shortcode-id="O8R8Z71559350607"><blockquote class="twitter-tweet twitter-custom-tweet" data-twitter-tweet-id="1021381724457127937" data-partner="rebelmouse"><div style="margin:1em 0">$475 gets you roughly 32 picture books. Many of my patrons read 3 picture books a night to their kiddos. $475 gets them through 11 days.</div> — EmilyReadsBooks (@EmilyReadsBooks)<a href="https://twitter.com/Emilyreadsbooks/statuses/1021381724457127937">1532351354.0</a></blockquote></div><div id="f87c2" class="rm-shortcode" data-rm-shortcode-id="36RQ2P1559350607"><blockquote class="twitter-tweet twitter-custom-tweet" data-twitter-tweet-id="1021383090189594624" data-partner="rebelmouse"><div style="margin:1em 0">Who benefits from nightly reading if a community has an Amazon store instead of a library? Would Amazon also offer… https://t.co/Eho0P5a2uf</div> — EmilyReadsBooks (@EmilyReadsBooks)<a href="https://twitter.com/Emilyreadsbooks/statuses/1021383090189594624">1532351679.0</a></blockquote></div><h2>If there's a lesson to be learned here, it's that replacing public services with private ventures is a bad idea. That and don't piss off librarians.</h2><p>Libraries are a lifeline to people of all income levels. Replacing it with something that would cater solely to middle and upper class families in order to save $40 a year won't exactly elicit a standing ovation from most people.</p><p>According to these tweeting librarians, it sure sounds like Mourdoukoutas didn't do his research. If only there were a place where he could go to read up on subjects he doesn't quite grasp...</p><p class="shortcode-media shortcode-media-rebelmouse-image"><img type="lazy-image" data-runner-src="https://assets.rebelmouse.io/eyJhbGciOiJIUzI1NiIsInR5cCI6IkpXVCJ9.eyJpbWFnZSI6Imh0dHBzOi8vYXNzZXRzLnJibC5tcy8xOTUzNDYwNC9vcmlnaW4uanBnIiwiZXhwaXJlc19hdCI6MTYzNjUzMTI1NX0.WHyqRqBs4gVw-VhFb7JtGhD98vGUTLGQiv0iHoaP8gM/img.jpg?width=980" id="9539e" class="rm-shortcode" data-rm-shortcode-id="780a0e11f77f9e197173553e6b233d3b" data-rm-shortcode-name="rebelmouse-image"><small class="image-media media-caption" placeholder="add caption...">OK, so this is a runway model during some sort of library-themed fashion show in 2015. Photo by Tristan Fewings/Getty Images.</small></p>