Joy
A kid in Kansas released balloons with a note. A Cree man in Quebec found them 1,800 miles away.
The connection led to a beautiful cultural exchange.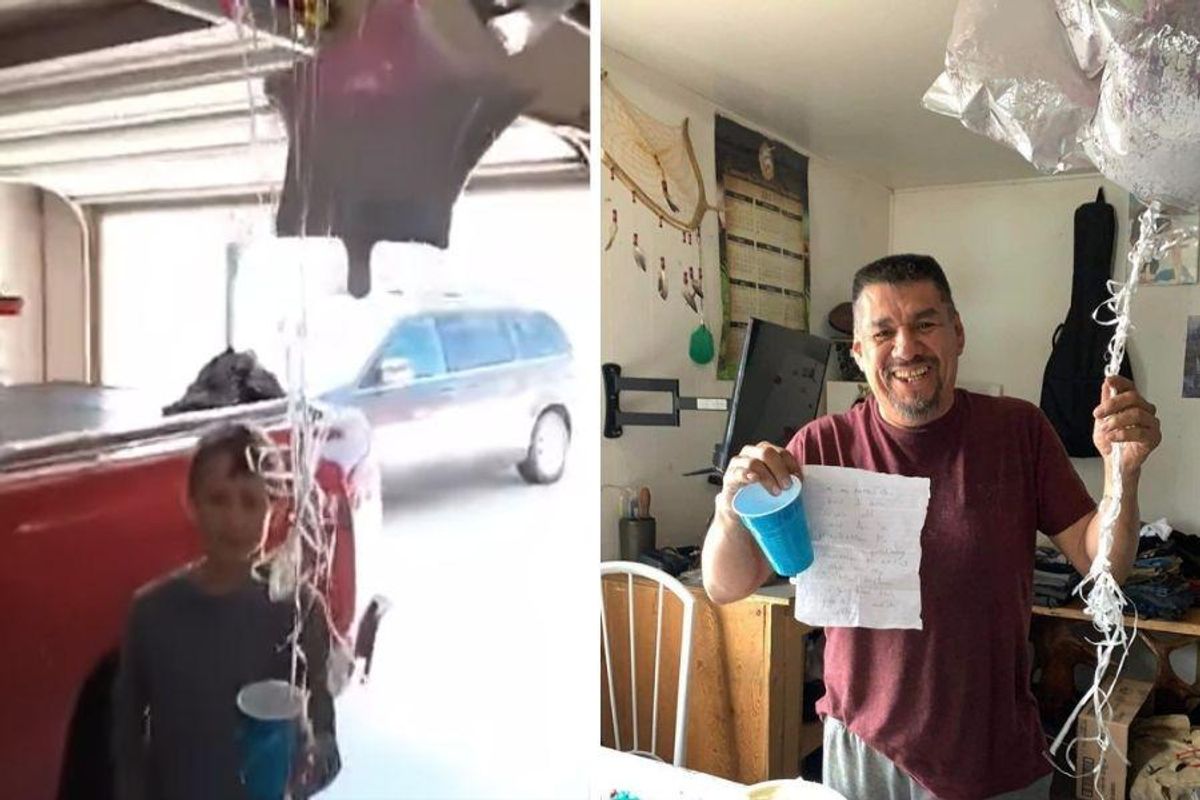 Stories of people tossing a message in a bottle into the ocean and having it found by some stranger on a distant shore have always intrigued us. The questions of chance vs. providence in who receives the message and the possible perils that could impede it from reaching anyone at all make the whole idea intriguing. A simple story beginning—throwing a message haphazardly out to the big, wide world—can have so many endings.
When 10-year-old Reid Habbart from Manhattan, Kansas attached a note to a bunch of helium-filled balloons and sent them off into the sky, he had no idea where it would end up. He certainly didn't expect them to travel more than 1,800 miles north, to traditional First Nations lands in Quebec, where a Cree hunter would find them while out hunting geese.
"I found them on the water … about a kilometer from my camp," 51-year-old David Bertie Longchap told CBC. "I thought 'Oh what is this?'"
---
The way the balloons were found on the water highlights the environmental reasons not to release balloons, but thankfully this story has a happy ending.
Longchap tied the balloons to his pickup truck, and after they dried out he was able to make out the note attached to them: "Hi, my name is Reid. I'm 10-years-old and I live in Manhattan, Kansas …These are my sister's balloons. If you find these, please write me."
Longchap's sister Hattie posted about the find on her Facebook page on April 26, with photos of her brother with the balloons and the note and maps showing how far they had traveled.
Log into Facebook
Hattie connected with Reid's family through Facebook, and they were amazed at where his balloons had ended up.
"The wind was out of the north that day blowing hard," Reid's father told Hattie, according to CBC. "I figured they would end up in Texas. Not north."
Others in the Quebec Cree community have been delighted by the story, sharing comments on Hattie's Facebook posts and extending an invitation for Reid to come visit.
"That is so cool," Amanda Miansum wrote. "Tell him all of us Crees said 'Hi' back too!"
"This little guy just made so many friends in CREE NATION,
hope you get a chance to visit CN and where your balloon journey ended," wrote Delana Gunner-Blackned.
"Hey there Reid, you touched the Cree Nation," wrote Harriet Petawabano. "You are really popular here now, hugs and love to you
."
According to CBC, the Longchaps are planning to send Reid a beaded rainbow keychain in honor of their mother, Emma Trapper Longchap, who was the first of the Quebec Cree to die of COVID-19 in 2020. They will also send a photo and some information about Eeyou Istchee, the traditional Cree lands in the Quebec area.
Reid's parents shared the video of the balloon release in Kansas. You can hear his father saying, "Off to Nebraska," which is hilarious considering how much farther they went.
And in an additional bit of serendipitous coincidence, check out the truck in the video. Reid's balloons began their journey with a red pickup and ended their journey with a red pickup over 1,800 miles away.
No storyteller could have scripted it more perfectly.