More
It's pretty heartwarming, to be honest.
It's not often you see Batman outside of Gotham City, but here we are. In Lebanon. With Batman.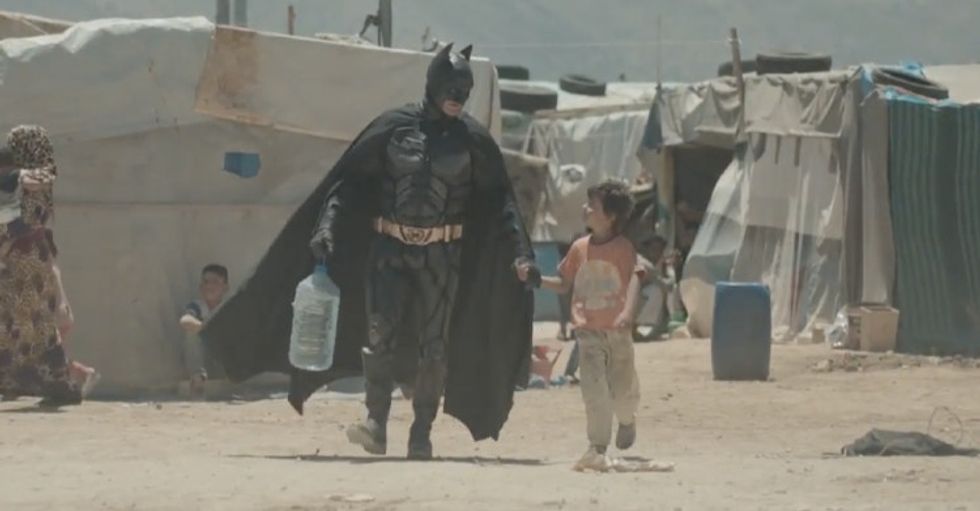 Image via War Child Holland/YouTube.
The photos of children happily playing with the superhero in a Lebanese refugee camp are heartwarming enough without explanation, which is why they recently went viral on Reddit (though the Reddit headline said this was a Syrian refugee camp, it's actually in Lebanon).
<p>But where did they come from? More importantly, is there <em>video</em>? </p><p>Oh you bet there's a video. </p><p class="shortcode-media shortcode-media-rebelmouse-image"><img type="lazy-image" data-runner-src="https://assets.rebelmouse.io/eyJhbGciOiJIUzI1NiIsInR5cCI6IkpXVCJ9.eyJpbWFnZSI6Imh0dHBzOi8vYXNzZXRzLnJibC5tcy8xOTUyODIxMS9vcmlnaW4uZ2lmIiwiZXhwaXJlc19hdCI6MTYwOTc3MjU2MX0.96N4v9ENlcNfzt4acKuZrAV0f-zqyiU9kAKHLaqmzg8/img.gif?width=980" id="d7a34" class="rm-shortcode" data-rm-shortcode-id="8e0f43639dfa8d72b420e2b5835a61e8" data-rm-shortcode-name="rebelmouse-image"><small class="image-media media-caption" placeholder="add caption...">All GIFs from War Child Holland/<a href="https://www.youtube.com/watch?v=PIKewZLeWU8">YouTube</a>.</small></p><h2>The video was produced by a refugee-focused nongovernmental organization called War Child Holland and features a real 8-year-old refugee child named Kadar playing with his hero.</h2><p>Batman gives Kadar rides around the refugee camp on his shoulders.</p><p class="shortcode-media shortcode-media-rebelmouse-image"><img type="lazy-image" data-runner-src="https://assets.rebelmouse.io/eyJhbGciOiJIUzI1NiIsInR5cCI6IkpXVCJ9.eyJpbWFnZSI6Imh0dHBzOi8vYXNzZXRzLnJibC5tcy8xOTUyODIxMi9vcmlnaW4uZ2lmIiwiZXhwaXJlc19hdCI6MTYwNTg3NDkxM30.snXrqAVcvBAL4tbZNqig4baRYcUeRzSxWKwSM2mIXX8/img.gif?width=980" id="f8f9b" class="rm-shortcode" data-rm-shortcode-id="b500c0f5e6acc778fc21636adbfc920c" data-rm-shortcode-name="rebelmouse-image"><small class="image-media media-caption" placeholder="add caption..."></small></p><p>They play soccer...</p><p class="shortcode-media shortcode-media-rebelmouse-image"><img type="lazy-image" data-runner-src="https://assets.rebelmouse.io/eyJhbGciOiJIUzI1NiIsInR5cCI6IkpXVCJ9.eyJpbWFnZSI6Imh0dHBzOi8vYXNzZXRzLnJibC5tcy8xOTUyODIxMy9vcmlnaW4uZ2lmIiwiZXhwaXJlc19hdCI6MTY0MTE1OTU2Nn0.-wO9-KdCgZ0W5QkAg3ILpqJSLDJRsKAO7xCyyLppMxI/img.gif?width=980" id="67ec5" class="rm-shortcode" data-rm-shortcode-id="23fe957a7ff9def24ba7dbc88741965d" data-rm-shortcode-name="rebelmouse-image"><small class="image-media media-caption" placeholder="add caption..."></small></p><p>...and Batman even lets Kadar win an arm-wrestling contest.</p><p class="shortcode-media shortcode-media-rebelmouse-image"><img type="lazy-image" data-runner-src="https://assets.rebelmouse.io/eyJhbGciOiJIUzI1NiIsInR5cCI6IkpXVCJ9.eyJpbWFnZSI6Imh0dHBzOi8vYXNzZXRzLnJibC5tcy8xOTUyODIxNS9vcmlnaW4uZ2lmIiwiZXhwaXJlc19hdCI6MTYyNjk1ODE5MH0.vLOv0Fe5sM9xS0ilERPJrX_pDSwjjV_VPTEZIHNk8NI/img.gif?width=980" id="40dbf" class="rm-shortcode" data-rm-shortcode-id="5547a121d28326f197648c65dcd244bb" data-rm-shortcode-name="rebelmouse-image"><small class="image-media media-caption" placeholder="add caption..."></small></p><p>They sing songs around a campfire...</p><p class="shortcode-media shortcode-media-rebelmouse-image"><img type="lazy-image" data-runner-src="https://assets.rebelmouse.io/eyJhbGciOiJIUzI1NiIsInR5cCI6IkpXVCJ9.eyJpbWFnZSI6Imh0dHBzOi8vYXNzZXRzLnJibC5tcy8xOTUyODIxNi9vcmlnaW4uZ2lmIiwiZXhwaXJlc19hdCI6MTY1MTc4MjMwMn0.0Mtmsb-bgdIiwHtwfqowSRxZU4lfzRagssnvlVE1v5o/img.gif?width=980" id="a700a" class="rm-shortcode" data-rm-shortcode-id="ce8584a2453e9327d5f15cbf986a1e42" data-rm-shortcode-name="rebelmouse-image"><small class="image-media media-caption" placeholder="add caption..."></small></p><p>...and fly kites in open fields.</p><p class="shortcode-media shortcode-media-rebelmouse-image"><img type="lazy-image" data-runner-src="https://assets.rebelmouse.io/eyJhbGciOiJIUzI1NiIsInR5cCI6IkpXVCJ9.eyJpbWFnZSI6Imh0dHBzOi8vYXNzZXRzLnJibC5tcy8xOTUyODIxNy9vcmlnaW4uZ2lmIiwiZXhwaXJlc19hdCI6MTU5NDk5Nzc0NX0.-WXvCQ_E-REQu03xO8RX85aqD93hufOHHxvYUVPiexY/img.gif?width=980" id="908c8" class="rm-shortcode" data-rm-shortcode-id="69eb20e26ace9d6b13e7919bf7939c7f" data-rm-shortcode-name="rebelmouse-image"><small class="image-media media-caption" placeholder="add caption..."></small></p><h2>As if the video weren't heartwarming enough, it ends on a seriously sentimental note. </h2><p>It turns out Kadar's best friend and hero wasn't really Batman at all. </p><p>It was his father all along.</p><p class="shortcode-media shortcode-media-rebelmouse-image"><img type="lazy-image" data-runner-src="https://assets.rebelmouse.io/eyJhbGciOiJIUzI1NiIsInR5cCI6IkpXVCJ9.eyJpbWFnZSI6Imh0dHBzOi8vYXNzZXRzLnJibC5tcy8xOTUyODIxOC9vcmlnaW4uZ2lmIiwiZXhwaXJlc19hdCI6MTYwMjMyMzU4NH0.zmONm6KFAehRIcfJnshjSy96zLzoXP51GH08UX64XVY/img.gif?width=980" id="b6151" class="rm-shortcode" data-rm-shortcode-id="e686131acd5cf7d0e177ff8461f330a2" data-rm-shortcode-name="rebelmouse-image"><small class="image-media media-caption" placeholder="add caption..."></small></p><p>The goal of the video was to show just how important the bond between children and their parents can be. The constant stress of war and uncertainty can make it hard to keep that bond strong. That's what makes the work War Child does so important.</p><p>"We want to show that fantasy is often the only way to escape reality for these children who are affected by war," wrote Veronique Hoogendoorn, War Child's director of marketing, communications, and fundraising, in a press release. "The work of War Child is needed to help these children process their experiences. 250 million children worldwide grow up in war. We help hundreds of thousands of children with <a href="https://www.warchildholland.org/our-work" target="_blank">psychosocial support, protection and education</a>."</p><p>Millions of people, millions of families, have been displaced because of ongoing war and there's a lot we can do to help support them. Supporting organizations like <a href="https://www.warchildholland.org/donate" target="_blank">War Child</a>, the <a href="http://www.unrefugees.org/can-help/" target="_blank">UN High Commission on Refugees</a>, and <a href="https://secure.savethechildren.org/site/c.8rKLIXMGIpI4E/b.8102415/k.1377/Please_Give_Monthly_to_Save_the_Children/apps/ka/sd/donor.asp" target="_blank">Save the Children</a> is a great way to give back and give kids who've been through a lot a shot at life.</p><p><strong>Watch the video below: </strong></p><div><div data-card="html" data-reactroot=""><span style="display:block;position:relative;padding-top:56.25%;" class="rm-shortcode" data-rm-shortcode-id="5940b25e380214c3e4d61c1b20fdde8f"><iframe type="lazy-iframe" data-runner-src="https://www.youtube.com/embed/PIKewZLeWU8?rel=0" width="100%" height="auto" frameborder="0" scrolling="no" style="position:absolute;top:0;left:0;width:100%;height:100%;"></iframe></span></div></div><p><em>Check out the </em><a href="https://www.warchildholland.org/batman/making-of" target="_blank"><em>behind the scenes details on War Child's website</em></a><em>.</em></p>