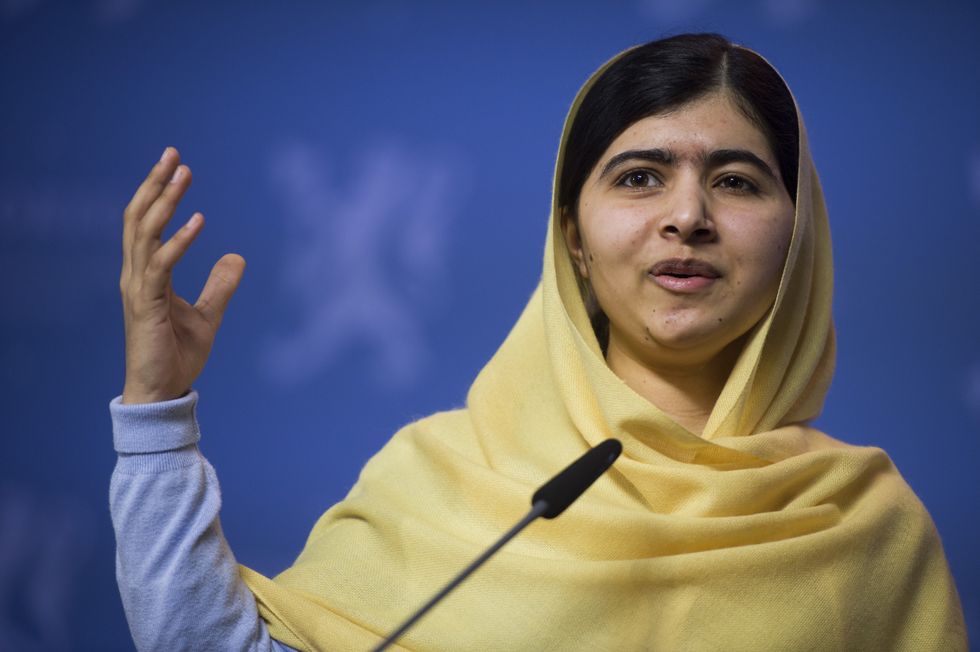 Photo by Odd Andersen​/AFP/Getty Images.​
You've probably heard of Malala Yousafzai.
Yousafzai gained worldwide attention when she survived an assassination attempt from the Taliban in 2012. She was shot in the head and neck while on the school bus in Swat Valley, Pakistan, because she was advocating for girls' rights to an education.
<p>Since then, Yousafzai has made it her life's mission to champion gender equality and human rights. She launched the <a href="https://www.malala.org/" target="_blank">Malala Fund</a>, a nonprofit that supports girls' education across the world and she's visited refugee camps to show solidarity with displaced young people. Her work earned her the <a href="http://www.upworthy.com/we-know-malala-won-the-nobel-peace-prize-do-you-know-what-shes-done-to-girls-around-the-world">Nobel Peace Prize in 2014</a>, making her the youngest person to ever be awarded the prestigious distinction. </p><p>In 2013, she gave <a href="https://theirworld.org/explainers/malala-yousafzais-speech-at-the-youth-takeover-of-the-united-nations" target="_blank">a compelling speech</a> before the United Nations on July 12, her birthday, calling for global access to education. July 12 thereafter became Malala Day. </p><p>Following in Malala's powerful footsteps, here are five other young women working to change the world for the better.</p><h2>1. Emma González, 18</h2><p class="shortcode-media shortcode-media-rebelmouse-image"><img type="lazy-image" data-runner-src="https://assets.rebelmouse.io/eyJhbGciOiJIUzI1NiIsInR5cCI6IkpXVCJ9.eyJpbWFnZSI6Imh0dHBzOi8vYXNzZXRzLnJibC5tcy8xOTQ3MDUwMi9vcmlnaW4uanBnIiwiZXhwaXJlc19hdCI6MTYwODE0MzAxOX0.neC0BB44bLpJ4ME8o8GIcujw2BhRhX3C5NZnzHgD7Ys/img.jpg?width=980" id="8756c" class="rm-shortcode" data-rm-shortcode-id="c2b23821ce917ff16d66baf58d0f3564" data-rm-shortcode-name="rebelmouse-image"><small class="image-media media-caption" placeholder="add caption...">Photo by Nicholas Kamm/AFP/Getty Images.</small></p><p>Emma González, 18, used her voice, or lack thereof, to bring awareness to gun violence.</p><p>On March 24, at the <a href="http://www.upworthy.com/25-of-the-best-signs-from-march-for-our-lives-demonstrations-around-the-globe">March for Our Lives rally</a> in Washington, D.C., González captivated the world when she <a href="http://www.upworthy.com/emma-gonzalez-remembers-her-classmates-in-a-gut-wrenching-powerful-speech">stood in silence</a> for a portion of her speech. Her time at the podium was just over six minutes — the amount of time it took a gunman to open fire at her high school in Florida and kill 17 of her classmates.</p><p>González and her fellow students have spoken at rallies, met with local community members, and have even <a href="https://www.washingtonpost.com/news/education/wp/2018/03/22/the-march-is-just-the-start-parkland-students-and-lawmakers-speak-out-about-gun-violence/" target="_blank">gone head-to-head with lawmakers</a> demanding actionable change to gun law reform. </p><h2>2. Mari Copeny, 10</h2><p class="shortcode-media shortcode-media-rebelmouse-image"><img type="lazy-image" data-runner-src="https://assets.rebelmouse.io/eyJhbGciOiJIUzI1NiIsInR5cCI6IkpXVCJ9.eyJpbWFnZSI6Imh0dHBzOi8vYXNzZXRzLnJibC5tcy8xOTQ3MDUwMy9vcmlnaW4uanBnIiwiZXhwaXJlc19hdCI6MTY0MjY0MDU4MH0.a9smAqhAzSzQX6wpXgVyC8CuLcmvH-0B_bf1zlg-nGg/img.jpg?width=980" id="0b4e8" class="rm-shortcode" data-rm-shortcode-id="73c856ae0ca8a5e3fdfe5bbbf2840faf" data-rm-shortcode-name="rebelmouse-image"><small class="image-media media-caption" placeholder="add caption...">Photo by Jim Watson/AFP/Getty Images</small></p><p>You may have heard of Mari Copeny as "Little Miss Flint." The 10-year-old has become one of the leading activists fighting for access to clean water in Flint, Michigan.</p><p>When she first heard news that her town's water supply was contaminated, a then-8-year-old Mari <a href="http://www.latimes.com/nation/nationnow/la-na-read-little-miss-flint-letter-20160504-snap-htmlstory.html" target="_blank">wrote a letter</a> to then-President Obama requesting to meet with her and other Flint residents to discuss the water supply. In response, Obama traveled to the city to see the issue firsthand.</p><p>Little Miss Flint is still working hard for her community. In the past year, she has raised thousands of dollars to provide Flint students with backpacks for the school year. She has even appeared in a <a href="https://www.teenvogue.com/story/little-miss-flint-mari-copeny-endorsed-abdul-el-sayed-michgan-governor" target="_blank">campaign ad</a> endorsing Abdul El-Sayed for governor of Michigan. </p><h2>3. Yara Shahidi, 18</h2><p class="shortcode-media shortcode-media-rebelmouse-image"><img type="lazy-image" data-runner-src="https://assets.rebelmouse.io/eyJhbGciOiJIUzI1NiIsInR5cCI6IkpXVCJ9.eyJpbWFnZSI6Imh0dHBzOi8vYXNzZXRzLnJibC5tcy8xOTQ3MDUwNS9vcmlnaW4uanBnIiwiZXhwaXJlc19hdCI6MTYxNjgyNTM4MH0.xTjoWKJhX7Wfxt7firJsg0LtbifSNlh-ZGtaLz_-VzM/img.jpg?width=980" id="c08e6" class="rm-shortcode" data-rm-shortcode-id="aa1aa9418a6b6fe8e3e306dea15ebc29" data-rm-shortcode-name="rebelmouse-image"><small class="image-media media-caption" placeholder="add caption...">Photo by Emma McIntyre/Getty Images for MTV</small></p><p>Yara Shahidi, 18, is all-around #BlackGirlMagic. You may know her as Zoey Johnson from the television shows "Black-ish" and "Grown-ish," but the budding actress has dedicated her platform to advocate for social justice. </p><p>Shahidi has been an outspoken advocate for better representation and diversity in Hollywood. She uses her appearance on daytime and late-night television to <a href="https://www.huffingtonpost.com/entry/yara-shahidi-iran-protests_us_5a4dad12e4b025f99e1fddf0" target="_blank">speak in favor of human rights</a> and racial equality. Most recently, the Iranian-American actress spoke about the <a href="https://www.elle.com/culture/celebrities/news/a42518/yara-shahidi-trump-muslim-ban-repsonse-sag-awards/" target="_blank">harmful consequences</a> President Donald Trump's Muslim ban has on families like hers. </p><p>But Shahidi also puts her words into practice. She started <a href="https://www.nytimes.com/2015/11/29/fashion/black-ish-star-yara-shahidi-is-a-role-model-off-screen.html" target="_blank">Yara's Club</a>, a collaboration with the <a href="http://www.ywln.org/all-girls-school" target="_blank">Young Women's Leadership School</a>, where she gathers high school students to discuss how to bring about social change. She has also worked with Michelle Obama for the former first lady's <a href="https://letgirlslearn.gov/" target="_blank">Let Girls Learn</a> program that emphasizes girls' education.</p><p>What's Shahidi up to now? This fall, when she's not acting or leading the resistance, Shahidi will be pursuing an undergraduate degree at Harvard University. She plans on majoring in African-American studies and sociology. </p><h2>4. Bana Al-Abed, 9</h2><p class="shortcode-media shortcode-media-rebelmouse-image"><img type="lazy-image" data-runner-src="https://assets.rebelmouse.io/eyJhbGciOiJIUzI1NiIsInR5cCI6IkpXVCJ9.eyJpbWFnZSI6Imh0dHBzOi8vYXNzZXRzLnJibC5tcy8xOTQ3MDUwNy9vcmlnaW4uanBnIiwiZXhwaXJlc19hdCI6MTY1NTc2MDA1OX0.__P9t_rgzmJLbl--HC1_YqYv-JIlu9O_2_uX0GbDMR4/img.jpg?width=980" id="02377" class="rm-shortcode" data-rm-shortcode-id="6c5c7fa21d65f634523aa0c12e9338df" data-rm-shortcode-name="rebelmouse-image"><small class="image-media media-caption" placeholder="add caption...">Photo by Adem Altan/AFP/Getty Images.</small></p><p>Bana Al-Abed may not be 10 yet, but she has experienced some of the most daunting realities of this world. Al-Abed gained notoriety <a href="https://twitter.com/alabedbana" target="_blank">for using Twitter</a> to show the world the hellish conditions in her community in Aleppo, Syria. From broadcasting airstrikes to describing widespread hunger, Al-Abed gave people an inside look into the nightmare and human strife that comes with war. </p><p>Al-Abed and her family managed to flee to Turkey as refugees, but while she may have managed to escape the terrors of war, the experiences still live with her. In October 2017, Al-Abed released a book, "<a href="https://www.amazon.com/Dear-World-Syrian-Girls-Story/dp/150117844X" target="_blank">Dear World: A Syrian Girl's Story of War and Plea for Peace</a><em><em>,</em>"</em> detailing her accounts of the Syrian Civil War to further spread her message.</p><h2>5. Janna Jihad, 12</h2><p class="shortcode-media shortcode-media-rebelmouse-image"><img type="lazy-image" data-runner-src="https://assets.rebelmouse.io/eyJhbGciOiJIUzI1NiIsInR5cCI6IkpXVCJ9.eyJpbWFnZSI6Imh0dHBzOi8vYXNzZXRzLnJibC5tcy8xOTQ3MDUwOC9vcmlnaW4uanBnIiwiZXhwaXJlc19hdCI6MTYxNzE0NzA4Mn0.SHVtO1zuEh-EXvqWPgaExvMd2LhwM3GsdTNkMAn_uUg/img.jpg?width=980" id="69212" class="rm-shortcode" data-rm-shortcode-id="0ef2d0eb0e4803acda510623fe6cb623" data-rm-shortcode-name="rebelmouse-image"><small class="image-media media-caption" placeholder="add caption...">Photo by Janna Jihad/Facebook.</small></p><p>Janna Jihad is among the world's youngest journalists. But for Jihad, who lives in Nabi Saleh of the occupied West Bank, journalism is no easy feat. She uses her mother's iPhone to <a href="https://www.aljazeera.com/news/2016/04/janna-jihad-meet-palestine-10-year-journalist-160426132139682.html" target="_blank">film videos</a> in Jerusalem, Nablus, Hebron, and Jordan, where she documents in English and Arabic the discrimination Palestinians face at checkpoints and Israeli soldiers' abuse toward women and children. </p><p>Her work has also made her a target. In April 2018, Israeli authorities <a href="https://twitter.com/nadplo/status/982902375454330880" target="_blank">detained and interrogated</a> Jihad on her way home on the Jordanian border. </p><p>But the 12-year-old is no stranger to scare tactics. She and her family experienced much worse, and violence won't faze her from continuing her journalism career. It's her way to defend her family and the Palestinian people. "My camera is my gun," Janna told <a href="https://www.aljazeera.com/news/2016/04/janna-jihad-meet-palestine-10-year-journalist-160426132139682.html" target="_blank">told Al Jazeera</a>. "The camera is stronger than the gun [...] I can send my message to small people, and they can send it to others."</p><h2>These young women may advocate for different causes, but they prove one important message.</h2><p>It's an understatement to say that these activists are inspiring. Despite hardship and turmoil, these young women were able to find voices within themselves and take a stand. </p><p>It proves that it doesn't matter who you are, where you're from, how old you are, or which gender you identify with, if you put your mind to it, anyone can make a difference.</p>