Cassie Gretschel and her little brother, Max, have a wonderful Christmas tradition.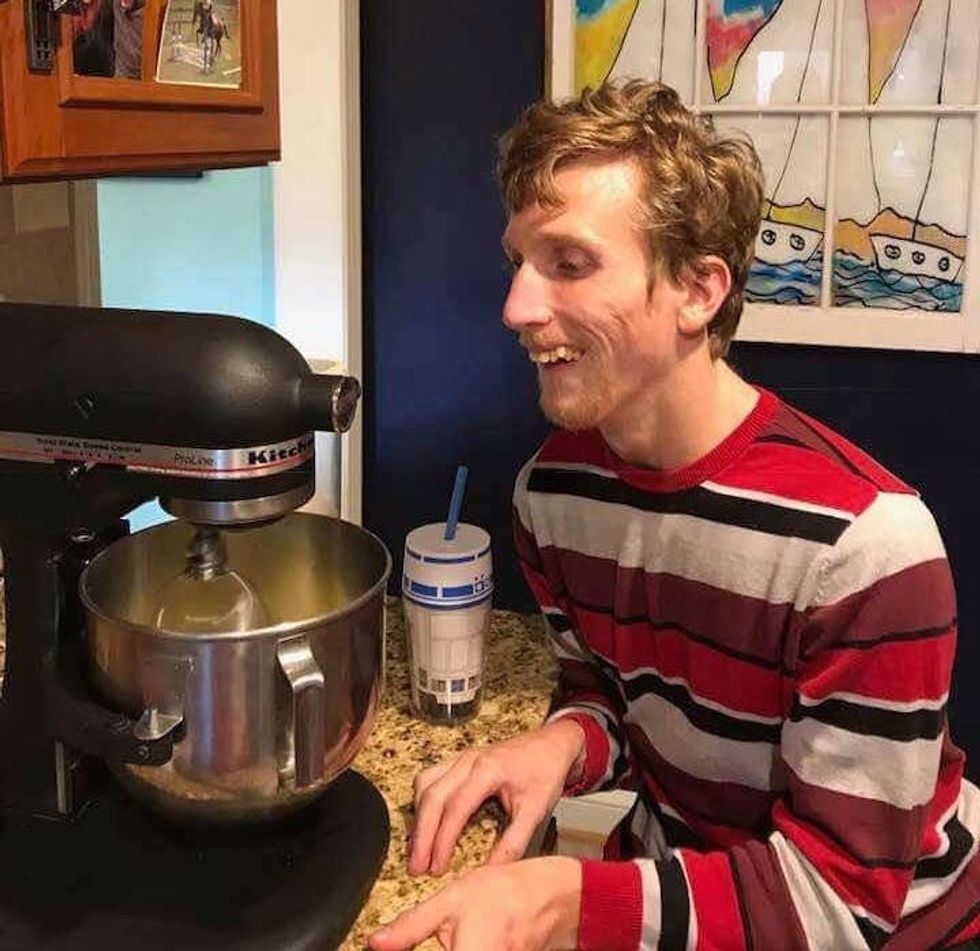 All photos by Cassie Gretschel used with permission
Gretschel says Max, who is 25, has severe mental and physical disabilities, including Cerebral Palsy and scoliosis. She writes that his brain development is on par with a 5-year-old, and that he has impaired vision and spends most of his time in a wheelchair.
<p><strong>And there's only one thing Max wants for Christmas — the same thing he asks for every year: A police Hummer Tonka truck. In blue.</strong></p><p>"Max thinks that the Tonka Police Hummer is the holy grail of all toys," Gretschel says in an email. "It's not too loud, it lights up, it's big without being too big and it goes forwards and backwards slowly with the flip of a lever. It also has a winch and hook that wind and unwind with a lever. For someone visually and mobily [<em>sic</em>] impaired, it's fun and very simple to operate."</p><p>Gretschel and her family have given Max a new version of the same truck every year since it first came out in 2000. There's just one problem — the toy has since been discontinued, and Max's family had already gathered up all the models they could find on eBay and other internet auction sites.</p><p>That meant Max was at risk of facing his first Christmas in 17 years without a new truck for collection.</p><p class="shortcode-media shortcode-media-rebelmouse-image"><img type="lazy-image" data-runner-src="https://assets.rebelmouse.io/eyJhbGciOiJIUzI1NiIsInR5cCI6IkpXVCJ9.eyJpbWFnZSI6Imh0dHBzOi8vYXNzZXRzLnJibC5tcy8xOTUzMDQxMy9vcmlnaW4uanBnIiwiZXhwaXJlc19hdCI6MTYwODI3OTUzOX0.9SKErJXDgk46_Vbvl41jDGxp6DRDA14l9txfPrma3ZA/img.jpg?width=980" id="6ac82" class="rm-shortcode" data-rm-shortcode-id="0a7876a24fd714c0a4306d7acd196a29" data-rm-shortcode-name="rebelmouse-image"><small class="image-media media-caption" placeholder="add caption...">The red ones just aren't the same, according to Max.</small></p><h2>Desperate, Gretschel posted her story to <a href="https://www.reddit.com/r/pics/comments/7gdfvm/every_christmas_i_have_to_buy_the_exact_same_toy/" target="_blank">Reddit</a>, along with a request.</h2><p>"I figured that maybe a couple redditors might have had the truck as a kid and would be willing to sell them to me for some extra Christmas cash," she says.</p><p>In her post, she describes Max's love for the truck and ends with a reasonable call-to-action: "If anyone has one of these in their attics, please throw it on eBay!"</p><h2>The internet community, however, was about to do her one better.</h2><p class="shortcode-media shortcode-media-rebelmouse-image"><img type="lazy-image" data-runner-src="https://assets.rebelmouse.io/eyJhbGciOiJIUzI1NiIsInR5cCI6IkpXVCJ9.eyJpbWFnZSI6Imh0dHBzOi8vYXNzZXRzLnJibC5tcy8xOTUzMDQxNC9vcmlnaW4uanBnIiwiZXhwaXJlc19hdCI6MTYzNDgzNzM3Mn0.Ugn9ofhm_IwbeKPGFU1IFXBuPKALqs9OnT_Wy_sEZJQ/img.jpg?width=980" id="2e50b" class="rm-shortcode" data-rm-shortcode-id="70257c754eab7b0591cc0d3f46232ecc" data-rm-shortcode-name="rebelmouse-image"><small class="image-media media-caption" placeholder="add caption..."></small></p><p>Gretschel woke up the next day to discover that her post had gone massively viral. She says her inbox was flooded with notes from people who wanted to help.</p><p>The generous offers poured in from around the globe offered, as redditors offered not just to give Max the Hummer toy he wanted, but to take him on a ride in a <em>real</em> Hummer. Others wanted to donate Amazon gift cards so Cassie could buy him something else.</p><p>Still more felt the urge to share their support and love for Gretschel on her quest to bring her little brother some joy.</p><h2>As her story continued to spread, Cassie finally got an answer to her obscure and unlikely request: As of this writing, she says she has received <em>six</em> of the trucks from redditors — including one still in its box.</h2><p>Tonka themselves even got involved after being overwhelmed with messages, and while they haven't tracked down any blue hummers just yet, they have offered to repaint a red one for Max and send it along.</p><p>They're even looking into getting new blue ones manufactured so the tradition never has to end. (But the Grestchel's better stock up — Cassie tells <a href="https://www.buzzfeed.com/briannasacks/this-woman-needed-to-find-an-old-toy-truck-for-her-disabled?utm_term=.hxlD7dLbm#.toKYGg9Xp" target="_blank">Buzzfeed</a> that Max likes to get a new truck on his birthday, too.)</p><div><div data-card="facebook" data-reactroot=""><div class="fb-post" data-href="https://www.facebook.com/tonka/posts/1853957554632090" data-width="552"><blockquote cite="https://www.facebook.com/tonka/posts/1853957554632090" class="fb-xfbml-parse-ignore"><p>**UPDATE** Thank you all so much for your help! We have been able to contact the author and are making...</p>Posted by <a href="https://www.facebook.com/tonka/">Tonka</a> on <a href="https://www.facebook.com/tonka/posts/1853957554632090">Wednesday, November 29, 2017</a></blockquote></div></div></div><h2>The way thousands of strangers on the internet came through for Max is a true holiday miracle.</h2><p>Even though it's great to hear about how all the Tonka trucks for Max to enjoy, the mere fact that so many strangers came together to give someone they've never met a great holiday surprise might be the most inspiring part of the whole story. </p>