Family
A doctor specializing in child development shares 5 of her most surprising parenting tips
"How To Discipline Your Child So They Actually Learn" is one of her more popular videos.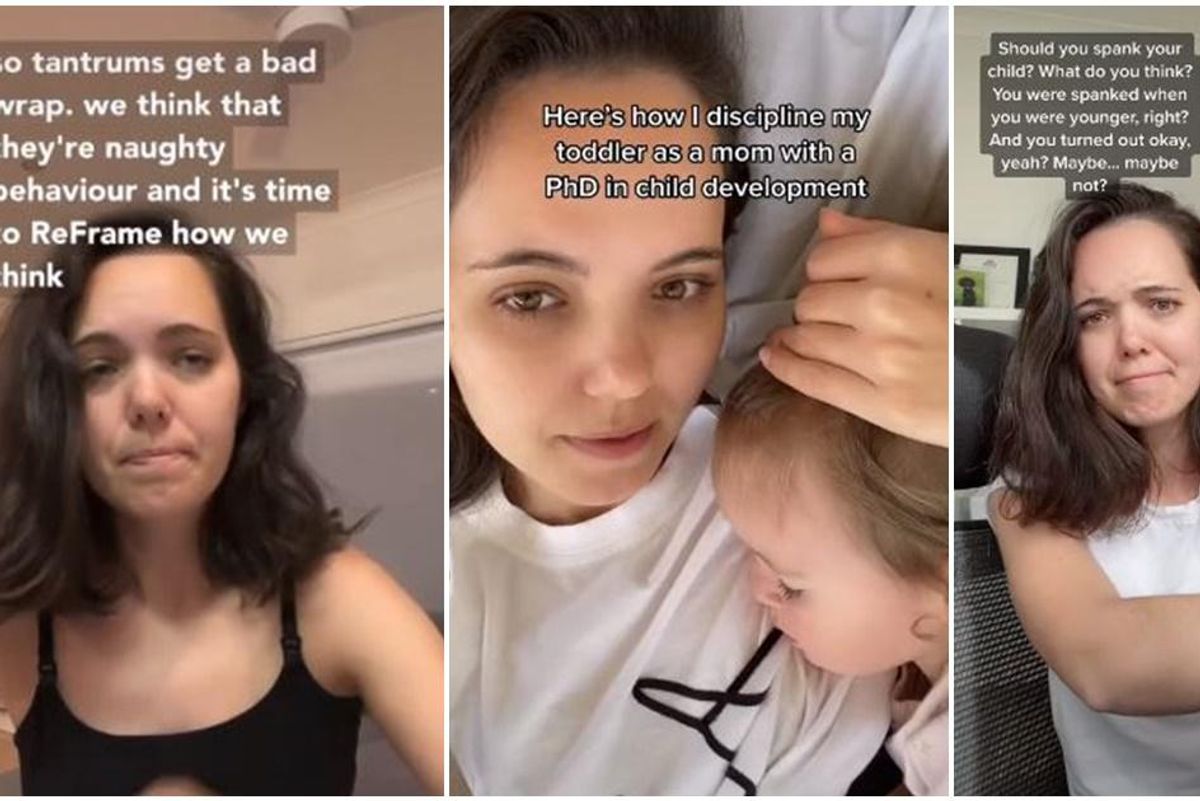 via drkristynsommer / TikTok
Parenting is the most important job that most people will ever have in life. Your decisions as a parent will be some of the most important determining factors in whether your child becomes a happy and productive adult or not. It's a huge responsibility.

Parenting is a difficult and important undertaking, but many parents simply repeat the same strategies used by their parents. How often do we hear people rationalize their decisions by saying, "That's what my parents did and I came out OK."
---
This approach to raising children negates the fact that with every generation there are countless studies done on child development, many of which run counter to popular parenting wisdom from the past.
Dr. Kristyn Sommer, who has a PhD in child development, has received a lot of attention on social media because of her dedication to teaching "evidence-based parenting." This expertise has made her an advocate for strategies that run counter to conventional parenting wisdom and have stirred up a bit of controversy.
Here are five TikTok videos where Sommer shares some of her evidence-based parenting strategies.
Three Things I Do Differently as a Mum with a PhD in Child Development
In Dr. Sommer's first video where she references her degree she admits she refuses to sleep train, co-sleeps with her daughter, and never calls her "naughty" or "bad." She delves deeper into her thoughts on discipline in the next video.
How To Discipline Your Child So They Actually Learn
Dr. Sommer uses positive reinforcement to discipline her child and as she said in the previous video, avoids the use of terms such as "naughty" or "bad." If her daughter is doing something wrong she asks her to contemplate whether she's making a good or a bad decision.
How to Handle Tantrums
Most people tend to think of a tantrum as naughty behavior. However, they are actually a combination of a bunch of little stresses that the child has experienced throughout the day that eventually overwhelm them. Once they hit the tipping point, all of their big feelings bubble up to the surface, resulting in a healthy expression of emotion.
Should You Spank Your Child?
Dr. Sommer is passionately against "spanking, corporal punishment, physical punishment, what ever you want to call it." She says it needs to stop because it has little effect on behavior and can lead to antisocial tendencies in the future.

She Doesn't Teach ABCs and 1,2,3s
Dr. Sommer isn't worried about teaching her child her toddler alphabet or how to count. She says that it "doesn't really help them with anything" but they should spend that time playing because that's where they learn best.
@drkristynsommer

Play > rote learning for toddlers 🙌 #playbasedlearning #learningthroughplay #playmatters #earlylearning #earlychildhoodeducation #preschool #toddler
This article originally appeared on 08.03.21