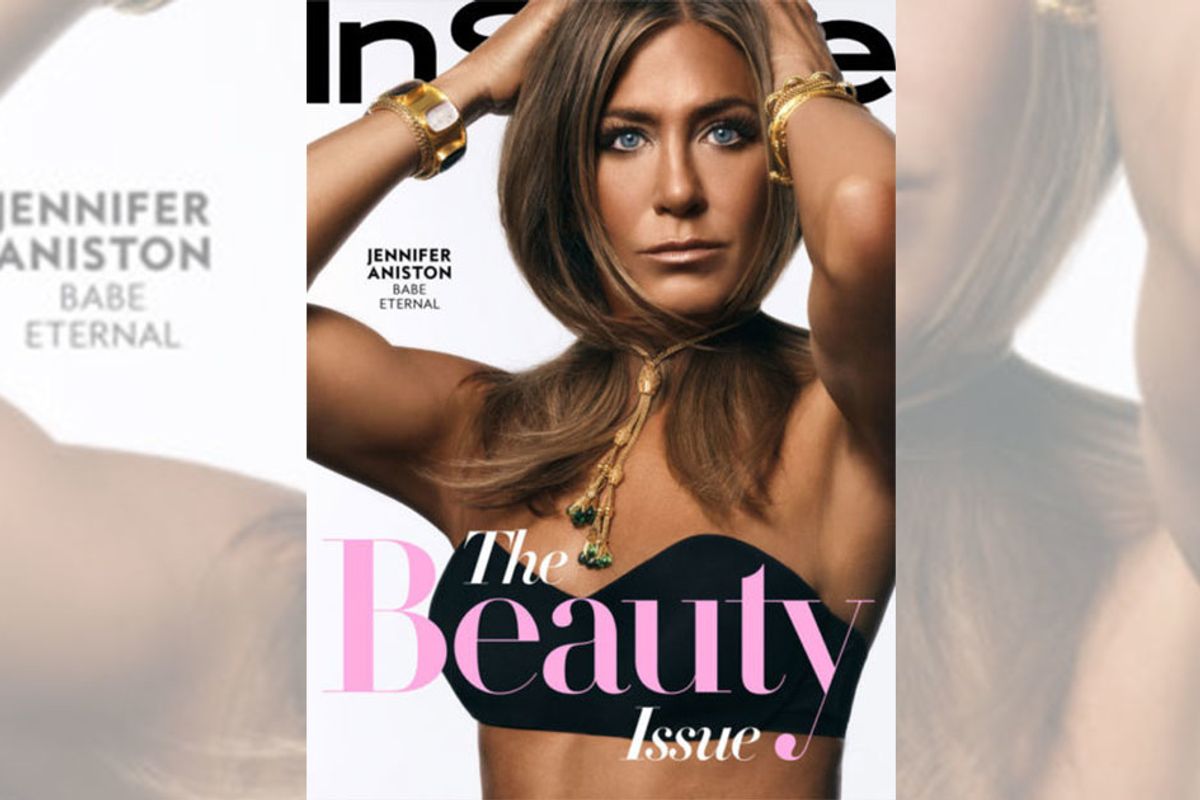 Instagram / InStyle
The practice of photoshopping celebrities when they appear on the cover of magazines can be problematic. Normal "imperfections" are airbrushed out, waists are slimmed, and sometimes even whole body parts are replaced. And now, skin colors are being swapped out, too. The October issue of InStyle magazine features five different cover photos of Jennifer Aniston recreating iconic beauty looks from the '60s and '70s. But some of the images feature the actress rocking noticeably darker skin, and we're not talking a shade or two of a "healthy glow."
---
The photos have the masses divided. Some fans are not happy about the airbrushing, saying the actress was darkened to the point where she's offensive.
"I get that these covers are supposed to be channeling the glamour of yesteryear but that 'glamour' routinely marginalized women of color for white women (whether made tan or otherwise). Seeing Jennifer Aniston several shades darker than normal reminds me of that legacy. In 2019, if you want a brown-skinned woman on your cover, put a brown-skinned woman on your cover," one person pointed out on Instagram.
Another person called out Hollywood's habit of using white people to play people of color. "When we asked for south Asian representation in the media this isn't what we meant," the user wrote.
One person just simply wrote, "Blackface," but they weren't alone in the comparison. "You can totally 'stretch your boundaries' without doing brown face though so……" someone commented.
"I didn't know she was a person of color," another person joked.
Others called Aniston's airbrushing unnecessary and insulting. She already looks great, why guild the lily?
"Jen is an icon, and loved by so many. She doesn't need the heavy airbrushing and 10 shades too dark 'tan' I suppose magazines such as yours assume we're too blind to notice? Trust me we'd have a lot more respect for you if you just left the heavy handed airbrushing out of your covers," someone wrote on Instagram.
Others came to the "Friends" star's defense, claiming that the tan is just a tan.
"It's called having a tan, or using bronzer. Get over it," an Instagram user said.
"Hmmmm so looking healthy and happy with a sun kissed glow is worth criticising?? Good God people, Jennifer is stunning and graces that magazine cover," one person posted.
"People are allowed to wear bronze and spray tans… whats ya issue.. we come in different colors other then fair and porcelain," another person wrote.
Ironically, the article inside the magazine discusses how Aniston fears that social media hurts young people who are trying to figure themselves out. "They're doing it through someone else's lens, which has been filtered and changed… and then it's 'like me, don't like me, did I get liked?' There's all this comparing and despairing," Aniston told InStyle.
Sometimes a tan is just a tan. Other times, it's indicative that the beauty industry conciders certain ethnicities "on trend," yet takes minimal effort to include the people who actually are of that group. Regardless, InStyle should go easy on the airbrush next time.