Photo courtesy of Betina Slataper, BS, RN.
True
Betina Slataper is, by nature, a nurturer. She worked for nearly a decade as a night charge nurse in the ICU, mentoring new nursing graduates that came onto her floor. A night owl who doesn't mind working while the rest of the world sleeps, she typically clocked in at 6:45 p.m. and headed home around 7:15 the following morning—just in time to dress and feed her oldest before taking him to school.
After her kids grew up, Slataper took a job as a Wellness Nurse at an assisted living facility in Baton Rouge—just as the worst infectious disease outbreak in more than a century swept through the United States. But the pandemic hasn't stopped her from her life's work.
"Caring for others gives me a sense of purpose," she said. "It satisfies my need to nurture…I want to save lives and make a difference."
---
And so, every day, Slataper heads to work knowing that she has to protect herself in order to stay safe from the novel virus, while at the same time making a difference in the lives of people who are suffering. Louisiana is no stranger to COVID-19 deaths; outbreaks in assisted living and nursing homes are rampant.
Slataper explains, "PPE (Personal Protection Equipment) is worn in caring for all COVID-19 patients/residents. We must wear eye protection—usually goggles or a face shield—an N-95 facemask, a gown, and gloves. This helps to protect us all from getting the virus and also from giving it to other patients."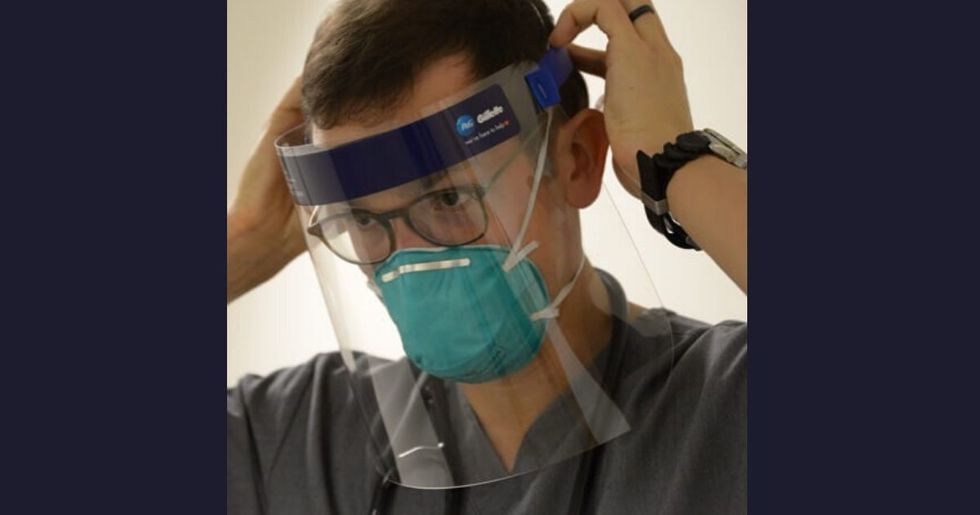 Photo courtesy of Gillette
Face shields are big visors that are worn over N95 respirator masks to protect them from being soiled or damaged, which is especially important when mask supplies are in limited supply. Every piece of equipment is vital, obviously, but the face shield is what protects your eyes, nose, and mouth.

Slataper has enough PPE to do her job safely, she says, but there are many hospitals and healthcare facilities across the nation struggling to provide an adequate supply of gear for doctors, nurses, and medical staff. That's what drove the Gillette team in Boston, Massachusetts to expand its manufacturing capabilities beyond blades and razors and begin producing face shields for healthcare workers on the front lines of the response to coronavirus.
In just 14 days, a team of passionate Gillette employees put their engineering and manufacturing knowhow to work, created a prototype and began producing the shields that are critically needed. To date, Gillette has donated more than 100,000 face shields to Massachusetts healthcare organizations and will have donated an additional 200,000 face shields by early June — all with the goal of helping to save lives.
"It has been the most inspiring project," reflects Jimmy Jia, Head of Marketing and Operations at Gillette Ventures. "Watching this volunteer community come together to execute something that's not a part of our core business and breaking down barriers to get [face shields] out the door in a matter of days— there isn't a better way to make an impact on our community."
Tim Quigley, Senior Vice President and Chief Nursing Officer for South Shore Health, an independent, non-profit health system in southeastern Massachusetts, said the system recently modified its PPE guidance to require clinicians wear a face shield or goggles at all times while working with patients — whether or not they have been diagnosed with COVID-19 or are suspected of having contracted the virus. "When you are wearing a Gillette face shield for extended periods of time, you appreciate the craftsmanship even more," he said.
It's easy to get discouraged by what is out of our control, but even a pandemic can't stop individuals, organizations and companies from doing good. So, what gets Slataper out of bed every day? "My motto is 'let's go make a difference,' she said. 'Helping others is how I do that.'"
Turn your everyday actions into acts of good every day at P&G Good Everyday.