Heroes
10-year-old trans girl brilliantly calls out Texas lawmakers for attacking her since 'pre-K'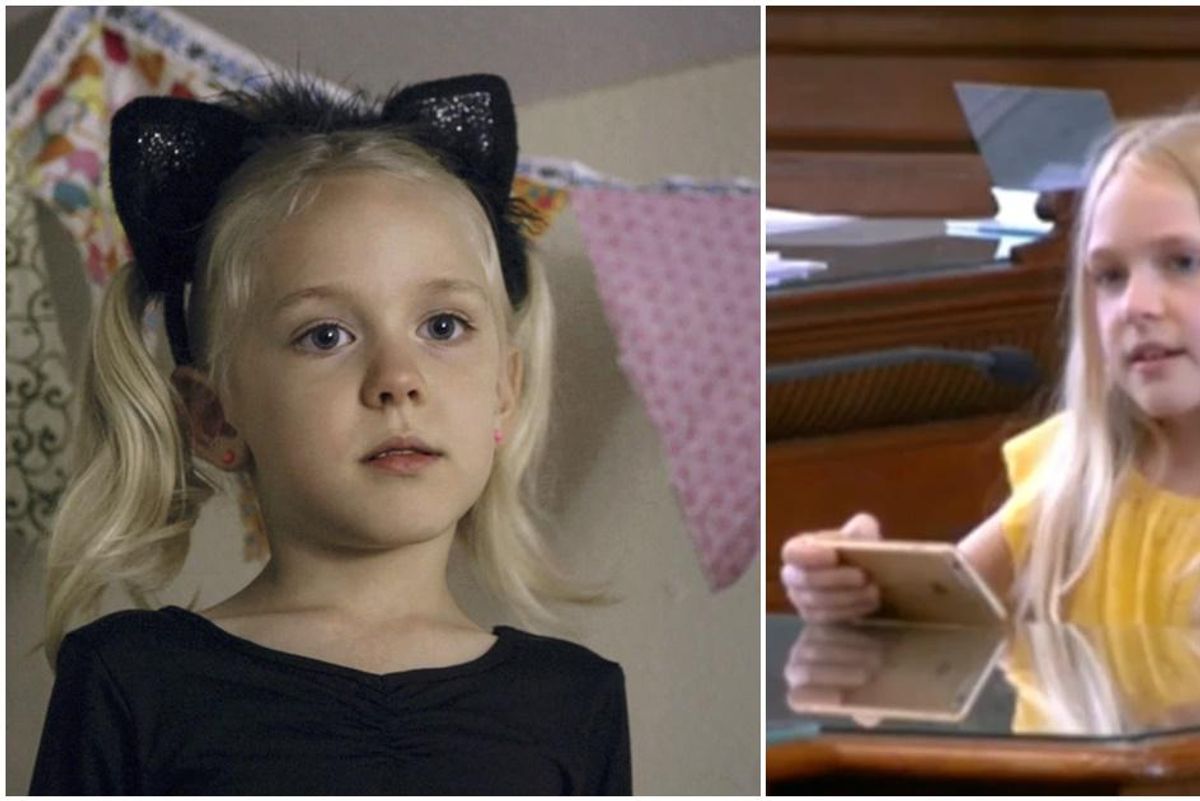 via Texas State Senate and The ACLU
There has been a tidal wave of anti-trans legislation proposed over the past few months in the U.S. At least 17 states are now considering restricting anyone under the age of 18 from transition-related care.

Texas is currently debating two anti-trans bills. Once would criminalize parents for allowing their children to receive gender-affirming treatments. Another would criminalize healthcare professionals who administer them.
For a state that prides itself on promoting personal freedom, these bills go out of their way to punish medical professionals and parents for making deeply personal choices. Shouldn't doctors and parents have the right to make medical decisions for children without the state's involvement?
---
At a hearing for the legislation, one of the bill's lead sponsors, Republican State Senator Charles Perry, said he felt obliged to protect children "who have not reached the maturity to understand what is being proposed nor the impact on them in perpetuity."
10-year-old Kai Shappley, a transgender girl, testified at the hearing and delivered a polite, but blistering rebuttal to conservative lawmakers.
Kai is best known for her role on Netflix's "The Baby-Sitters Club." She was also the subject of an Emmy-winning short film by the ACLU, "Trans in America: Texas Strong."
Watch the amazing @KaiShappley a huge fan of @DollyParton, 4th grader and a transgender girl, school the Texas Sen… https://t.co/mtPtMzcSSu

— Meghan Stabler (@Meghan Stabler) 1618277096.0
Her performance at the hearing showed that legislation like this was hurtful to children who are already dealing with major challenges. "I do not like spending my free time asking adults to make good choices," Shappley told lawmakers. "I've been having to explain myself since I was 3 or 4 years old. Texas legislators have been attacking me since pre-K. I am in fourth grade now."

"It makes me sad that some politicians use trans kids like me to get votes from people who hate me just because I exist," she said.
She also responded to Perry who gave a religious reason for his anti-trans legislation. "God made me. God loves me for who I am, and God does not make mistakes," Shappley responded.
She also urged lawmakers to educate themselves on the topic and reminded them that "bullying is bad."
NEW: In a short documentary we're releasing with @them, seven year old Kai Shappley navigates growing up as a trans… https://t.co/cRhlzS6ngj

— ACLU (@ACLU) 1539196954.0
Kai gave some historical context to the hearing by reminding lawmakers they are clearly on the wrong side of history. "I want to say thank you to those of you who are sticking up for kids like me," she said. "By the time I'm in college, you will be celebrated in the history books."

After her testimony, she was greeted by a warm round of applause.
It's a shame to see a 10-year-old girl appear at a hearing to affirm her basic rights to a group of people who clearly have no idea what she and other children like her go through. But her appearance does put a real, human face to this legislation and shows the world who these lawmakers are demonizing.
Kai Shappley shouldn't have to do what she does, but it's truly incredible to see someone so young, poised, and credible have the confidence at such a young age to speak truth to power.