Innovation
Teenager shares 12 clever safety tips for women that you may never have considered before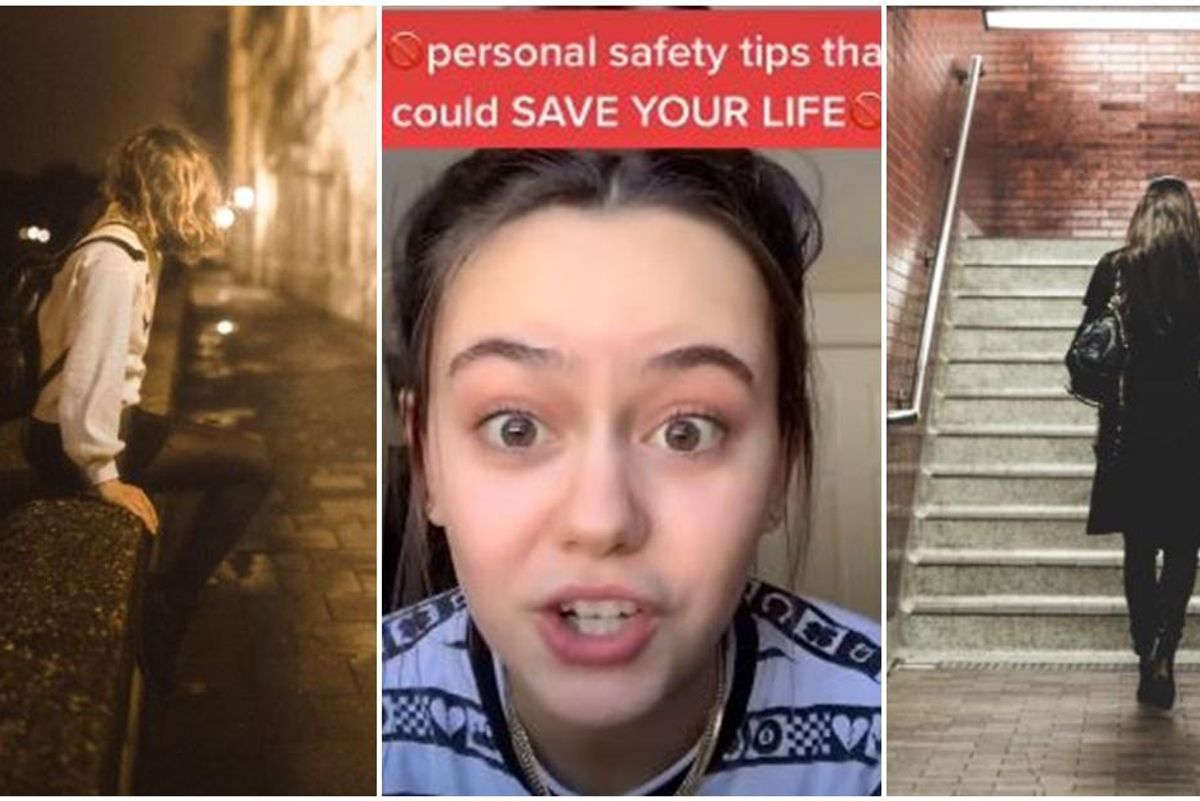 via Spencer barbosa / TikTok and Unsplash
A recent study found that 65% of all women have experienced some form of street harassment. Twenty-three percent were sexually touched, 20% were followed, and 9% have been forced to do something sexual by their assailant.

While we still live in a world where women have to be wary of predators, it's important to constantly remind each other how to be safe.
Spencer Barbosa, an 18-year-old TikTokker from Canada, created a series of videos where she shares 12 important tips to help keep people safe. Even if you are well-versed in personal safety, she has a lot of clever ideas that you may not have considered.
---
"It breaks my heart that I even have to make this video, but seeing as most of my followers are females I need you to be safe and I need you to know these things," Spencer says in the opening of the first video.
1.Draw as much attention to yourself as possible
If someone tries to grab or kidnap you, go absolutely insane. Scream. Bark. Bite. Go crazy to alert others and make life a living hell for your attacker. "Get that inner demon in your mind … and go crazy," Spencer says.

2. Don't put your hair in a ponytail when going on a run
A ponytail makes it easy for an attacker to grab you from behind and pull you to the ground.
3. Carry bear spray, mace, or hairspray
"Spray the shit out of their eyes," Spencer says.
4. Never be alone
Predators are always on the lookout for women by themselves.
5. Do not go in a stairwell

At night, more attacks happen on stairwells than in elevators. Use the elevator.
6. Keep your car keys on your nightstand
Stop leaving your car keys near your front door. If you keep them by your nightstand you can hit the panic button on your keyfob if there's trouble in your house.
7. Do not overshare on social media
"I see so many girls posting their locations, saying they're home alone ... don't!"
8. Show your face
If you are out in public and you think someone is following you, show them your face. Studies show that attackers find potential targets less appealing if they know what they look like.
9. Stay in well-lit areas

If you can't see what is happening around you, you should not be alone.
10. Put work boots by the front door
If you are a girl who lives alone or with a group of girls who live together, put a big, dirty pair of men's work boots outside of your front door. This could potentially scare off any attackers who think a male lives in the home.
11. Stay off your phone
If you are walking alone, you shouldn't be on your phone. Attackers look for women who are distracted.
12.) Don't be kind
If someone is attacking you give them full force. "Smack them very hard," Spencer says.