Heroes
Textile waste is a real problem that so often goes overlooked.
True
Savers + Value Village
It's springtime! The birds are chirping, the flowers are blooming, and everyone's ready to clean out their closets.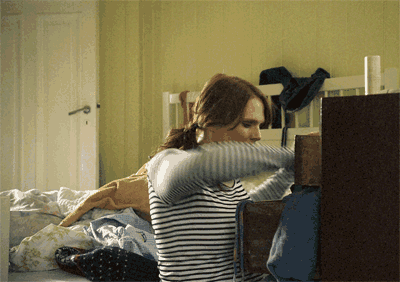 There's something about warmer weather — it seems to make us want to do a complete makeover on our wardrobes and get rid of clutter around the house.
When it comes to unwanted items, sometimes it just feels good to purge and start fresh. No doubt there have been times when you've thrown things in the trash instead of taking them to a donation center. Perhaps you didn't have the time to drop it off, or you thought it was too far gone to be donated.
<p>You're not alone. According to the <a href="http://www.takepart.com/article/2016/06/10/why-we-trash-26-billion-pounds-clothing-year" target="_blank">2017 State of Reuse Report</a>, North Americans throw away roughly 81 pounds of textiles (clothing, towels, bedding, etc.) a year per person. Think of it this way: <strong>That's more than <a href="https://www.savers.com/sites/default/files/reuse_report_2017_sav.pdf" target="_blank">26 billion pounds</a> (!) heading into landfills each year</strong> <strong>across the U.S. and Canada alone. </strong></p><div><div class="push-wrapper--mobile" data-card="image" data-reactroot=""><img type="lazy-image" data-runner-src="https://assets.rebelmouse.io/eyJhbGciOiJIUzI1NiIsInR5cCI6IkpXVCJ9.eyJpbWFnZSI6Imh0dHBzOi8vYXNzZXRzLnJibC5tcy8xOTUyNzIyOC9vcmlnaW4uanBnIiwiZXhwaXJlc19hdCI6MTYzMDIzOTUwMn0.vXjRnkgiHTeaLMQh6QzvLGbhPlljh_-uvPv4EGgZGu0/img.jpg?width=980" id="fff45" class="rm-shortcode" data-rm-shortcode-id="cd69b29a8d9c7fd04a70dd9d4525e38d" data-rm-shortcode-name="rebelmouse-image"><div class="image-caption"><p>Image via iStock.</p></div></div></div><p><strong>Still not convinced? Here are nine more reasons to not throw away clothing.</strong></p><h2>1. Every time you toss a piece of clothing in the trash, you're costing your city or town money.</h2><div><div class="push-wrapper--mobile" data-card="image" data-reactroot=""><img type="lazy-image" data-runner-src="https://assets.rebelmouse.io/eyJhbGciOiJIUzI1NiIsInR5cCI6IkpXVCJ9.eyJpbWFnZSI6Imh0dHBzOi8vYXNzZXRzLnJibC5tcy8xOTUyNzIyOS9vcmlnaW4uZ2lmIiwiZXhwaXJlc19hdCI6MTU5ODMyMjYyMH0.XRl-DApo6msQpm5aSFcTjoY78tagq_5ps1r8firNUio/img.gif?width=980" id="aa219" class="rm-shortcode" data-rm-shortcode-id="addb172aaba04587e433203ccfb0564d" data-rm-shortcode-name="rebelmouse-image"></div></div><p>According to <a href="https://www3.epa.gov/ttnecas1/regdata/EIAs/LandfillsNSPSProposalEIA.pdf" target="_blank">the EPA</a>, it costs an average of $45 per ton to dispose of waste in a landfill. A fashion-focused city like New York City pays <a href="http://www.newsweek.com/2016/09/09/old-clothes-fashion-waste-crisis-494824.html" target="_blank">$20.6 million per year</a> just to dispose of textile waste. That's a whole other level of wastefulness. </p><h2>2. Your used clothes may be more usable than you think. </h2><p>According to <a href="https://www.savers.com/sites/default/files/reuse_report_2017_sav.pdf" target="_blank">Savers' most recent study</a>, 62% of people who admit to throwing away textiles do so because they didn't think a donation center would take them. This is an unfortunate misconception.</p><h2>3. 95% of used textiles can be recycled or repurposed.</h2><p>Take a minute to pick your jaw up off the floor. Yup, those are the stats from <a href="http://www.prweb.com/releases/2013/4/prweb10656587.htm#!" target="_blank">The Secondary Materials and Recycled Textiles Association (SMART)</a>. Since people tend to think no one can use clothes with holes, used undergarments, or that shirt that got burned in a freak cooking accident, they don't bother trying to recycle them. But just because it may not be wearable doesn't mean it won't serve a purpose. These items can have a second life as dishrags or even insulation. </p><h2>4. Taking clothes to donation centers helps your local community.</h2><div><div class="push-wrapper--mobile" data-card="image" data-reactroot=""><img type="lazy-image" data-runner-src="https://assets.rebelmouse.io/eyJhbGciOiJIUzI1NiIsInR5cCI6IkpXVCJ9.eyJpbWFnZSI6Imh0dHBzOi8vYXNzZXRzLnJibC5tcy8xOTUyNzIzMC9vcmlnaW4uanBnIiwiZXhwaXJlc19hdCI6MTYxMTU5NjY2MX0._GtiFLQn8rhLiQp_x5nB__qhKsRKstj6m7efsAMdRkU/img.jpg?width=980" id="5dd0a" class="rm-shortcode" data-rm-shortcode-id="c91d3db964e53bfeb514fa3212d8ee92" data-rm-shortcode-name="rebelmouse-image"><div class="image-caption"><p>Image via iStock.</p></div></div></div><p>In terms of giving back, the <a href="https://www.savers.com/sites/default/files/reuse_report_2017_sav.pdf" target="_blank">Savers survey found that 78%</a> of people would prefer their charitable giving to benefit a local cause rather than a national cause, and 76% consider donating clothing and home goods "charitable giving." The textiles you bring to your local donation center will directly benefit members of your community.</p><h2>5. The apparel industry is the second-largest industrial polluter in the world.</h2><div><div class="push-wrapper--mobile" data-card="image" data-reactroot=""><img type="lazy-image" data-runner-src="https://assets.rebelmouse.io/eyJhbGciOiJIUzI1NiIsInR5cCI6IkpXVCJ9.eyJpbWFnZSI6Imh0dHBzOi8vYXNzZXRzLnJibC5tcy8xOTUyNzIzMS9vcmlnaW4uZ2lmIiwiZXhwaXJlc19hdCI6MTU5NDE5NDM3NX0.inP_2_BLaXcCIfRavIWSTCsQJfBDdyqW9V7FMtwfDAs/img.gif?width=980" id="6bb55" class="rm-shortcode" data-rm-shortcode-id="f0889132f139ab244ab9e931116f0ed2" data-rm-shortcode-name="rebelmouse-image"></div></div><p><a href="https://www.forbes.com/sites/jamesconca/2015/12/03/making-climate-change-fashionable-the-garment-industry-takes-on-global-warming/#1c59908c79e4" target="_blank">According to Forbes</a>, the production of clothes (just clothes, not all textiles) is responsible for 10% of all carbon emissions on the planet. And since we know production won't stop, we should do what we can to offset these stats by reusing, recycling, and buying fewer clothes. </p><h2>6. Clothes release toxic gas when they decompose in landfills.</h2><p>As clothing joins the rest of the garbage in landfills, it breaks down and releases toxic greenhouse gases like carbon dioxide and methane into the environment. In fact, landfills are the <a href="https://www.epa.gov/ghgemissions/overview-greenhouse-gases#methane" target="_blank">third-largest</a> source of atmospheric methane on the planet.</p><h2>7. It takes so much water to make a pair of jeans.</h2><p>Up to <a href="https://www.savers.com/sites/default/files/reuse_report_2017_sav.pdf" target="_blank">1,800 gallons</a>, to be exact. That's more water than you can or will drink in five years. Just some food (or water) for thought. </p><h2>8. It takes more energy to make a new pair of jeans than leaving the lights in your house on all night. </h2><p>Sorry, clothes hounds, but this is reason enough to patch those tried and true jeans in your closet.</p><h2>9. Fast fashion (garments typically worn less than five times, then thrown away) is a major contributor to clothing waste.</h2><div><div class="push-wrapper--mobile" data-card="image" data-reactroot=""><img type="lazy-image" data-runner-src="https://assets.rebelmouse.io/eyJhbGciOiJIUzI1NiIsInR5cCI6IkpXVCJ9.eyJpbWFnZSI6Imh0dHBzOi8vYXNzZXRzLnJibC5tcy8xOTUyNzIzMi9vcmlnaW4uZ2lmIiwiZXhwaXJlc19hdCI6MTYyOTg1NjA1NX0.8m4t_6y-fC3rZJ8uhfHYxu7lGOSxG2mPAbk4OzxvWIY/img.gif?width=980" id="72db7" class="rm-shortcode" data-rm-shortcode-id="fdaae06a5802197176fc6166038181ff" data-rm-shortcode-name="rebelmouse-image"></div></div><p>You know those cheaply made clothes that don't really hold up well in the wash, so you toss them after about a month or two? They <a href="https://www.forbes.com/sites/jamesconca/2015/12/03/making-climate-change-fashionable-the-garment-industry-takes-on-global-warming/#1c59908c79e4" target="_blank">produce 400%</a> more carbon emissions per item per year than that one great outfit-making piece of clothing you wear 50 times and keep for a year or more. </p><p>Ready to do your part to support a nonprofit or charitable organization in your community while saving the planet? <strong>Here are a few ways you can make a difference by reducing textile waste.</strong></p><h2><strong>1. <strong>DON'T throw away your </strong>clothes (<strong>whether they are good quality, used</strong>,<strong> or worn out</strong>)<strong>. DO bring them to your local donation center. </strong></strong></h2><p>Savers found that 96% of the people they polled are willing to drive up to 30 minutes to donate their unwanted clothing. So not only is it good to do, it's easy. </p><h2>2. Have a clothing swap party!</h2><div><div class="push-wrapper--mobile" data-card="image" data-reactroot=""><img type="lazy-image" data-runner-src="https://assets.rebelmouse.io/eyJhbGciOiJIUzI1NiIsInR5cCI6IkpXVCJ9.eyJpbWFnZSI6Imh0dHBzOi8vYXNzZXRzLnJibC5tcy8xOTUyNzIzMy9vcmlnaW4uanBnIiwiZXhwaXJlc19hdCI6MTU5MjExNDA1M30.quF1L-49Shoh3yFHhTk4_JLaId5bvoZWxcVZ0LIF0LE/img.jpg?width=980" id="7a12f" class="rm-shortcode" data-rm-shortcode-id="857dc9357c5b23835ab74f8291bebf9e" data-rm-shortcode-name="rebelmouse-image"><div class="image-caption"><p>Image by <a href="https://flic.kr/p/gfXa6W">J R/Flickr.</a></p></div></div></div><p>Hate the idea of sorting through your clothes and lugging them somewhere without an immediate payoff? What if you could exchange them for new (to you) clothes <em>and </em>party down with your friends at the same time? That's the sheer delight of a clothing swap party: You get to discard the clothes you no longer want and return home with ones you like, all at no cost to you.</p><h2>3. S<strong><strong>hop thrift</strong></strong>. </h2><div><div class="push-wrapper--mobile" data-card="image" data-reactroot=""><img type="lazy-image" data-runner-src="https://assets.rebelmouse.io/eyJhbGciOiJIUzI1NiIsInR5cCI6IkpXVCJ9.eyJpbWFnZSI6Imh0dHBzOi8vYXNzZXRzLnJibC5tcy8xOTUyNzIzNC9vcmlnaW4uZ2lmIiwiZXhwaXJlc19hdCI6MTY0NjYzNzAxNX0.fOEFsfb4sGoXZWhwgkd7SbUDxxEV89MnapOjjQ4ydGI/img.gif?width=980" id="f3eb6" class="rm-shortcode" data-rm-shortcode-id="d63504da992fdbe08a4b16e1eede636c" data-rm-shortcode-name="rebelmouse-image"></div></div><p>Thrifting is on the rise, and millennials (as usual) are leading the charge. Most cities also have consignment shops where you can sell lightly used clothes or exchange them for other lightly used clothes (which, let's face it, always seem cooler than our own). That's like recycling squared!</p><h2>4. Find ways to reuse and repurpose your own clothes.</h2><p><a href="http://www.npr.org/sections/parallels/2013/05/21/185596830/the-global-afterlife-of-your-donated-clothes" target="_blank">30%</a> of the clothes you donate will be repurposed into a commercial or industrial wiping cloth. If you have<strong><strong> </strong></strong>worn, stained, or torn clothing and textiles, why not just make your own rags for cleaning or arts and crafts?</p><p><strong>Curtailing your clothing waste and reducing your carbon footprint can be an adjustment, but all it takes is a little bit of effort to change how you see what's in your closet.</strong></p>