Let's face it: We all face pain at some point in our lives.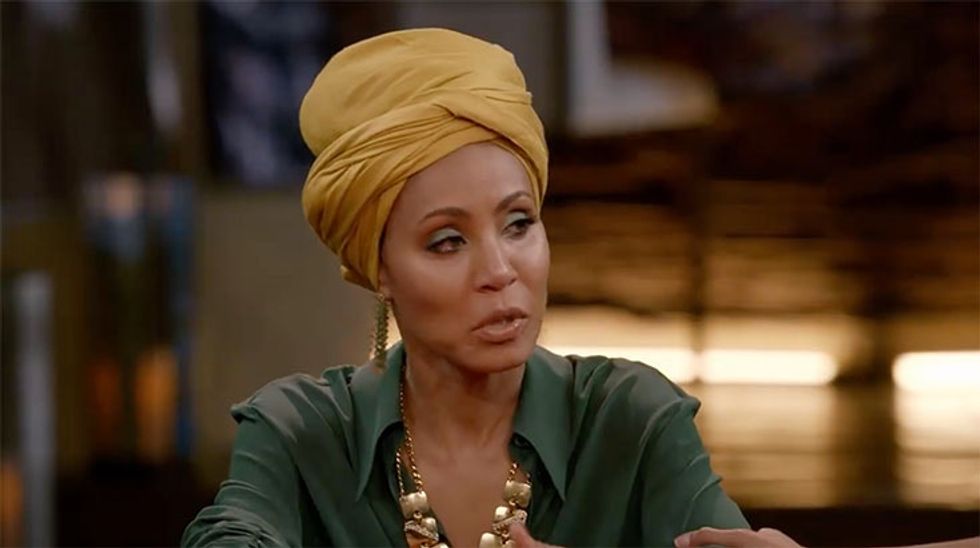 Jada Pinkett Smith on Red Table Talk. Image via Red Table Talk/Facebook.
Sometimes minuscule, sometimes excruciating, and sometimes all-encompassing, pain can throw us off course and redirect us to journeys we never expected. But according to a roundtable discussion on Red Table Talk with some pretty incredible women, that's exactly how it should be.
<h2>Actress Jada Pinkett Smith, her daughter, Willow Smith, and her mother, Adrienne Banfield-Jones, discussed their experiences with pain and loss. And it was downright inspiring.</h2><p class="shortcode-media shortcode-media-rebelmouse-image"><img type="lazy-image" data-runner-src="https://assets.rebelmouse.io/eyJhbGciOiJIUzI1NiIsInR5cCI6IkpXVCJ9.eyJpbWFnZSI6Imh0dHBzOi8vYXNzZXRzLnJibC5tcy8xOTM5ODExNS9vcmlnaW4uanBnIiwiZXhwaXJlc19hdCI6MTYxODUxMTU4MX0.bX-64bfUe_XMWISnInV43XET2OlNv_MvyhFceCUf9Bc/img.jpg?width=980" id="bd0b4" class="rm-shortcode" data-rm-shortcode-id="d5a25f6632a5e70a5404b34e373d08a2" data-rm-shortcode-name="rebelmouse-image"><small class="image-media media-caption" placeholder="add caption...">Image via <a href="https://www.facebook.com/redtabletalk/videos/564337010632445/?from=bookmark">Red Table Talk/Facebook</a>.</small></p><p>The women got incredibly real, from discussions about grieving significant others to dealing with the death of a family member to using pain as a source of empowerment instead of a stopping point for chasing the inevitable joys of life.</p><p><strong>Here are three gems from the incredibly moving discussion:  </strong></p><h2><strong>1. Loss isn't always about losing something or someone else.</strong></h2><p>As an actress, producer, mother, and wife, Pinkett Smith's life gets pretty darn busy. She's grateful for the depth of her career and the wonderful opportunities she's had, but she is still human and still feels challenges, pain, and loss.</p><p><strong>Pinkett Smith revealed that her greatest loss was the one person she needed most: herself.</strong></p><p><strong>She talked about the expectations placed on women — regardless of race, class, or career — and how those expectations can drain them.</strong> She went on to express her frustration and the somewhat oblivious questions she would receive that were supposed to define how well she was doing in life.  </p><p>"'Are your kids smiling? OK. Is your husband thriving? Good. Everybody else around you thriving? Then you're doing a good job, Jada!'" But alas, Pinkett Smith wasn't feeling that way. "One day I woke up, and I was withered," she said.</p><p>People owe it to themselves to give to themselves fully. If not, it's totally possible to lose yourself in the midst of all the directions you're pulled. Pinkett Smith's revelation is an all-too-real reminder of the importance of self-care. </p><p class="shortcode-media shortcode-media-rebelmouse-image"><img type="lazy-image" data-runner-src="https://assets.rebelmouse.io/eyJhbGciOiJIUzI1NiIsInR5cCI6IkpXVCJ9.eyJpbWFnZSI6Imh0dHBzOi8vYXNzZXRzLnJibC5tcy8xOTM5ODExNi9vcmlnaW4uanBnIiwiZXhwaXJlc19hdCI6MTYwNTM5NzU0OX0.vfsdW5amHKdO9PvwCRSAfEp4A1aYfAsISHT3c7kiArE/img.jpg?width=980" id="3bfe2" class="rm-shortcode" data-rm-shortcode-id="a5e365a3d054adb31e7a59115459571b" data-rm-shortcode-name="rebelmouse-image"><small class="image-media media-caption" placeholder="add caption...">Photo by Dia Dipasupil/Getty Images.</small></p><h2><strong>2. Honest conversations across generations can help everyone.  </strong></h2><p>Willow Smith discussed a dark period in her life that led to cutting, a form of self-harm. The other women were shocked to learn of this, and her grandmother remarked that things weren't like this for young girls back in her day.<strong> But Smith and her mom quickly rebuffed that claim. </strong>"It was definitely happening. It just wasn't coming to light," they said. </p><p>Just because you can't see people going through pain doesn't mean it didn't exist.</p><p class="shortcode-media shortcode-media-rebelmouse-image"><img type="lazy-image" data-runner-src="https://assets.rebelmouse.io/eyJhbGciOiJIUzI1NiIsInR5cCI6IkpXVCJ9.eyJpbWFnZSI6Imh0dHBzOi8vYXNzZXRzLnJibC5tcy8xOTM5ODExNy9vcmlnaW4uanBnIiwiZXhwaXJlc19hdCI6MTY0NTM3MDQzNH0.VI4j9q43SBmcYKlnXlxuJJRemgG_lVJCp-HAFSwGlsk/img.jpg?width=980" id="b5148" class="rm-shortcode" data-rm-shortcode-id="59e391423d4deccf4806a94385c4c7b9" data-rm-shortcode-name="rebelmouse-image"><small class="image-media media-caption" placeholder="add caption...">Image via <a href="https://www.facebook.com/redtabletalk/videos/564337010632445/">Red Table Talk/Facebook</a>.</small></p><p><strong>The conversation shows just how important talking among generations is. </strong>While times change, pain and self-harm practices are ageless facts of life. Having open, honest conversations across ages can illuminate some of these challenges and help people heal and learn from one another.     </p><h2><strong>3. Pain can be an opportunity for growth, renewed joy, and necessary change.  </strong></h2><p>Pinkett Smith spoke candidly about the death of her dear friend and former boyfriend, rap icon <a href="https://www.rollingstone.com/music/artists/tupac-shakur/biography" target="_blank">Tupac Shakur</a>. <strong>He was murdered at just 25 years old, and with his death, Pinkett Smith had lost someone she'd expected to be in her life forever.</strong> "When I think about it, I still get really mad," Pinkett Smith said. "I get mad at God. I get mad at [Tupac]. I get mad at everybody." </p><p>In spite of the natural ebb and flow of healing from a loss of that magnitude, Pinkett Smith recognized that loss was a part of her path and that having someone in her life she felt that close to was an incredible experience in itself. "Amazingly enough, that loss actually brought me joy," Pinkett Smith said.  </p><p><strong>Tragic experiences happen, and the effects they have can largely</strong><a href="https://www.inc.com/melanie-deziel/how-the-most-successful-people-react-to-setbacks.html" target="_blank"><strong> depend on your reaction to them</strong></a><strong>.</strong></p><p class="shortcode-media shortcode-media-rebelmouse-image"><img type="lazy-image" data-runner-src="https://assets.rebelmouse.io/eyJhbGciOiJIUzI1NiIsInR5cCI6IkpXVCJ9.eyJpbWFnZSI6Imh0dHBzOi8vYXNzZXRzLnJibC5tcy8xOTM5ODExOC9vcmlnaW4uanBnIiwiZXhwaXJlc19hdCI6MTY0OTAwNzE1NX0.PF0bp24w9D0qeRLUrmwRH5FWQm4XAI6tGJLw4G4SzKM/img.jpg?width=980" id="d2065" class="rm-shortcode" data-rm-shortcode-id="e72821ac9a6163d59e38a649860f51ed" data-rm-shortcode-name="rebelmouse-image"><small class="image-media media-caption" placeholder="add caption...">Photo by Rochelle Brodin/Getty Images for Haute Living.</small></p><p>"I do believe that's part of why pain exists. ... That's part of why loss exists," Pinkett Smith said. "<strong>If we didn't experience pain, would we really grow? Would we really appreciate joy?</strong> Pain is a motivating factor to make a change in your life." This isn't to say you shouldn't acknowledge and feel your pain, but you deserve a good and full life. </p><p>The candid conversation among these amazing women gives a lot to think about. The key takeaway is that life's challenges shouldn't impede joy. People can use the lessons from pain and heartache to take life by the reins.</p><p><em>Watch the full Red Table Talk below: </em></p><div><div data-card="youtube" data-reactroot=""><div><span style="display:block;position:relative;padding-top:56.25%;" class="rm-shortcode" data-rm-shortcode-id="930e95e81a9208826f8efbe4920a9f7d"><iframe type="lazy-iframe" data-runner-src="https://www.youtube.com/embed/null?rel=0" width="100%" height="auto" frameborder="0" scrolling="no" style="position:absolute;top:0;left:0;width:100%;height:100%;"></iframe></span></div></div></div>