An unexpected response from the pope may signal an important shift in the Catholic Church's views on queer identity.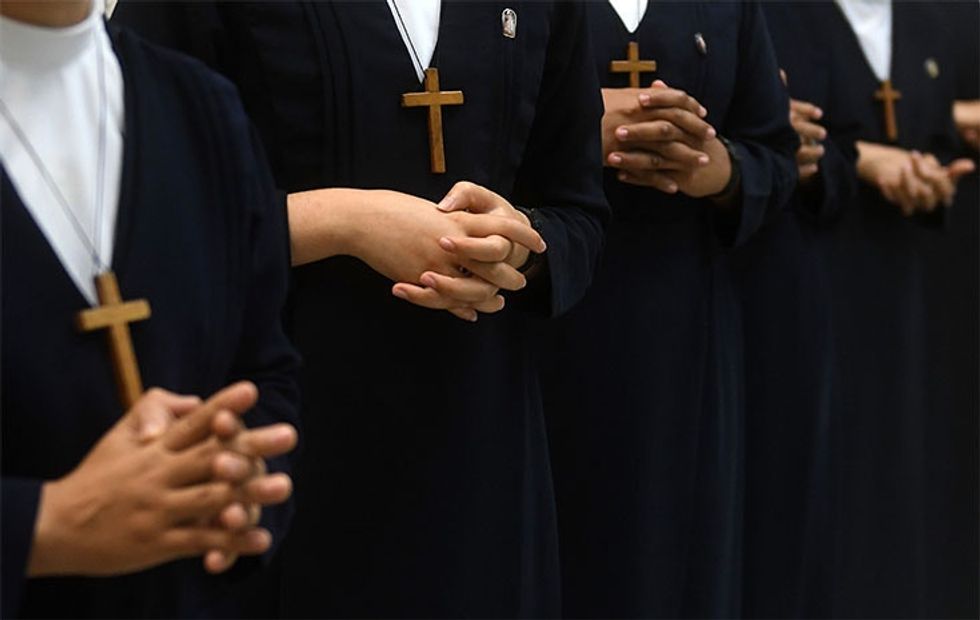 Photo by Marvin Recinos/AFP/Getty Images.
According to CNN, Juan Carlos Cruz, a survivor of sexual abuse at the hands of a Chilean priest, spent three days in April 2018 with Pope Francis at the Vatican. During the visit, Cruz discussed his sexuality with the pope, which sparked a surprising response.
<p>"You know Juan Carlos, that does not matter," <a href="https://edition.cnn.com/2018/05/21/europe/pope-francis-gay-comments-intl/index.html?sr=fbCNN052118pope-francis-gay-comments-intl1039AMStory&amp;utm_source=fbCNN&amp;utm_content=2018-05-21T10%3A00%3A17&amp;utm_term=link&amp;utm_medium=social" target="_blank">Cruz says the pope told him</a>.<strong> "God made you like this. God loves you like this. </strong>The pope loves you like this, and you should love yourself and not worry about what people say."</p><p class="shortcode-media shortcode-media-rebelmouse-image"><img type="lazy-image" data-runner-src="https://assets.rebelmouse.io/eyJhbGciOiJIUzI1NiIsInR5cCI6IkpXVCJ9.eyJpbWFnZSI6Imh0dHBzOi8vYXNzZXRzLnJibC5tcy8xOTQ3Nzg2Ni9vcmlnaW4uanBnIiwiZXhwaXJlc19hdCI6MTYwODk0MTY0MH0.IBgs2EJAd-TXxEPgC9v8jJFZz3VL2Iai2FxPi3f-NZ8/img.jpg?width=980" id="8c0b1" class="rm-shortcode" data-rm-shortcode-id="79f43a409dd4f079c33391de41746ee8" data-rm-shortcode-name="rebelmouse-image"><small class="image-media media-caption" placeholder="add caption...">Photo by Ettore Ferrari/AFP/Getty Images.</small></p><p>Though the Vatican has declined to comment on the conversation — with <a href="https://edition.cnn.com/2018/05/21/europe/pope-francis-gay-comments-intl/index.html?sr=fbCNN052118pope-francis-gay-comments-intl1039AMStory&amp;utm_source=fbCNN&amp;utm_content=2018-05-21T10%3A00%3A17&amp;utm_term=link&amp;utm_medium=social" target="_blank">Vatican spokesperson Greg Burke telling CNN that</a> "We do not normally comment on the pope's private conversations" — social media users around the world were quick to comment on the unusually progressive view of queer identity from the church.</p><div id="97c97" class="rm-shortcode" data-rm-shortcode-id="SIF9451559347193"><blockquote class="twitter-tweet twitter-custom-tweet" data-twitter-tweet-id="998603792638730240" data-partner="rebelmouse"><div style="margin:1em 0">While it doesn't absolve the Vatican's overall archaic ideas about gender and sexuality, this should not be underst… https://t.co/YXBwz32rJH</div> — Michael Arceneaux (@Michael Arceneaux)<a href="https://twitter.com/youngsinick/statuses/998603792638730240">1526920671.0</a></blockquote></div><div id="60bbd" class="rm-shortcode" data-rm-shortcode-id="AQ1K7U1559347194"><blockquote class="twitter-tweet twitter-custom-tweet" data-twitter-tweet-id="998601801774649345" data-partner="rebelmouse"><div style="margin:1em 0">In what's been characterized as the most progressive remarks ever uttered by a modern pontiff about homosexuality,… https://t.co/SkHYUEPfAD</div> — Jon Cooper (@Jon Cooper)<a href="https://twitter.com/joncoopertweets/statuses/998601801774649345">1526920197.0</a></blockquote></div><h2>Given the church's history with queer individuals, the pope's alleged comments are an important — albeit incipient — move toward progress.    </h2><p>From <a href="http://religionnews.com/2016/09/01/nj-priest-suspended-for-supporting-gay-groups/" target="_blank">pushing gay leaders out of the church</a> to <a href="https://www.them.us/story/catholic-church-homophobic-met-gala" target="_blank">condemning queer congregants</a>, the church's problematic history has understandably caused many individuals to leave the church or disregard it entirely.   </p><p class="shortcode-media shortcode-media-rebelmouse-image"><img type="lazy-image" data-runner-src="https://assets.rebelmouse.io/eyJhbGciOiJIUzI1NiIsInR5cCI6IkpXVCJ9.eyJpbWFnZSI6Imh0dHBzOi8vYXNzZXRzLnJibC5tcy8xOTQ3Nzg2Ny9vcmlnaW4uanBnIiwiZXhwaXJlc19hdCI6MTY0NjY5Njk5OX0.0yywh7gq4qNBks4dZ_vrGjSU-5-dwTR8hW2ylod9MTo/img.jpg?width=980" id="27aa9" class="rm-shortcode" data-rm-shortcode-id="6d536225cfbcb46646e474ae112744c8" data-rm-shortcode-name="rebelmouse-image"><small class="image-media media-caption" placeholder="add caption...">Photo by Vincenzo Pinto/AFP/Getty Images</small></p><p><strong>The pope himself is far from perfect, too. </strong>He's <a href="https://www.nytimes.com/2018/04/23/world/canada/pope-indigenous-apology-canada.html" target="_blank">declined to apologize</a> about the Catholic Church's past problematic behavior toward indigenous communities, and he still <a href="https://www.hrc.org/resources/seven-quotes-that-make-pope-francis-complicated-for-lgbt-people" target="_blank">doesn't affirm transgender individuals</a>. Yet one would be remiss to not acknowledge that he is easily <a href="https://www.bustle.com/articles/92401-5-times-pope-francis-proved-hes-the-most-progressive-pope-ever-and-pretty-much-the-coolest" target="_blank">the most progressive pope in the Church's history</a> and has frustrated many traditionalists in the church with his <a href="https://www.ncronline.org/news/vatican/francis-explains-who-am-i-judge" target="_blank">nonjudgmental comments on gay marriage</a>, his movement toward <a href="https://www.theatlantic.com/international/archive/2018/05/pope-francis-sex-abuse-chile/560846/" target="_blank">holding the Church accountable for its role in systematic sexual abuse</a>, his <a href="https://www.theguardian.com/world/2018/mar/30/vatican-scrambles-to-clarify-popes-denial-that-hell-exists" target="_blank">unique beliefs on the existence of hell</a>, and his history of <a href="https://www.nytimes.com/interactive/2015/06/18/world/europe/encyclical-laudato-si.html" target="_blank">acknowledging climate change</a>.</p><p class="shortcode-media shortcode-media-rebelmouse-image"><img type="lazy-image" data-runner-src="https://assets.rebelmouse.io/eyJhbGciOiJIUzI1NiIsInR5cCI6IkpXVCJ9.eyJpbWFnZSI6Imh0dHBzOi8vYXNzZXRzLnJibC5tcy8xOTQ3Nzg2OC9vcmlnaW4uanBnIiwiZXhwaXJlc19hdCI6MTYxMDc3MTAzMH0.CaMXiU9XspREJTzTW37TgCY_oqvBJV0Sjwt6N69Va4I/img.jpg?width=980" id="44c52" class="rm-shortcode" data-rm-shortcode-id="3200dc11494cf769b2caa9127e7fe140" data-rm-shortcode-name="rebelmouse-image"><small class="image-media media-caption" placeholder="add caption...">Photo by Max Rossi/AFP/Getty Images.</small></p><h2>He's complicated and imperfect, but for many queer Christians and Catholics, the pope's words are meaningful.</h2><p>Queer people don't owe anything to the Catholic Church nor do they need the church's support to live their best and brightest lives. But, it's impossible to negate the <a href="https://www.americanprogress.org/issues/courts/news/2004/06/09/861/the-role-of-religion-in-the-civil-rights-movements/" target="_blank">profound impact of religion</a> — both positive and negative — on many individuals' lives, including people who identify under the LGBTQ umbrella. Many queer people do <a href="https://www.independent.co.uk/life-style/love-sex/lgbt-muslims-christians-jews-stonewall-beliefs-god-faith-role-models-lifestyle-gay-lesbians-trans-a7666846.html" target="_blank">find religion deeply important</a>, and they deserve to have a leader who affirms their livelihood.</p>