True
Nike's Made to Play
When Kelbie Black first found out that her dad was trying to make running "a thing" at her school, she wasn't thrilled.
"I didn't think running would be fun," Kelbie says. She was nine years old at the time, and thought that running sounded boring, especially compared to her other interests, like drawing, baking, and most of all, spending time with her friends.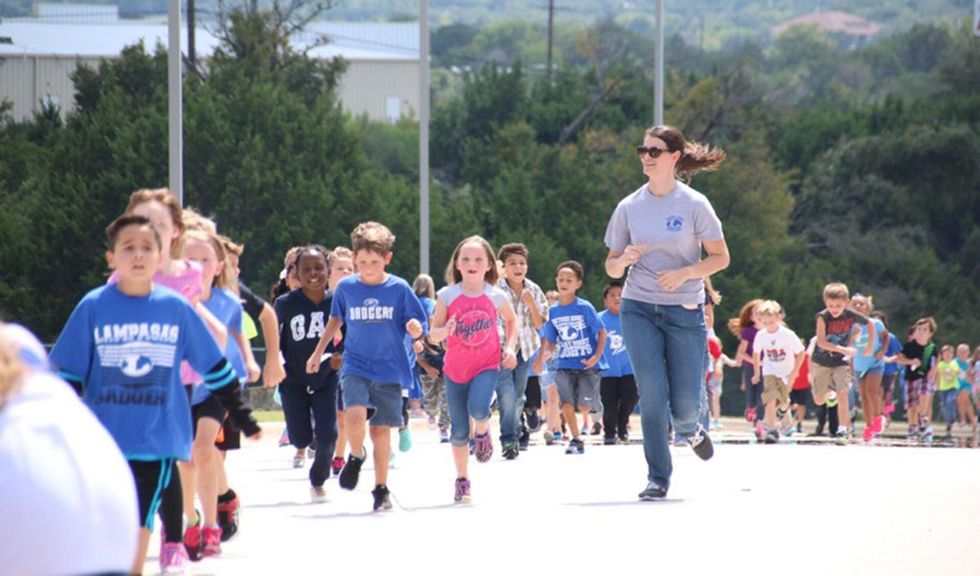 All images via Nike.
<p><strong>But Coach Black — as her dad was known at school — knew that running, when it's done right, could be rewarding. He had a vision for how all the kids at Taylor Creek Elementary School, including his daughter, could benefit from the activity.</strong></p><div><div class="push-wrapper--mobile" data-card="image" data-reactroot=""><img class="lazyload" data-ix-params='{ "auto": "format" }' data-ix-path="/nugget/5b4e507e3fa18d0017f9fb04/attachments/18280-24e5f6a95e4a180bbb9dad5e7207acbb.jpg" sizes="auto"><div class="image-caption"><p>Kyle and Kelbie Black.</p></div></div></div><p>He also believed that integrating running into the school day would have a positive impact on the teachers, parents and their Texas community.</p><p>"Our school is on the edge of town, so everyone lives kind of out in the country," says Black. "I was trying to find a way to bring people together."  </p><p><strong>While looking online for healthy community-oriented activities, he came across </strong><a href="https://marathonkids.org/" target="_blank"><strong>Marathon Kids</strong></a><strong>, an organization that helps schools create and manage running clubs that are designed to get kids moving. </strong></p><p>The program, supported by Nike, has a simple mission: To encourage every kid to go at their own pace and run (or walk) the equivalent of four marathons, or 104.8 miles.<strong> </strong></p><h2><strong>At first, four marathons seemed like a steep goal for Kelbie. </strong></h2><p>She wasn't much of a runner and that was a lot of miles. Still, when her dad brought the program to the school, he convinced her to sign up and give it a try.</p><p class="shortcode-media shortcode-media-rebelmouse-image"><img type="lazy-image" data-runner-src="https://assets.rebelmouse.io/eyJhbGciOiJIUzI1NiIsInR5cCI6IkpXVCJ9.eyJpbWFnZSI6Imh0dHBzOi8vYXNzZXRzLnJibC5tcy8xOTQ3NzM2NS9vcmlnaW4uanBnIiwiZXhwaXJlc19hdCI6MTYwNjQzNzcxN30._YGsNA7hxcxhR0BMvohkUxvgjvmOQ86Xkkg6xJ1eXzA/img.jpg?width=980" id="944dc" class="rm-shortcode" data-rm-shortcode-id="5b9fa493de7c3669cc6efceef6d45b55" data-rm-shortcode-name="rebelmouse-image"><small class="image-media media-caption" placeholder="add caption..."></small></p><p>In fact, with Coach Black's encouragement, 70 students signed up. They all started out by running about 10 minutes every day after school. </p><p><strong>Right away, Kelbie realized that running could include one of her favorite activities: "I get to be with my friends."</strong></p><p>She loved the chance to spend time with other kids at school, outside of the classroom. They'd chat, laugh, and encourage each other as they ran, which kept Kelbie moving even after she began to feel tired. </p><p>"My friends keep on going [even] when it's hard," she says. "So I keep going, and I keep pushing."</p><p>Kelbie quickly discovered that she was capable of running more than she thought, and she reached her four-marathon goal before anyone else at her school.</p><p>And she didn't stop there. </p><p><strong>Kelbie kept running beyond her goal, reaching the equivalent of more than 21 marathons in one school year — more than any other Marathon Kid in the country.</strong></p><div><div class="push-wrapper--mobile" data-card="image" data-reactroot=""><img class="lazyload" data-ix-params='{ "auto": "format" }' data-ix-path="/nugget/5b4e515614f1f20014c3181d/attachments/8E0A7973-1510790218a961ef5f96d8f0249835e9.jpg" sizes="auto"></div></div><p>This newfound perseverance has helped Kelbie in school, too. Her parents say that she used to get frustrated and give up when homework was difficult, but now that she knows she can push through tough moments, she keeps trying.</p><h2><strong>These days, Kelbie's running because she likes it.</strong></h2><p>She does a run-walk every day, aiming for at least three miles each day. </p><p><strong>Kelbie has also inspired others to get active by showing them that you don't have to be a superstar athlete to enjoy running.</strong></p><p class="shortcode-media shortcode-media-rebelmouse-image"><img type="lazy-image" data-runner-src="https://assets.rebelmouse.io/eyJhbGciOiJIUzI1NiIsInR5cCI6IkpXVCJ9.eyJpbWFnZSI6Imh0dHBzOi8vYXNzZXRzLnJibC5tcy8xOTQ3NzM2Ni9vcmlnaW4uanBnIiwiZXhwaXJlc19hdCI6MTYwNzUyMjcyNX0.2CiCxV4ieQi5QeMe4T8QJo6xsW0whngln8299kFdFIY/img.jpg?width=980" id="d9639" class="rm-shortcode" data-rm-shortcode-id="bd0aa16d104db2220e68a4c602164347" data-rm-shortcode-name="rebelmouse-image"><small class="image-media media-caption" placeholder="add caption..."></small></p><p>Her friends join her a few times a week to run through their neighborhoods, and her family joins her for physical activities like walking, bicycling, and rollerblading in the evenings.</p><p>"Kelbie's kind of inspired her mom to get active," Coach Black says, "because there's nothing that motivates [you] more than your 10-year-old outdoing you!" </p><h2><strong>The program continues to be a success overall, motivating kids to not only be active, but to find joy and connection with others while they're at it. </strong></h2><p>In addition to running a total of 3,000 miles during their first year as Marathon Kids, Kelbie's class of 20 students also scored higher than other students on their physical endurance exams and showed more confidence than other students, according to Coach Black.</p><div><div class="push-wrapper--mobile" data-card="image" data-reactroot=""><img class="lazyload" data-ix-params='{ "auto": "format" }' data-ix-path="/nugget/5b4e5594dbda4b0011e29bea/attachments/18330-56525ac0b5d27b0ad9bee08a0f9b1225.jpg" sizes="auto"></div></div><p>"They know their body better," he says. "So they know that just because it's difficult, doesn't mean [they] have to quit … They're more self-aware of what their limits are and what they're capable of."</p><p>Experts also say that exercise can actually <a href="https://www.healthline.com/health-news/exercise-benefits-children-physically-and-mentally#4" target="_blank">change children's brain chemistry</a> to improve their capacity for regulating their moods, which helps them function better in school. </p><p><strong>Marathon Kids has now become a school-wide activity. </strong>Hallways and classrooms are adorned with celebratory running logs and motivational posters. 10-minute runs or walks are built into the school day. Teachers — some of whom had worried this would distract kids from their schoolwork — are motivated by what they see in their students and have started running too. Even some parents have joined in.</p><div><div class="push-wrapper--mobile" data-card="image" data-reactroot=""><img class="lazyload" data-ix-params='{ "auto": "format" }' data-ix-path="/nugget/5b4e55eddbda4b0011e29bec/attachments/18363-01481f032ded9af08fe920d595be360c.jpg" sizes="auto"></div></div><h2><strong>After running more than she ever thought possible, Kelbie hopes that her story can inspire others to give their own goals a shot.</strong></h2><p>Not everyone will run 21 marathons in one year, but everyone can start small and gradually discover what they're capable of.</p><p><strong>"It always starts with baby steps,"</strong> says Kelbie. After that, getting active might just help you in ways that you never saw coming. </p><div><div data-card="html" data-reactroot=""><p class="text-center"><a href="https://goo.gl/V9UkMj" style="width: 100%; font-size: 20px; line-height: 32px; text-align: center; background: #42ba7e; display: block; margin: 20px auto; width: 100%; min-width: 250px; color: #FFFFFF; line-height: 1em; padding: 15px 10px 13px; border-radius: 50px;">Get Involved</a></p></div></div><p><em>We all have a part to play in empowering kids through an active lifestyle. That's why Nike and Marathon Kids are teaming up to get kids moving — but we'll need your help.</em></p>