Apparently, the first day of Donald Trump's new immigrant crime hotline went amazingly — just not in the way the Trump administration had probably hoped.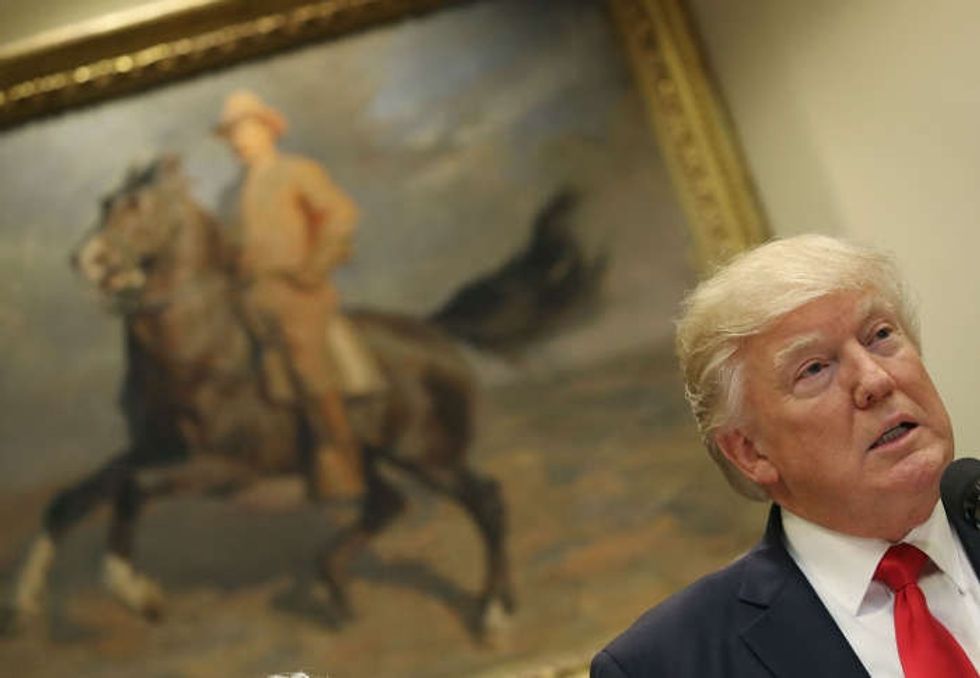 Photo by Mark Wilson/Getty Images.
The Victims of Immigrant Crime Engagement Office (VOICE), established to assist victims of crimes committed by "removable criminal aliens," was reportedly prank-called all day by protesters claiming to have been abused by E.T., Jabba the Hutt, and other notorious creatures from outer space.
The trend was first noticed by Robbie Gramer, a writer for Foreign Policy.  
<div id="e3f60" class="rm-shortcode" data-rm-shortcode-id="T4DB7L1559350196"><blockquote class="twitter-tweet twitter-custom-tweet" data-twitter-tweet-id="857374283290554368" data-partner="rebelmouse"><div style="margin:1em 0">Trumps' "VOICE" Hotline set up for people to report on crime from illegal aliens was reportedly overloaded with calls about space aliens</div> — Robbie Gramer (@Robbie Gramer)<a href="https://twitter.com/RobbieGramer/statuses/857374283290554368">1493248933.0</a></blockquote></div><p>An Immigration and Customs Enforcement spokesperson told BuzzFeed that the hotline was "tied up" <a href="https://www.buzzfeed.com/briannasacks/people-bombarded-trumps-new-criminal-alien-hotline-with?utm_term=.pwbk9ladA#.srVw32KbP" target="_blank">throughout the day by the protesters</a>.</p><h2>Alexander McCoy, a Marine Corps veteran and progressive activist, <a href="https://twitter.com/AlexanderMcCoy4/status/857418886349811713" target="_blank">claims to have kicked off the tongue-in-cheek protest</a> with a tweet Wednesday afternoon. </h2><div id="45b71" class="rm-shortcode" data-rm-shortcode-id="ILI7ZX1559350196"><blockquote class="twitter-tweet twitter-custom-tweet" data-twitter-tweet-id="857288325429948416" data-partner="rebelmouse"><div style="margin:1em 0">Wouldn't it be a shame if millions of people called this hotline to report their encounters with aliens of the UFO-… https://t.co/IjouEnR5hv</div> — Alexander McCoy (@Alexander McCoy)<a href="https://twitter.com/AlexanderMcCoy4/statuses/857288325429948416">1493228439.0</a></blockquote></div><p>"I swore an oath to defend my community and uphold the Constitution," McCoy says. "I see speaking out as a way of continuing to fulfill my oath and standing behind the immigrant community that is under attack."</p><h2>McCoy, who explains that he finds the term "aliens" intentionally dehumanizing, called the hotline and — after waiting on hold for 20 minutes — was asked if he was calling to report a crime by an "illegal alien." </h2><p>He told the operator that he'd been abducted and taken to a UFO. </p><p>"I heard them give a long sigh," he says. "And they closed out the conversation saying that they'd make a note of it."</p><h2>Critics of VOICE allege that it unfairly demonizes immigrants — singling them out for suspicion based on their status.</h2><p>The office was announced during Trump's <a href="https://www.whitehouse.gov/the-press-office/2017/02/28/remarks-president-trump-joint-address-congress" target="_blank">Feb. 2017 address to Congress</a> during a tribute to four guests whose family members were killed by undocumented immigrants.</p><p class="shortcode-media shortcode-media-rebelmouse-image"><img type="lazy-image" data-runner-src="https://assets.rebelmouse.io/eyJhbGciOiJIUzI1NiIsInR5cCI6IkpXVCJ9.eyJpbWFnZSI6Imh0dHBzOi8vYXNzZXRzLnJibC5tcy8xOTUzMDg3Ni9vcmlnaW4uanBnIiwiZXhwaXJlc19hdCI6MTYzNTA3Mjc4N30.-joCb5XJlmGjkkkpjt1sNLXS50anrlQxxRtNa_UWjJE/img.jpg?width=980" id="0fda3" class="rm-shortcode" data-rm-shortcode-id="6a494e8d4b72c14d8e7b3f72571fbfb9" data-rm-shortcode-name="rebelmouse-image"><small class="image-media media-caption" placeholder="add caption...">Photo by John Moore/Getty Images.</small></p><p>Two recent studies conducted by <a href="http://www.sentencingproject.org/wp-content/uploads/2017/03/Immigration-and-Public-Safety.pdf" target="_blank">The Sentencing Project</a>, a criminal justice reform organization, and <a href="https://object.cato.org/sites/cato.org/files/pubs/pdf/immigration_brief-1.pdf" target="_blank">the Cato Institute</a>, a libertarian think tank, found that immigrants — whether documented or undocumented — commit crimes at lower rates than native-born residents. </p><p>An ICE official told Upworthy that the VOICE office is intended to provide information to crime victims and does not receive crime reports, and also that he considers the protest a "shameful" stunt at victims' expense.</p><h2>After McCoy's tweet went mini-viral, other prank-tivists began calling in, adding their own spin.  </h2><p>Michigan resident Lisa Polmanteer used her time on the phone with a VOICE representative to troll Melania Trump — claiming to have been "victimized" by an immigrant living off her tax dollars in New York City. </p><p>According to Polmanteer, the operator asked if she was talking about the first lady. When she said yes, he hung up. </p><p>Others on Twitter suggested an entirely different, punny approach. </p><div id="94b8d" class="rm-shortcode" data-rm-shortcode-id="XN9L5Q1559350197"><blockquote class="twitter-tweet twitter-custom-tweet" data-twitter-tweet-id="857454627264114689" data-partner="rebelmouse"><div style="margin:1em 0">Wouldn't it be ~weird~ if people called in to the #VOICE, thinking it was a singing audition hotline? https://t.co/if9uJlUYru</div> — hend amry (@hend amry)<a href="https://twitter.com/LibyaLiberty/statuses/857454627264114689">1493268088.0</a></blockquote></div><h2>While the prank was undoubtedly silly, its message was incredibly serious. </h2><p>"I feel like the administration is going to use these stories to further demonize immigrants [and] refugees," Polmanteer says. "My grandparents were immigrants. I take it personally, I guess."</p><p>McCoy hopes the protest will move participants to support the efforts of immigrant rights groups, like <a href="https://unitedwedream.org/" target="_blank">United We Dream</a>, <a href="http://www.presente.org/" target="_blank">Presente</a>, <a href="https://mijente.net/" target="_blank">Mijente</a>, and the <a href="http://drmactioncoalition.org/" target="_blank">DRM Action Coalition</a>, who have been, as he says, "fighting this fight much longer than I have."</p><p>He also hopes people will continue to take action against attempts to stigmatize those who come to the U.S. seeking a better life.</p><h2>For now, that means fighting efforts like VOICE — even if it means being a little annoying. </h2><p>Or <em>especially</em> if it means being a little annoying.</p><p>"I feel like the only thing I can do about it is be disruptive." Polmanteer says. [I'm] feeling pretty overwhelmed and powerless, you know? So I'm a jerk wherever I can be."</p><p class="shortcode-media shortcode-media-rebelmouse-image"><img type="lazy-image" data-runner-src="https://assets.rebelmouse.io/eyJhbGciOiJIUzI1NiIsInR5cCI6IkpXVCJ9.eyJpbWFnZSI6Imh0dHBzOi8vYXNzZXRzLnJibC5tcy8xOTUzMDg3Ny9vcmlnaW4uanBnIiwiZXhwaXJlc19hdCI6MTYxMjUwMDg2MH0.qKTYxIFfk95O6b2PzRkpYsr_2qkmUu3dcPc_VU80chY/img.jpg?width=980" id="3fc59" class="rm-shortcode" data-rm-shortcode-id="981f637211c97d753e2e500745a0024c" data-rm-shortcode-name="rebelmouse-image"><small class="image-media media-caption" placeholder="add caption...">Photo by Frederic J. Brown/Getty Images.</small></p><p><em>This post was updated with comments from ICE.</em></p>