Thanks for stopping by for Day 13 of Upworthy's 31 Days of Happiness Countdown! Each day between Dec. 1 and Dec. 31, we're sharing stories we hope will bring joy, smiles, and laughter into our lives and yours. It's been a challenging year for a lot of us, so why not end it on a high note, with a bit of happiness? Check back tomorrow for another installment!
This red carpet stud is Gary Fisher.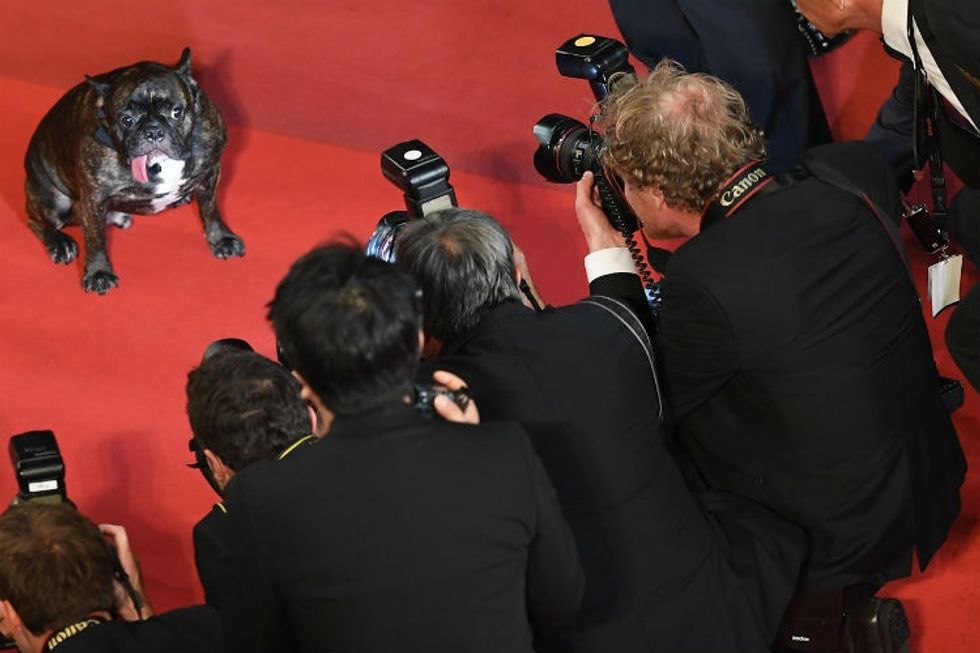 Photo by Anne-Christine Poujoulat/AFP/Getty Images.
<h2>If that floppy tongue looks familiar, that's because Gary was Carrie Fisher's therapy dog.</h2><p>She <em>adored</em> him. And she always brought him along for the ride.</p><p class="shortcode-media shortcode-media-rebelmouse-image"><img type="lazy-image" data-runner-src="https://assets.rebelmouse.io/eyJhbGciOiJIUzI1NiIsInR5cCI6IkpXVCJ9.eyJpbWFnZSI6Imh0dHBzOi8vYXNzZXRzLnJibC5tcy8xOTUzMzUyNi9vcmlnaW4uanBnIiwiZXhwaXJlc19hdCI6MTY0NTY4OTM3OH0.IcUp53r7hywGmqUzZU_-V-U5KBsrW3-ErBeIztqb6XA/img.jpg?width=980" id="e0b6c" class="rm-shortcode" data-rm-shortcode-id="bac175b9abf4ba70d7d117701762f5ee" data-rm-shortcode-name="rebelmouse-image"><small class="image-media media-caption" placeholder="add caption...">Photo by Daniel Boczarski/Getty Images for Wizard World.</small></p><p>Fisher, who lived openly with bipolar disorder and <a href="https://www.upworthy.com/carrie-fisher-normalized-mental-illness-these-13-tweets-show-why-that-matters">died at age 60</a> last year, said Gary had always been a soothing presence by her side. "Gary is very devoted to me and that calms me down," she told the <a href="http://health.heraldtribune.com/2013/04/20/14065/" target="_blank">Sarasota Herald-Tribune</a> in 2013. "He's anxious when he's away from me."</p><p>But Gary, who reportedly now lives with Fisher's former assistant, is staying in the spotlight. He's even starring in the new film, "Star Wars: The Last Jedi," which Fisher filmed before she passed away. And honestly, he looks as cute as can be ... for <em>galaxy far, far away</em> standards, at least.</p><h2>Someone spotted a wrinkly four-legged alien in a sneak-peek image of the new film and asked, "Wait, is <em>that</em> Gary?"</h2><p>Clair Henry of the "Star Wars" fan site <a href="http://www.fanthatracks.com/news/film-music-tv/fantha-tracks-exclusive-rian-johnson-confirms-space-gary-fisher-exists/" target="_blank">Fantha Tracks</a> tweeted at director Rian Johnson, asking if the "cute little creature" was, in fact, Fisher's old pup.</p><iframe width="100%" height="150" scrolling="no" id="twitter-embed-938303373161517056" src="/res/community/twitter_embed/?iframe_id=twitter-embed-938303373161517056&amp;created_ts=1512543931.0&amp;screen_name=irishgeekgirl&amp;text=%40rianjohnson+we+%40FanthaTracks+want+to+know+if+you+can+confirm+this+cute+little+creature+is+%23spacegary+in%E2%80%A6+https%3A%2F%2Ft.co%2FmvtcA47VOu&amp;id=938303373161517056&amp;name=Clair+Henry" frameborder="0" class="rm-shortcode" data-rm-shortcode-id="PER1P81559350437"></iframe><h2>Here's that pic a little bit closer.</h2><p class="shortcode-media shortcode-media-rebelmouse-image"><img type="lazy-image" data-runner-src="https://assets.rebelmouse.io/eyJhbGciOiJIUzI1NiIsInR5cCI6IkpXVCJ9.eyJpbWFnZSI6Imh0dHBzOi8vYXNzZXRzLnJibC5tcy8xOTUzMzUyNy9vcmlnaW4uanBnIiwiZXhwaXJlc19hdCI6MTYwNDQ5OTI3N30.g0qD_f_ye1jjAsi0oINn0785EqAYLJ2-o9GcNP4XJzE/img.jpg?width=980" id="137f0" class="rm-shortcode" data-rm-shortcode-id="387aa348a5c31e45b0dbd9ea0815a0ee" data-rm-shortcode-name="rebelmouse-image"><small class="image-media media-caption" placeholder="add caption...">Image via Clair Henry/Twitter.</small></p><h2>Johnson spotted her tweet and confirmed: Yep, that's him!</h2><p>(Granted, it definitely looks like Gary had been through the makeup and prosthetics department.)</p><h2>Gary, you're a silver screen <em>star!</em></h2><p class="shortcode-media shortcode-media-rebelmouse-image"><img type="lazy-image" data-runner-src="https://assets.rebelmouse.io/eyJhbGciOiJIUzI1NiIsInR5cCI6IkpXVCJ9.eyJpbWFnZSI6Imh0dHBzOi8vYXNzZXRzLnJibC5tcy8xOTUzMzUyOC9vcmlnaW4uZ2lmIiwiZXhwaXJlc19hdCI6MTY0NjYwNzg0MX0.wdjU0vJ-WOKIY-zUjFQ5x8NuKPLW6noeEd3vchAD7Ww/img.gif?width=980" id="21170" class="rm-shortcode" data-rm-shortcode-id="c830aaecfe8e67b2cfe5629fcb840d94" data-rm-shortcode-name="rebelmouse-image"><small class="image-media media-caption" placeholder="add caption...">GIF via NBC's "<a href="https://www.youtube.com/watch?v=PqsG3x3RQmw&amp;t=61s">Today</a>."</small></p><p>Fans are <a href="https://www.buzzfeed.com/jenniferabidor/the-way-billie-lourd-honored-carrie-fisher-at-the-last-jedi" target="_blank">feeling lots of emotions</a> over the latest "Star Wars" film — the last time Fisher's General Leia Organa will grace cinema screens. For millions, Fisher was more than just a princess all these decades: She was a <a href="https://www.thecut.com/2016/12/15-of-carrie-fishers-best-most-honest-feminist-quotes.html" target="_blank">fighter</a>, <a href="https://www.nydailynews.com/entertainment/carrie-fisher-defended-friend-sexually-harassed-producer-article-1.3567602" target="_blank">fierce friend</a>, and an outspoken advocate for <a href="https://www.upworthy.com/carrie-fisher-normalized-mental-illness-these-13-tweets-show-why-that-matters">combating the stigma</a> surrounding mental illness. She helped so many people simply be themselves.</p><p>It's wonderful to know that part of her lives on in her best furry little friend. </p><strong><em>More days of happiness here</em>: </strong><a href="http://www.upworthy.com/31-days-of-happiness-countdown-day-1">DAY 1</a> / <a href="http://www.upworthy.com/31-days-of-happiness-countdown-day-2">DAY 2</a> / <a href="http://www.upworthy.com/31-days-of-happiness-countdown-day-4">DAY 3</a> / <a href="http://www.upworthy.com/31-days-of-happiness-this-guy-s-awesome-job-blowing-up-snow-day-4">DAY 4</a> / <a href="http://www.upworthy.com/31-days-of-happiness-countdown-meower-rangers-day-5">DAY 5</a> / <a href="http://www.upworthy.com/31-days-of-happiness-countdown-disney-s-new-fireworks-are-for-everyone-day-6">DAY 6</a> / <a href="http://www.upworthy.com/31-days-of-happiness-countdown-billy-on-the-street-asks-a-hilarious-question-day-7">DAY 7</a> / <a href="http://www.upworthy.com/31-days-of-happiness-countdown-a-dad-s-teary-reunion-with-his-lost-pup-day-8">DAY 8</a> / <a href="http://www.upworthy.com/31-days-of-happiness-countdown-paying-it-forward-pays-off-day-9">DAY 9</a> / <a href="http://www.upworthy.com/31-days-of-happiness-countdown-a-tour-that-ll-make-you-see-taxidermy-a-new-way-day-10">DAY 10</a> / <a href="http://www.upworthy.com/31-days-of-happiness-countdown-a-sesame-street-parody-even-adults-will-love-day-11">DAY 11</a> / <a href="http://www.upworthy.com/31-days-of-happiness-countdown-johnny-sun-on-twitter-day-12">DAY 12</a> / [<a href="http://www.upworthy.com/31-days-of-happiness-countdown-carrie-fisher-s-dog-is-in-the-new-star-wars-day-13"><strong>DAY 13</strong></a>] / <a href="http://www.upworthy.com/31-days-of-happiness-countdown-a-fairy-skating-princess-returns-day-14">DAY 14</a> / <a href="http://www.upworthy.com/31-days-of-happiness-countdown-where-to-find-some-real-fantastic-beasts-day-15">DAY 15</a> / <a href="http://www.upworthy.com/31-days-of-happiness-countdown-the-googly-eyed-river-barge-that-eats-litter-day-16">DAY 16</a> / <a href="http://www.upworthy.com/31-days-of-happiness-countdown-this-cooking-show-in-space-is-just-so-delicious-day-17">DAY 17</a> / <a href="http://www.upworthy.com/31-days-of-happiness-countdown-a-gay-chorus-tours-the-south-day-18">DAY 18</a> / <a href="http://www.upworthy.com/31-days-of-happiness-countdown-a-nasa-gif-to-melt-your-stress-away-day-19">DAY 19</a> / <a href="http://www.upworthy.com/31-days-of-happiness-countdown-a-new-must-watch-christmas-classic-day-20">DAY 20</a> / <a href="http://www.upworthy.com/31-days-of-happiness-countdown-a-dog-owner-secretly-filming-his-husky-jumping-day-21">DAY 21</a> / <a href="http://www.upworthy.com/31-days-of-happiness-countdown-the-gordon-ramsay-challenge-that-goes-very-wrong-day-22">DAY 22</a> / <a href="http://www.upworthy.com/31-days-of-happiness-countdown-the-mesmerizing-process-of-making-chocolates-day-23">DAY 23</a> / <a href="http://www.upworthy.com/31-days-of-happiness-countdown-100-hilariously-bad-chewbacca-impressions-day-24">DAY 24</a> / <a href="http://www.upworthy.com/31-days-of-happiness-countdown-patti-la-belle-s-disastrous-holiday-performance-day-25">DAY 25</a> / <a href="http://www.upworthy.com/31-days-of-happiness-countdown-this-slapstick-video-is-relatable-and-hilarious-day-26">DAY 26</a> / <a href="http://www.upworthy.com/31-days-of-happiness-countdown-7-reasons-to-just-give-in-to-fionamania-already-day-27">DAY 27</a> / <a href="http://www.upworthy.com/31-days-of-happiness-countdown-honoring-the-grit-and-grace-of-debbie-reynolds-day-28">DAY 28</a> / <a href="http://www.upworthy.com/31-days-of-happiness-countdown-a-barbie-inspired-by-love-day-29">DAY 29</a> / <a href="http://www.upworthy.com/31-days-of-happiness-countdown-a-girl-s-super-funny-interview-with-her-cat-day-30">DAY 30</a> / <a href="http://www.upworthy.com/31-days-of-happiness-countdown-looking-back-at-you-tube-s-best-day-31">DAY 31</a>