Most Shared
Warning: This article is about Fred Rogers and his neighborhood, so there's a 50/50 chance you'll shed a tear.
On Feb. 19, 2018, "Mister Rogers' Neighborhood," turned 50 years old. And the internet was feeling feelings over it.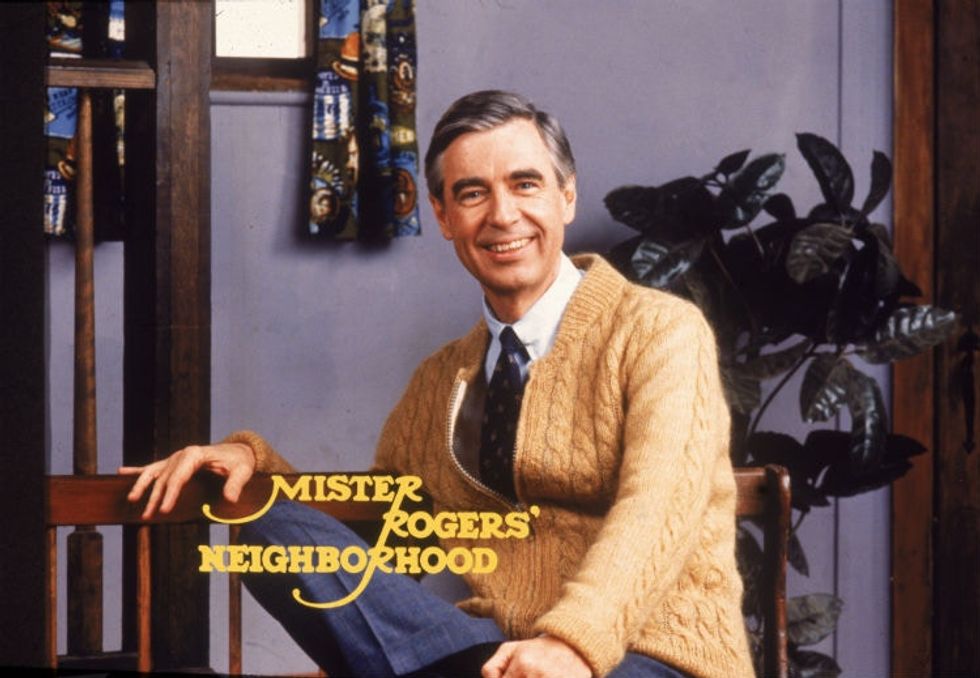 Photo by PBS Television/Courtesy of Getty Images.
After premiering on Canadian TV in 1963, Fred Rogers' beloved children's program debuted in the U.S. in 1968, inspiring generations of kids across North America to be more thoughtful, kinder neighbors.

One person feeling the feels on the show's anniversary was model, author, and Twitter goddess Chrissy Teigen.


<h2>Teigen tweeted the most delightful anecdote about why Rogers would often announce that he was feeding the fish during the show.  </h2><iframe width="100%" height="150" scrolling="no" id="twitter-embed-965758687414554624" src="/res/community/twitter_embed/?iframe_id=twitter-embed-965758687414554624&amp;created_ts=1519089788.0&amp;screen_name=chrissyteigen&amp;text=Mister+Rogers+would+narrate+himself+feeding+the+fish+each+episode+with+%E2%80%9CI%E2%80%99m+feeding+the+fish%E2%80%9D+because+of+a+letter+h%E2%80%A6+https%3A%2F%2Ft.co%2F62ECQ3gzgL&amp;id=965758687414554624&amp;name=christine+teigen" frameborder="0" class="rm-shortcode" data-rm-shortcode-id="PU6L731559346947"></iframe><p>"Mister Rogers would narrate himself feeding the fish each episode with, 'I'm feeding the fish,' because of a letter he received from a young blind girl who was worried the fish were hungry," she wrote. "Love you, Mister Rogers."</p><p><em>Aaaaaand</em> I'm crying.</p><h2>Rogers included the text of the girl's letter in his book, "<strong>Dear Mister Rogers, Does It Ever Rain in Your Neighborhood?" published in 1996.</strong></h2><p>As he <a href="https://books.google.com/books?id=_P4oyB1zeT4C&amp;printsec=frontcover&amp;dq=dear+mister+rogers&amp;hl=en&amp;sa=X&amp;ei=tEMaUaLoLMLi0QHqz4DIBw&amp;ved=0CDgQ6AEwAA#v=onepage&amp;q=katie&amp;f=false" target="_blank">noted in the book</a> (emphasis added):</p><blockquote>One girl and her family wrote to tell us there was a special reason why she wanted me to talk about feeding the fish each day. <br><br>Dear Mister Rogers, <br><br>Please say when you are feeding your fish, because I worry about them. I can't see if you are feeding them, so please say you are feeding them out loud. <br><br>Katie, age 5 (<strong>Father's note: Katie is blind, and she does cry if you don't say that you have fed the fish.</strong>)<br><br><br><br><br><br></blockquote><h2>This downright adorable clip from the series shows Rogers reassuring little Katie that the fish were always well-fed:</h2><div><div data-card="youtube" data-reactroot=""><div><span style="display:block;position:relative;padding-top:56.25%;" class="rm-shortcode" data-rm-shortcode-id="70781d496f905e51ddd8aa217225cd6a"><iframe type="lazy-iframe" data-runner-src="https://www.youtube.com/embed/qjWNRPq_iqg?rel=0" width="100%" height="auto" frameborder="0" scrolling="no" style="position:absolute;top:0;left:0;width:100%;height:100%;"></iframe></span></div></div></div><p>"I need to feed the fish right away," Rogers said in the episode, before shaking the container of food above the tank. "I have some friends who get very concerned when I forget the fish during our visits."</p><p><em>Aaaaaand</em> I'm ugly crying.</p><h2>Rogers showed us how simple it often is to be a more compassionate friend. </h2><p class="shortcode-media shortcode-media-rebelmouse-image"><img type="lazy-image" data-runner-src="https://assets.rebelmouse.io/eyJhbGciOiJIUzI1NiIsInR5cCI6IkpXVCJ9.eyJpbWFnZSI6Imh0dHBzOi8vYXNzZXRzLnJibC5tcy8xOTM0NjM0Ni9vcmlnaW4uanBnIiwiZXhwaXJlc19hdCI6MTY0MDU4MzYxNX0.GLbgEYvxDnDPRoMhQT94nt5yoOXUB2G7z9b_VDSWXng/img.jpg?width=980" id="e1a75" class="rm-shortcode" data-rm-shortcode-id="f40d61bb40ce544e49750d580d3f538e" data-rm-shortcode-name="rebelmouse-image"><small class="image-media media-caption" placeholder="add caption...">Photo by Getty Images.</small></p><p>"I just wanted you to know that even if I forget to feed them when we're together, I come back later and feed them, so they're always taken care of," Rogers concluded. "It's good to know that fish and animals and children are taken care of by those who can, isn't it?" </p><p>Yes it is, Mister Rogers. The world needs more neighbors like you. </p>