Family
"You come into my world and you sit with me, my size, my hue, my age, and you ... you sit, and you experience."
Viola Davis delivered a show-stopping speech when she received the first- ever #SeeHer Award at the Critics' Choice Awards.
The award was created by the #SeeHer campaign, which strives to eliminate bias against women in the media.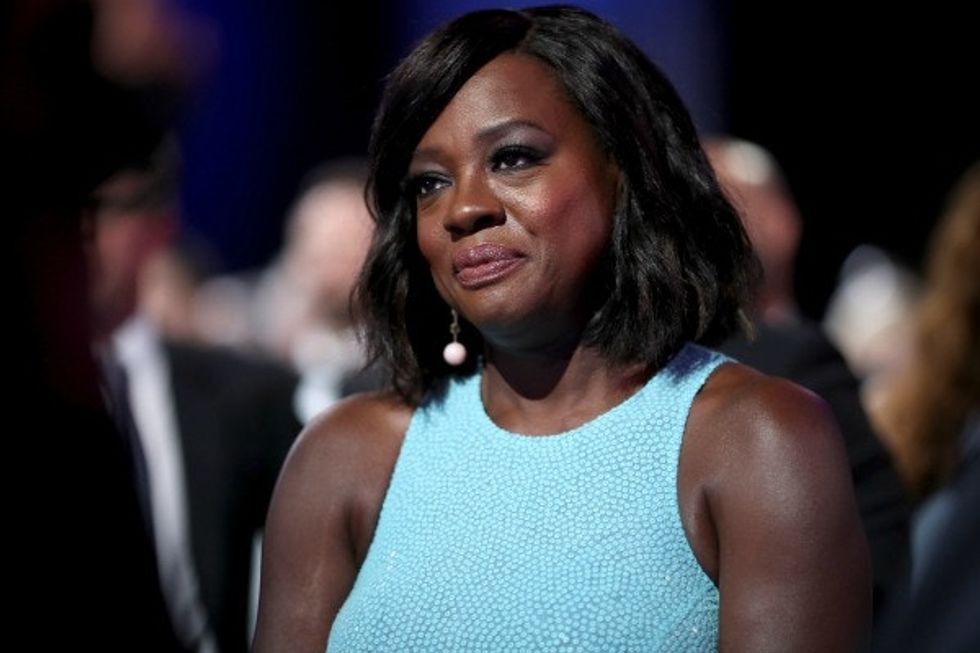 </div></div></div><h2>As the first black actress to ever <a href="http://www.nytimes.com/live/emmys-2015/viola-daviss-emotional-emmys-acceptance-speech/" target="_blank">win an Emmy for Best Actress in a Drama</a>, Davis is no stranger to bias. However, that's not quite what she chose to focus on Sunday evening. </h2><p>She spoke of another major limiting factor that most women in the entertainment industry (and around the world) grapple with every day: <strong>body image and body-shaming.  </strong></p><div><div class="push-wrapper--mobile" data-card="image" data-reactroot=""><img type="lazy-image" data-runner-src="https://assets.rebelmouse.io/eyJhbGciOiJIUzI1NiIsInR5cCI6IkpXVCJ9.eyJpbWFnZSI6Imh0dHBzOi8vYXNzZXRzLnJibC5tcy8xOTUxNjY3MC9vcmlnaW4uZ2lmIiwiZXhwaXJlc19hdCI6MTYyMTU1NzU2N30.67zAGicLaCqfsoYMBlSITdQSruGMSigAvceE6F9dcPE/img.gif?width=980" id="e4592" class="rm-shortcode" data-rm-shortcode-id="aadaf59902fa9b7e67d34d676475f203" data-rm-shortcode-name="rebelmouse-image"><div class="image-caption"><p>GIF via <a href="https://www.youtube.com/watch?v=GrTwjRuelQM">A&amp;E/YouTube.</a></p></div></div></div><p>Many actresses find themselves typecast based on their size or asked to lose weight for roles, and Davis' experience has been no different. This mentality of always needing to be thinner is one that has, unfortunately, become ingrained in society at large.</p><p><div id="upworthyFreeStarVideoAdContainer"><div id="freestar-video-parent"><div id="freestar-video-child"></div></div></div></p><p>When Davis got the part of Annalise Keating on "How to Get Away With Murder," a role she said was somewhat outside her "type," her knee-jerk reaction was "I need to lose weight." She didn't feel like she was glamorous enough, pretty enough, or <em>thin enough</em> be the lead of a TV series. </p><p>Then, in a triumphant moment of her speech, she said she realized just how wrong she was:</p><div><div class="push-wrapper--mobile" data-card="image" data-reactroot=""><img type="lazy-image" data-runner-src="https://assets.rebelmouse.io/eyJhbGciOiJIUzI1NiIsInR5cCI6IkpXVCJ9.eyJpbWFnZSI6Imh0dHBzOi8vYXNzZXRzLnJibC5tcy8xOTUxNjY3MS9vcmlnaW4uZ2lmIiwiZXhwaXJlc19hdCI6MTYzMjgzMjU5Mn0.sf5BFiu1c7FfaTjOfWfsk_6VGXb2XBqXZa6L6XhO-yw/img.gif?width=980" id="10a0e" class="rm-shortcode" data-rm-shortcode-id="78e5144bb37814725ad71d5744190aa8" data-rm-shortcode-name="rebelmouse-image"><div class="image-caption"><p>GIF via <a href="https://www.youtube.com/watch?v=GrTwjRuelQM">A&amp;E/YouTube.</a></p></div></div></div><p>It's not surprising, considering the pressure of taking on the starring role of a drama series. But the fact that her first thought was about losing weight shows just how much things still need to change. Thankfully, Davis, in all her powerhouse glory, is leading the way. </p><h2>Her speech articulated the importance of embracing yourself, no matter your size, shape, age, or color. </h2><p>It was humble, inspiring, and exactly what women everywhere need to hear.</p><div><div class="push-wrapper--mobile" data-card="image" data-reactroot=""><img type="lazy-image" data-runner-src="https://assets.rebelmouse.io/eyJhbGciOiJIUzI1NiIsInR5cCI6IkpXVCJ9.eyJpbWFnZSI6Imh0dHBzOi8vYXNzZXRzLnJibC5tcy8xOTUxNjY3Mi9vcmlnaW4uZ2lmIiwiZXhwaXJlc19hdCI6MTY0MjM0MDc2OH0.-anWOqpi53u8cEP7CPFvuhGdofPx-3o8w1zS0Q0ACKU/img.gif?width=980" id="43bd4" class="rm-shortcode" data-rm-shortcode-id="08d5952801caa5b08e08ef5202c87c82" data-rm-shortcode-name="rebelmouse-image"><div class="image-caption"><p>GIF via <a href="https://www.youtube.com/watch?v=GrTwjRuelQM">A&amp;E/YouTube.</a></p></div></div></div><p><strong>Here it is in its entirety (emphasis added): </strong></p><blockquote>"Thank you. It's hard to accept being a role model for women when you're trying to lose weight. But, it's true. I've always discovered the heart of my characters, I guess, by asking, 'Why?' <br><br>You know, when I was handed Annalise Keating, I said, 'She's sexy, she's mysterious, you know?' I'm used to playing women who gotta gain 40 pounds and have to wear an apron. So I said, 'Oh God, I gotta to lose weight, I gotta learn how to walk like Kerry Washington in heels, you know, I gotta lose my belly.' And then I asked myself, 'Well, why do I have to do all that?' <br><br>I truly believe that the privilege of a lifetime is being who you are, and I just recently embraced that at 51.<strong> I think my strongest power is that at 10 o'clock every Thursday night, I want you to come into my world. I am not going to come into yours. You come into my world and you sit with me, my size, my hue, my age, and you ... you sit, and you experience.</strong> And I think that's the only power I have as an artist, so I thank you for this award. And I do see her, just like I see me."<br><br><br><br></blockquote><h2>Davis is definitely not the only celebrity standing up for body positivity in the face of professional scrutiny.</h2><div><div class="push-wrapper--mobile" data-card="image" data-reactroot=""><img type="lazy-image" data-runner-src="https://assets.rebelmouse.io/eyJhbGciOiJIUzI1NiIsInR5cCI6IkpXVCJ9.eyJpbWFnZSI6Imh0dHBzOi8vYXNzZXRzLnJibC5tcy8xOTUxNjY3My9vcmlnaW4uanBnIiwiZXhwaXJlc19hdCI6MTY0MzI5NTI1MH0.14npAnbqvPVlWtbzSdVw349AIWof-6PvJmjfdGneC0o/img.jpg?width=980" id="2ead7" class="rm-shortcode" data-rm-shortcode-id="f5f55b37c82e567b7acd5b62b9bcc921" data-rm-shortcode-name="rebelmouse-image"><div class="image-caption"><p>Photo by Angela Weiss/Getty Images.</p></div></div></div><p>In August, Alicia Keys showed up to the MTV Video Music Awards <a href="http://www.upworthy.com/alicia-keys-look-at-the-vmas-shows-she-meant-it-when-she-said-shes-over-makeup?c=apstream">wearing no makeup, </a>something she has committed to doing regularly to show the world she's done with judgment and confirming beauty standards.</p><p>Kate Winslet, another award-winning actress, still struggles with body image issues but <a href="http://www.huffingtonpost.com/entry/kate-winslet-body-image-daughter_us_55ba3310e4b095423d0df69c" target="_blank">repeats this mantra to herself</a> and daughter regularly: "We are so lucky we have a shape. We're so lucky we're curvy. We're so lucky that we've got good bums." </p><p>Pop star Adele, actress Melissa McCarthy, and model Ashley Graham were voted most influential body-positive celebrities of 2016 by <a href="http://www.dailymail.co.uk/femail/article-3819915/She-s-leading-way-Actress-turned-designer-Melissa-McCarthy-voted-influential-body-positive-celebrity-beating-likes-Oprah-Amy-Schumer.html" target="_blank">clothing company Gwynnie Bee</a> for their consistent, no-nonsense body-positive advocacy. </p><h2>Women are making major strides to fight fat-shaming in Hollywood, but the battle's far from over.</h2><p>With stunning female forces like Davis constantly pushing for change, things are looking up. There's a major spotlight on the issue, which will make it much harder for future scrutiny to go unobserved. While Davis admits to occasionally feeling like she has to lose weight (body issues are complicated, and often ongoing even when you recognize the social pressures behind them), she's not letting those insecurities rule her life or limit what she believes she can do.</p><p>So the next time you find yourself feeling like you have to change to fit someone else's expectations — even if they're your own — take a note from Davis, and honestly ask yourself: "Why?"</p><h2><strong>Watch Davis' whole acceptance speech here:</strong></h2><div><div data-card="youtube" data-reactroot=""><div><span style="display:block;position:relative;padding-top:56.25%;" class="rm-shortcode" data-rm-shortcode-id="afc2b7ae72e4f8aaa9980fe42061eae1"><iframe type="lazy-iframe" data-runner-src="https://www.youtube.com/embed/GrTwjRuelQM?rel=0" width="100%" height="auto" frameborder="0" scrolling="no" style="position:absolute;top:0;left:0;width:100%;height:100%;"></iframe></span></div></div></div>