popular
Ashley Graham shared an empowering photo of her pregnant body, embracing her stretch marks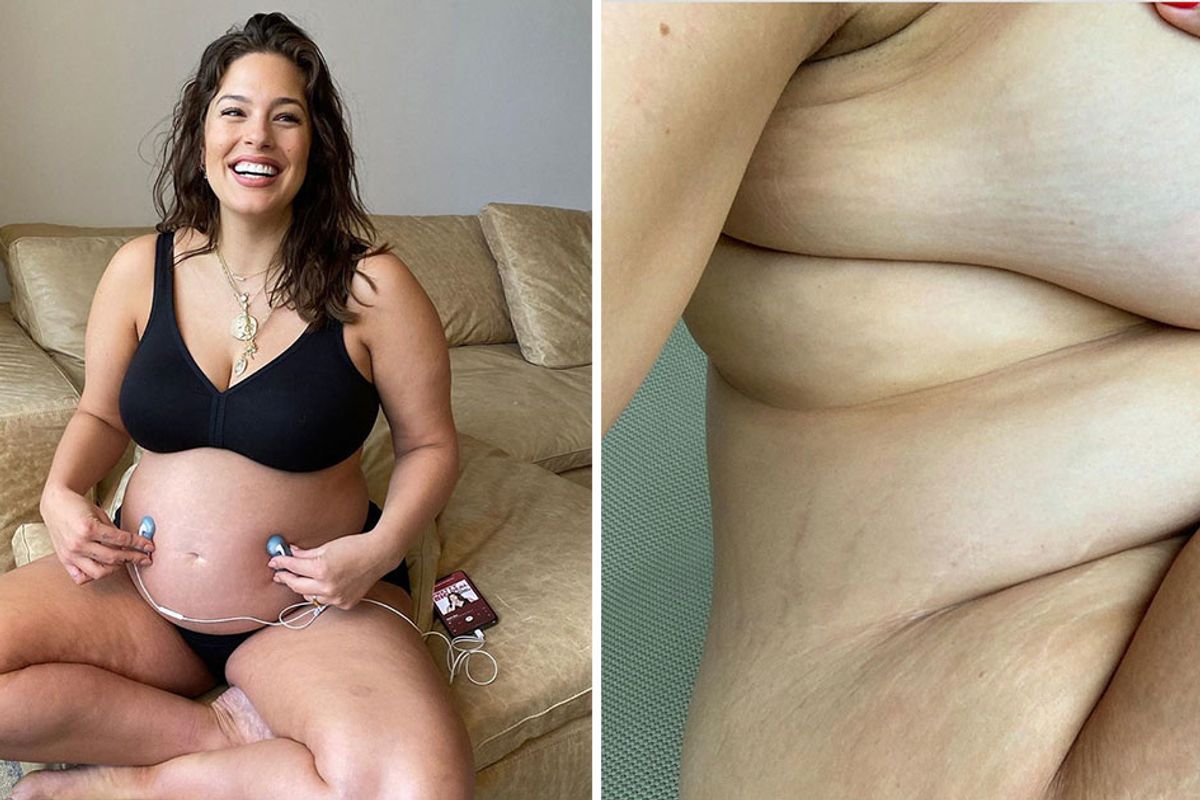 Instagram / Ashley Graham
When Demi Moore's nude pregnancy photo in Vanity Fair came out, it was groundbreaking. We had never seen a woman's pregnant body presented in such a natural state (albeit, one that was heavily lighted and likely photoshopped.) Nowadays, Instagram has made it common for celebs to post photos of their uncovered growing bellies, but sometimes it feels like we're not seeing pregnancy for what it is. It isn't always beautiful, and you probably don't have a team of stylists following you around making sure everything is just right. You don't experience that magic "pregnancy glow" for nine months. It comes with stretch marks and weight gain, morning sickness, and melisma.
Many women experience the less-than-glamorous symptoms of pregnancy, and yet, we hardly ever see them. Supermodel Ashley Graham stripped off all the glamour and posted a nude photo of her pregnant body, celebrating all of the "imperfections" that come with growing a baby. Graham, who is pregnant with her first child with husband Justin Ervin, chose to present her body with child au natural, stretch marks and all.Graham posted the photo on Instagram five days after she announced her pregnancy. "Same same but a little different," she wrote in the caption.
---
Fans and other celebrities were supportive that Graham chose to present pregnancy without all the filters and photo shop. "My Lord, THANK YOU for this" wrote Hillary Scott of Lady Antebellum.

Not surprisingly, many women said they related to Graham's pregnant physique. "I will always love my tiger stripes. Now it's time to show them off. Thank you from the bottom of my [heart emoji]," one Instagram user posted.
"Thanks for always being real and honest! Beautiful! Makes me feel that I could be beautiful too with all my cellulite and stretch marks!" wrote another.
"I'm pregnant, hormonal, and going through so many body changes. This made me tear up. I really needed this today," said a third.
Graham, who rose to prominence in 2016 when she became the first-ever plus-sized swimsuit model on the cover of Sports Illustrated, is a body activist who speaks about body positivity and inclusion. Graham says that her career gained momentum once she began embracing her body. "I felt free once I realized I was never going to fit the narrow mold that society wanted me to fit in," she said in a 2015 TED talk. "And that's okay. Rolls, curves, cellulite, all of it. I love every part of me."
Graham might have posted the "same same," but when it comes to the images of pregnancy we're presented with, it's a lot different.