More
This young woman proves there are no barriers — physical or otherwise — when it comes to achieving your dreams.
When you first meet Julissa Arce, you might assume she's like lots of other ambitious young women just looking for her own slice of humble American pie.
And she is. But she also lived with a huge secret for years.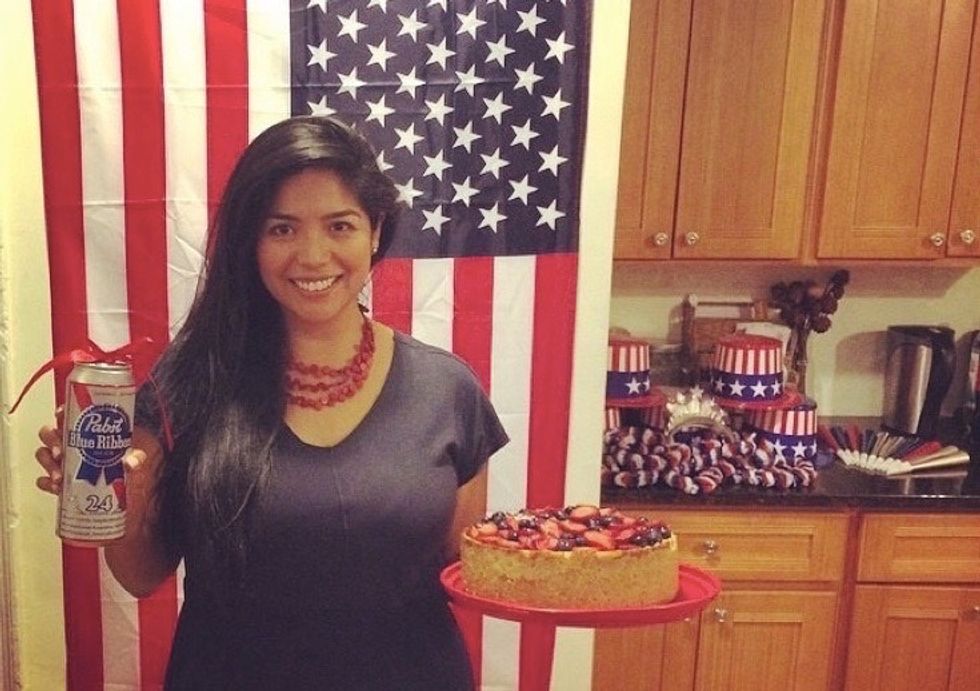 </div></div></div><h2><strong>Julissa was an undocumented immigrant who became a citizen two years ago. </strong></h2><p>She came to Texas from Taxco, Mexico, when she was 11, in 1994. Her parents got her a tourist visa, but when it expired three years later, she didn't go back to Mexico. Instead, her parents enrolled her in school. As Julissa notes in her book, her parents never addressed the expiration of her visa until it was too late. </p><p><strong>Today, Julissa is 33 years old. She became an executive at Goldman Sachs before age 30, which might make her seem like a 100% success story.</strong> And she is. But her fight to get to where she is today shows us a lot about living as an illegal immigrant, too. </p><h2>Her life story will hit home for anyone who says undocumented immigrants are only here to steal U.S. jobs.</h2><p>(Just tell them to read her new book, "<a href="http://julissaarce.com/" target="_blank">My (Underground) American Dream.</a>")</p><p>"There's so much that hasn't been told ... and I really need to tell the whole story," she said about writing her book.<strong> </strong>"I need to tell not just the victories, but also people need to understand the suffering and all the pain that went into getting to where I wanted to get and I couldn't think of a more timely time to tell the story."</p><h2><strong>Julissa first realized the severity of her position while in college.</strong></h2><p>Julissa was a strong student in high school, but she still experienced a roller coaster of emotions when it came to attending college. Because she was an illegal immigrant, it was entirely possible that she wouldn't be able to attend at all.</p><p>Then she read about <a href="http://keephb1403.com/" target="_blank">House Bill 1403</a> and was told to call then Sen. Rick Noriega's office. Her grades earned her a signed letter from the senator to the University of Texas in Austin asking them to consider Julissa's application. She was in.</p><h2>But it wasn't smooth sailing from there.</h2><p>She had purchased fraudulent papers with a fake Social Security number because she was so nervous about staying in America without correct documentation. Her parents and younger brother had decided when she was 18 that it made more financial sense for them to go back to Mexico, but because she wanted to go to college, she stayed, alone. How would she pay for her apartment or her tuition or her books? Julissa got a job and got to work. She manned a funnel cake stand, and she worked at a call center, taking any job that would pay the bills.</p><p>In her book, Julissa explains her heightened anxiety during college.<strong> She couldn't risk presenting any sort of ID at a bar or club, so she rarely went out. </strong>Driving meant risking a traffic stop that could potentially lead to deportation because she didn't have a driver's license. </p><div><div class="push-wrapper--mobile" data-card="image" data-reactroot=""><img type="lazy-image" data-runner-src="https://assets.rebelmouse.io/eyJhbGciOiJIUzI1NiIsInR5cCI6IkpXVCJ9.eyJpbWFnZSI6Imh0dHBzOi8vYXNzZXRzLnJibC5tcy8xOTUyNDkwOS9vcmlnaW4uanBnIiwiZXhwaXJlc19hdCI6MTYzNzYyMjIwNn0.3lSP4IRCAu7H5uVsS33bO2pIwYpRJZ3V2_UzqZV0x7o/img.jpg?width=980" id="ad714" class="rm-shortcode" data-rm-shortcode-id="51638da3d6eec7c4e2d52dcf56d69ca9" data-rm-shortcode-name="rebelmouse-image"><div class="image-caption"><p>Julissa speaking at The Berkeley Forum. Image by <a href="https://www.instagram.com/p/BLctMyhhBZ0/">Julissa Arce</a>, featured with permission. </p></div></div></div><p><strong>There were also the more obvious sacrifices, like the comfort of family. </strong>Julissa couldn't visit her family once they went back to Mexico. She couldn't risk attempting to come back into the U.S. with fake papers. There was too much at stake. That also meant she had to spend holidays (including Christmas) alone. </p><div><div data-card="instagram" data-reactroot=""><div><blockquote class="instagram-media" data-instgrm-captioned="" data-instgrm-version="7" style=" background:#FFF; border:0; border-radius:3px; box-shadow:0 0 1px 0 rgba(0,0,0,0.5),0 1px 10px 0 rgba(0,0,0,0.15); margin: 1px; max-width:658px; padding:0; width:99.375%; width:-webkit-calc(100% - 2px); width:calc(100% - 2px);"><div style="padding:8px;"> <div style=" background:#F8F8F8; line-height:0; margin-top:40px; padding:50.0% 0; text-align:center; width:100%;"> </div> <p style=" margin:8px 0 0 0; padding:0 4px;"> <a href="https://www.instagram.com/p/BKi1kzuBX00/" style=" color:#000; font-family:Arial,sans-serif; font-size:14px; font-style:normal; font-weight:normal; line-height:17px; text-decoration:none; word-wrap:break-word;" target="_blank">This is one of my favorite pictures that I share in "My (Underground) American Dream". I dedicated the book to my mom, Luisa, and my dad, Julio. Today marks the 9th anniversary of my dad's passing and not a day does by that I don't wish I had been by his side in his last hours. It hurts just as much as it did on day one. In his honor, in his memory, I share my journey. My biggest wish is that not a single daughter, father, son, mother would have to be separated. The cost of my American Dream was too high. I share some painful moments about my relationship with my dad in the book, but the way I will always remember him is by his smile, his laugh, his jokes, his silliness! He used to call me Juliana. So today call me Juliana.</a></p> <p style=" color:#c9c8cd; font-family:Arial,sans-serif; font-size:14px; line-height:17px; margin-bottom:0; margin-top:8px; overflow:hidden; padding:8px 0 7px; text-align:center; text-overflow:ellipsis; white-space:nowrap;">A photo posted by julissaarce (@julissaarce) on <time datetime="2016-09-19T16:32:31+00:00" style=" font-family:Arial,sans-serif; font-size:14px; line-height:17px;">Sep 19, 2016 at 9:32am PDT</time></p></div></blockquote></div></div></div><p>Julissa's grades in college were stellar, and she also became involved in the Hispanic Business Student Association, serving as president in her final year. Her work ethic and grades were so impressive, she managed to land one of a few coveted internships at Goldman Sachs before her senior year. She left such a positive impression with them that she secured a job as an analyst with the financial firm before graduation.  </p><p>She met a guy in Manhattan, and they got married.<strong> That's what got the ball rolling on her path to becoming a U.S. citizen. </strong>But when it came time to take the oath in August 2014, it was an understandably emotional moment for Julissa. </p><p>In her book, Julissa writes that as she looked around the courtroom, she knew every person in there had worked hard for this moment. "America is still the shining beacon of the world. I kept wiping away my tears, simply overwhelmed to think that this day was finally here, and that never again would I have to live in fear of being deported from the country I loved. Never again would anyone be able to question that I was American."</p><h2>What does this once-undocumented immigrant think about immigration reform?</h2><p>She thinks we need a path to citizenship for the millions of undocumented immigrants who already live in America. But she also points out that much can be done at a state and local level, too. <strong>Local governments can give people access to driver's licenses, and they can allow for in-state tuition costs for undocumented students as well. </strong></p><p>When it comes to 2016 Republican presidential nominee Donald Trump, Julissa admits she's disappointed that we've given him a platform: "The problem is that whether he wins or loses — the damage has already been done, and we have a lot of work to do to repair the damage that he has done over the last 18 months that he's been running his campaign."</p><h2>Julissa's future isn't slowing down either, which excites her.</h2><p>Her father died nine years ago, in 2007. She was climbing her way to the top at Goldman Sachs at the time. She recalls in her book slipping into a conference room to cry before composing herself and walking back out to face her coworkers.</p><p>Now that Julissa is a citizen, she can visit her family in Mexico whenever she wants to.<strong> But she also says she's found her true calling — and it's not on Wall Street.</strong> She wants to help other people like her looking for a path to citizenship. She has come out the other side of her incredible struggles a successful woman and wants to share the wealth of her knowledge with those who need it the most — undocumented immigrants who want to earn their way into the country. </p><p>During one week in October 2016, Julissa was in New Orleans on Monday, hosted a talk at Berkeley on Tuesday, was invited to the White House on Wednesday, and pitched a TV show on Friday. She's currently working on a TV show inspired by her book, too. America Ferrera is producing the series, making the rounds with Julissa in L.A. as they pitch the show.</p><div><div class="push-wrapper--mobile" data-card="image" data-reactroot=""><img type="lazy-image" data-runner-src="https://assets.rebelmouse.io/eyJhbGciOiJIUzI1NiIsInR5cCI6IkpXVCJ9.eyJpbWFnZSI6Imh0dHBzOi8vYXNzZXRzLnJibC5tcy8xOTUyNDkxMC9vcmlnaW4uanBnIiwiZXhwaXJlc19hdCI6MTYzNjg5ODIxOH0.qMR17vAFb7UaNMLgH_PiX5Mr3UwnshNecBm889ijzq4/img.jpg?width=980" id="3fcd9" class="rm-shortcode" data-rm-shortcode-id="6a78c2d529b7a9587c1f3f52356eea00" data-rm-shortcode-name="rebelmouse-image"><div class="image-caption"><p>Julissa with America Ferrera. Image by <a href="https://www.instagram.com/p/BLhVwHwByuz/">Julissa Arce</a>, featured with permission.</p></div></div></div><h2>Julissa says talking about her story is cathartic, but it's also incredibly important for other immigrants.</h2><p>In fact, she has a simple yet powerful message to all the young, undocumented immigrants living here now: <strong>There's always a way. </strong></p><p>"You can't give up and that the road is tough but, at the end of the road, is your goals and your dreams," Julissa said. "You just can't give up. You've gotta be really strong in your convictions and you gotta know that all of your sacrifices are … your dreams are worth your sacrifices."</p><p>I can't wait to see what Julissa does next, and as a fellow Latina, I'm thankful for her perseverance in chasing her dream in spite of the unimaginable obstacles, for the way she's reached such impressive heights at such a young age, and — most importantly — for how she is coming forward to share her powerful story to help others obtain <em>their</em> American dream. <strong>Every story matters.</strong></p>