Well Being
Arnold Schwarzenegger recruited his mini horses for a vital message about staying at home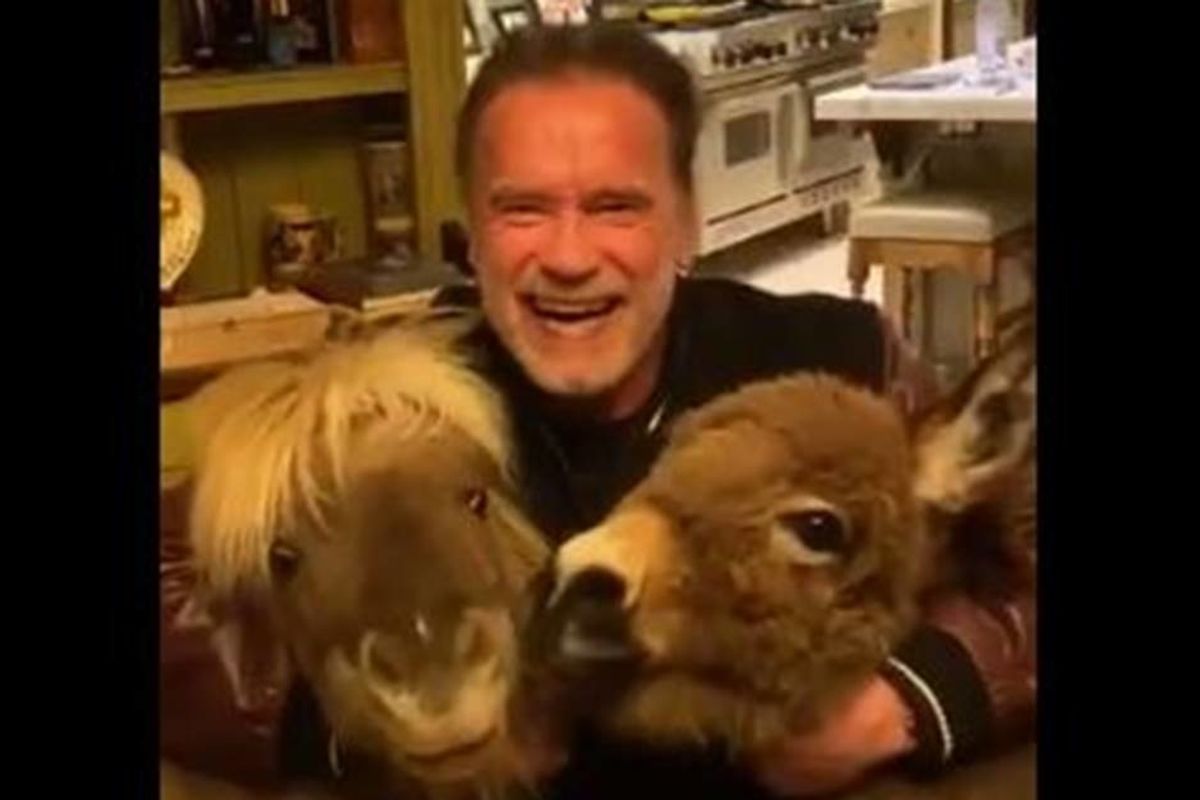 via Arnold Schwarzeneggar / Twitter
"Terminator" star and former California governor Arnold Schwarzenegger has made a living off playing an over-the-top tough guy. But the 72-year-old actor is shedding his image to warn people, especially those in his age group, to "stay at home" during the Coronavirus crisis.

Arnold is a master of publicity, so he enlisted the help of his darling miniature horse, Whisky and donkey, Lulu, to get the word out.
The result is an incredibly cute viral video that spreads the perfect message.
---
"See, the important thing is you stay at home," Schwarzenegger said while feeding carrots to his equine friends, "because there is a curfew now.
"Nobody is allowed out, especially someone that is like 72 years old. After you're 65, you're not allowed out of the house anymore in California," he continued, "So we eat at home."
"No more restaurants, OK?" he said in his video, petting his friends. "Forget all that. Public gatherings, restaurants and all this, gymnasiums, out the window. We stay at home. Hey Whiskey? Huh?"
---
Arnold's message is even more important for people in his age group. People over 60, especially those with pre-existing health conditions, are especially susceptible to the virus.
"Older people are more likely to be infected, especially older people with underlying lung disease," says Dr. Teena Chopra, medical director of infection prevention and hospital epidemiology at Wayne State University. "For this population, mortality rates for COVID-19 are about 15%."
This isn't Arnold and his pets' first public service announcement regarding COVID-19. A few days ago, he shared some hand-washing pointers alongside his dog, Cherry.
I tried to do a hand-washing tutorial for Cherry but I think you guys will pay more attention. Be safe. Wash your hands. Listen to scientists and experts, not foreheads. Together, we can slow this down and protect each other. #COVID19 pic.twitter.com/evDxVu6Etb
— Arnold (@Schwarzenegger) March 13, 2020
You wash your hands very thoroughly," he tells his dog. "And you wash it Twenty seconds, minimum. Make sure to wash the back of your paws, your fingers."
"You do this as many times as possible. I wash my hands a minimum of fifty times a day. Anything that I do, I wash my hands over, and over, and over again. To be safe for myself and everyone else."
Arnold has a long history of using social media to help others.
In 2018, A Reddit user named Ali reached out to him for advice on how to get motivated. Ali had been suffering from depression and had trouble just getting out of bed.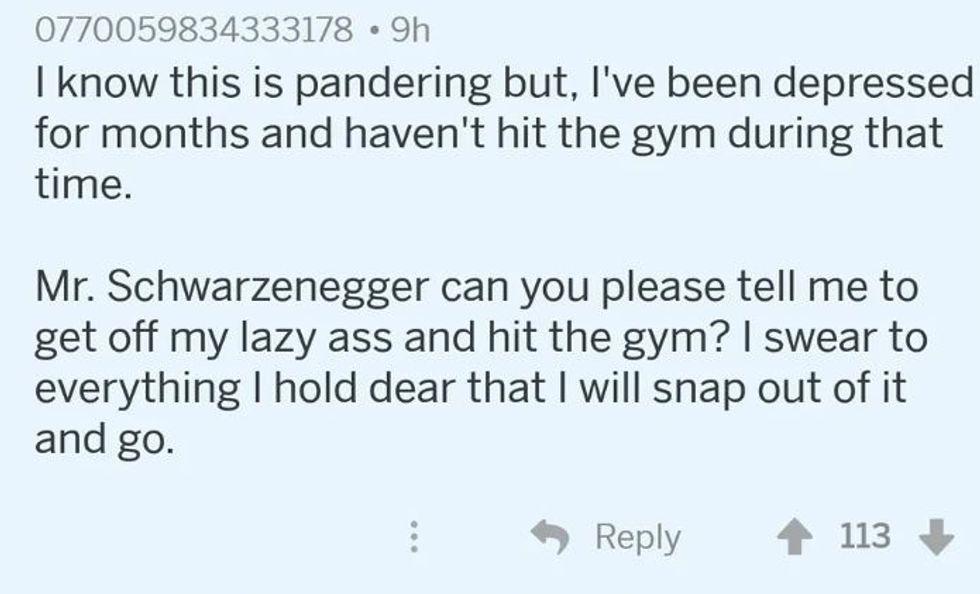 via Reddit
Arnold responded by emotionally pumping up Ali, giving him some simple advice to try and turn his situation around.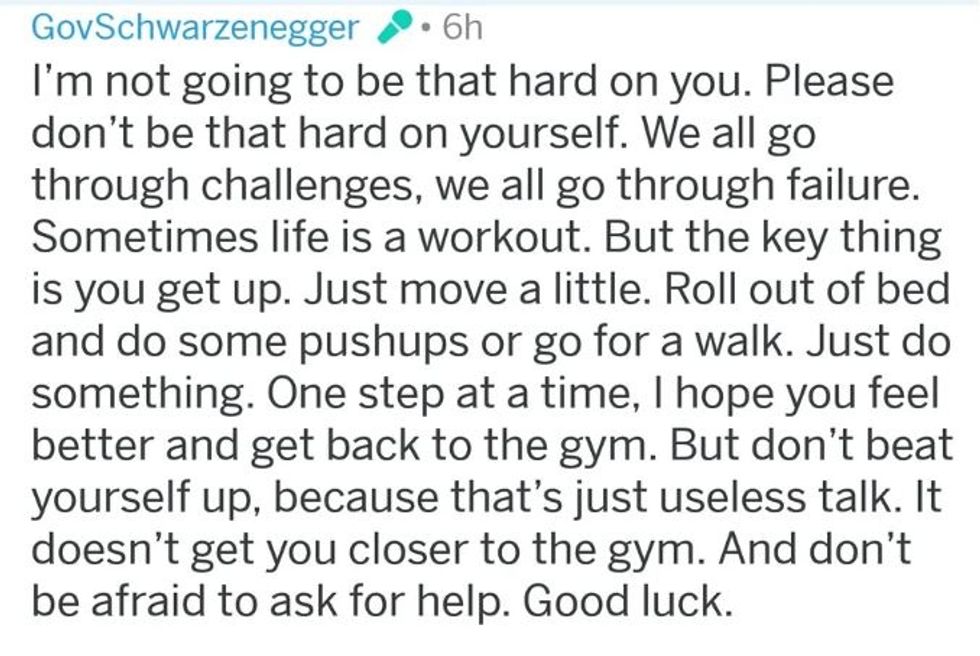 via Reddit
Let's face it, celebrities and politicians have the power to either make a positive or negative impact on society during a time of crisis. Kudos to Arnold for using his platform to pump people up, whether it's about saying safe during a pandemic or needing the motivation to get out of bed.