Recommended
Pro-choicer gets called a 'murderer,' responds with questions about what it means to be 'pro-life'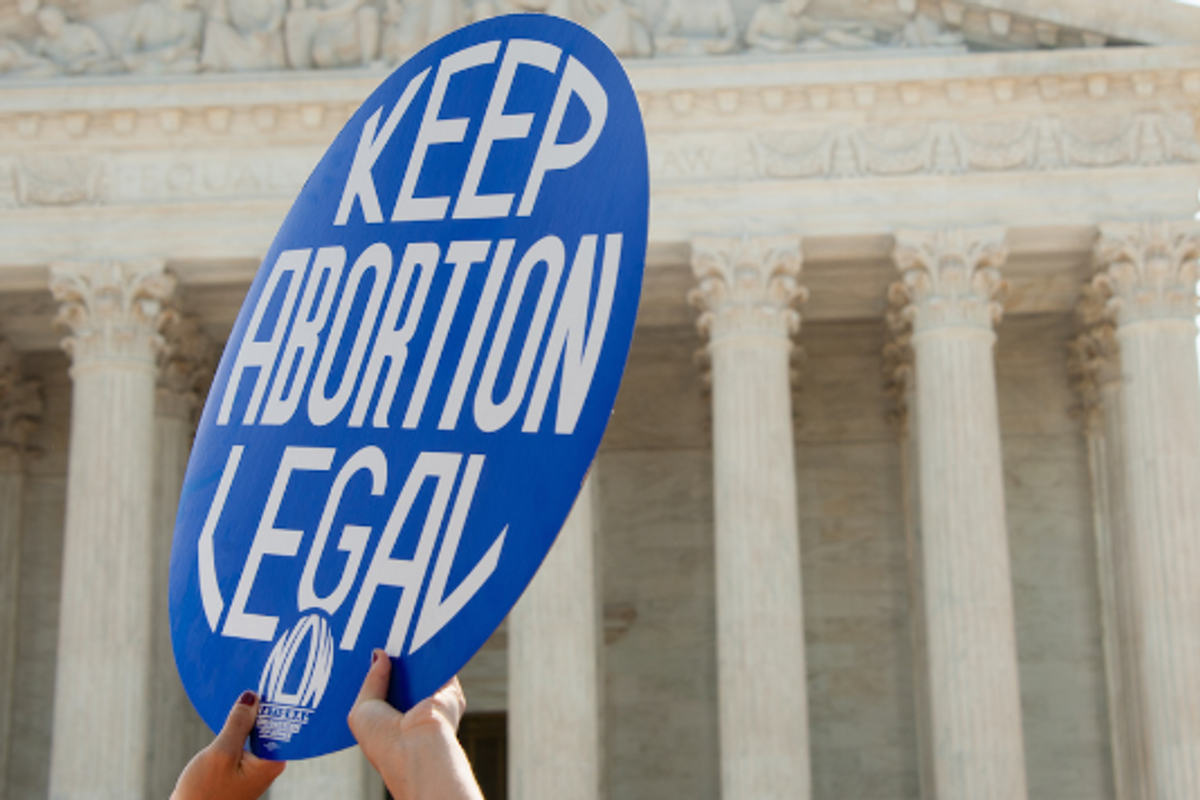 Calling a pro-choice person a "murderer" is a sadly common inflammatory insult hurled by pro-birthers. In true medical terms, terminating an embryo is terminating a multicellular diploid eukaryotic organism, not murdering a person. Nonetheless, people still invoke images of infanticide in order to demonize people advocating for reproductive health care access. Normalizing a debate around whether abortion is murder has only further stigmatized the very real existential threats women face without birth control and safe abortion access.
A recent screenshot posted on the Murdered by Words subreddit showed a heated exchange between a pro-choicer and the pro-birth person who called them an advocate for murder.
---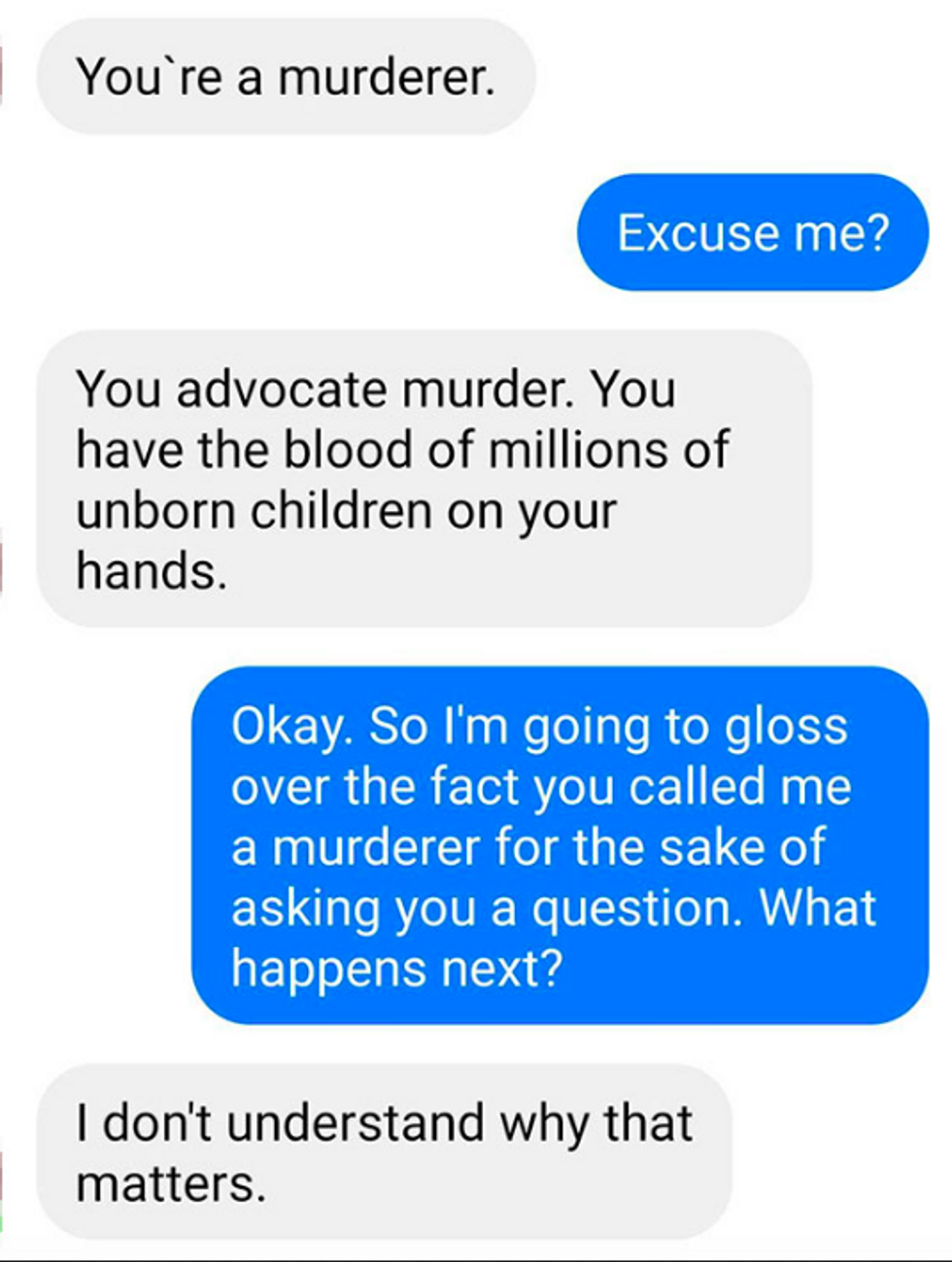 Screenshot via Reddit
The pro-choicer ignored the initial insult of "murderer" and continued the conversation by grilling the pro-birther about how they intend to help build a world where people can healthily raise children.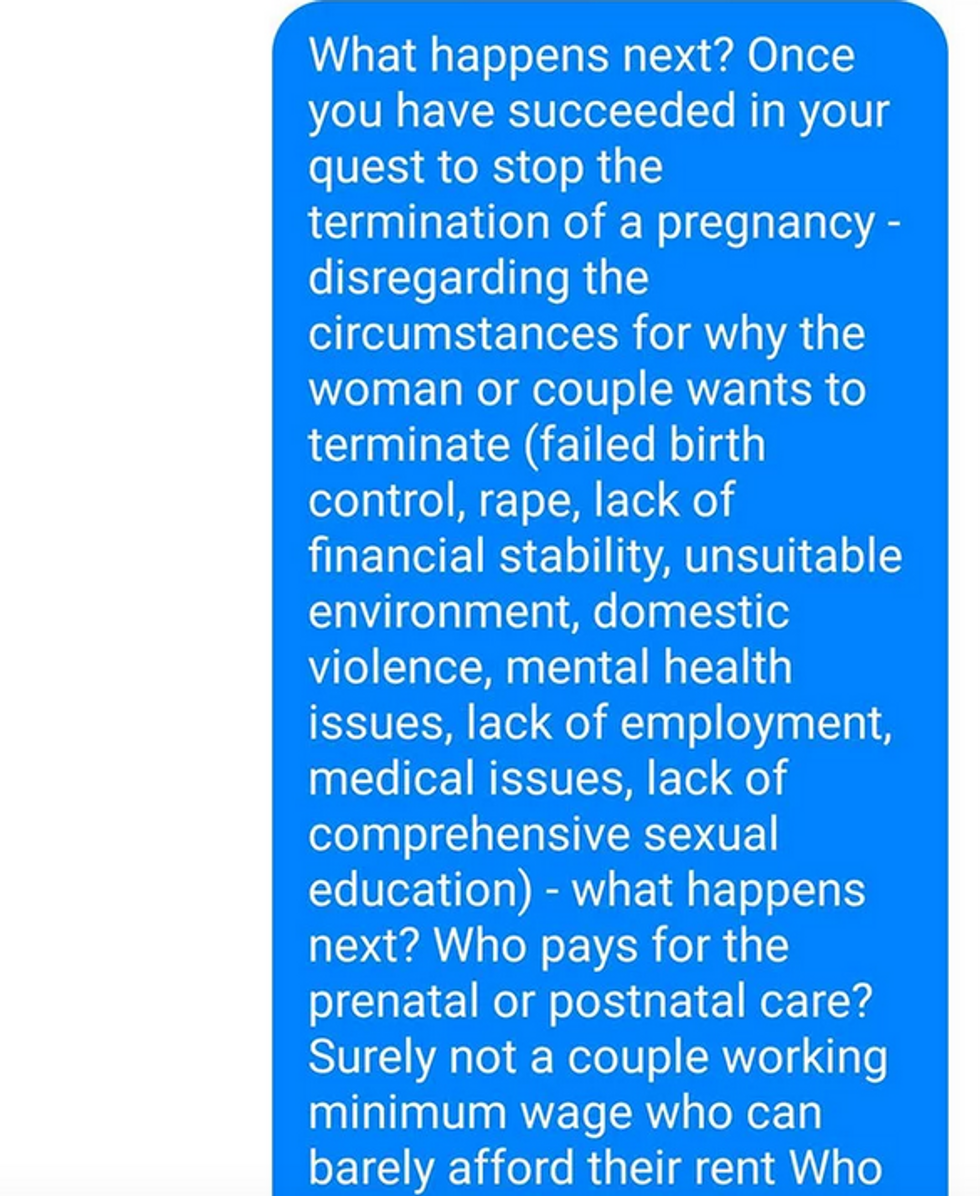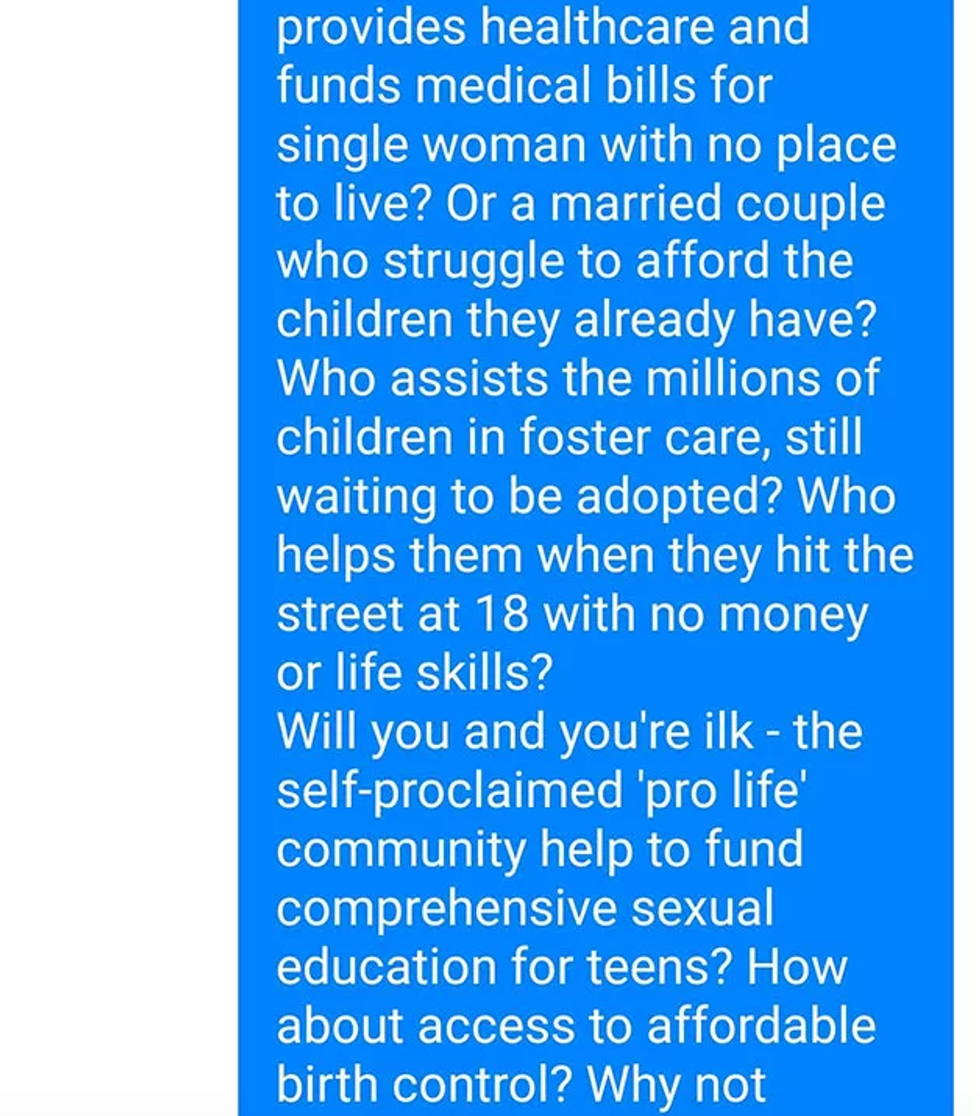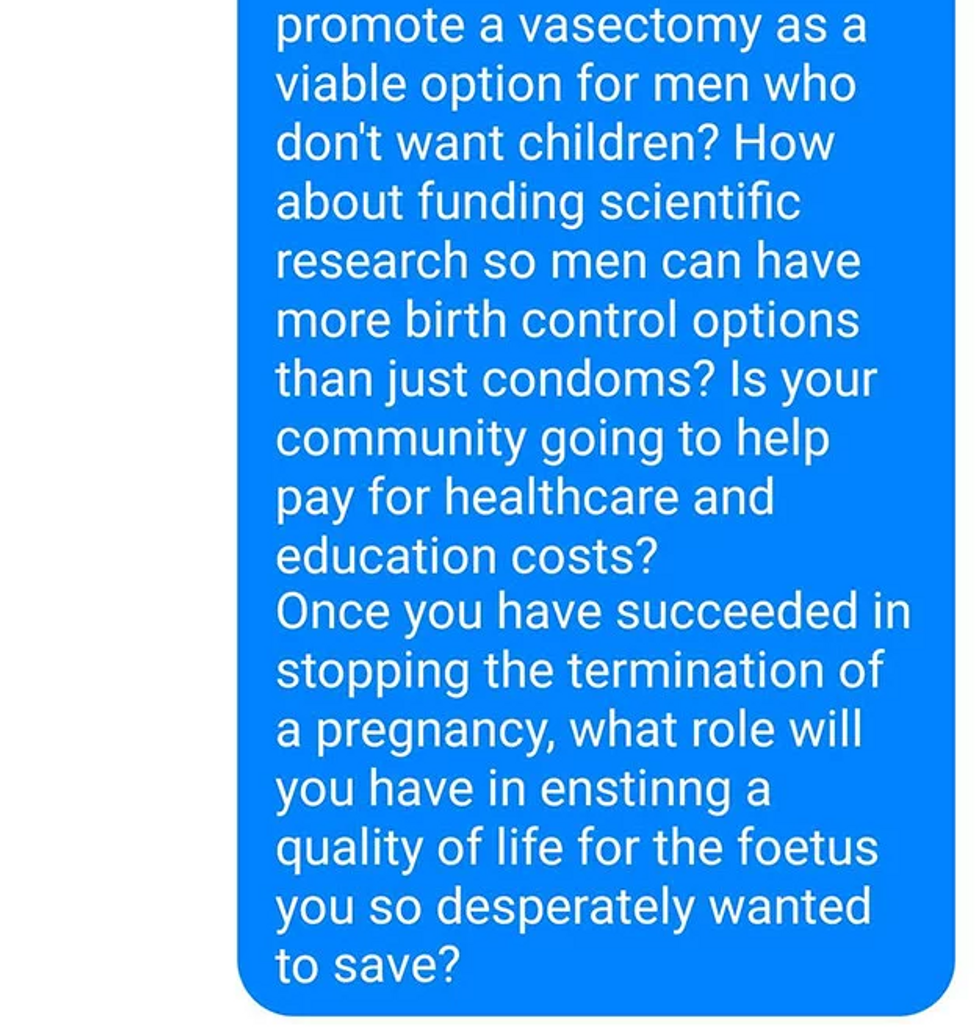 The response read:
"What happens next? Once you have succeeded in your quest to stop the termination of a pregnancy - disregarding the circumstances for why the woman or couple wants to terminate (failed birth control, rape, lack of financial stability, unsuitable environment, domestic violence, mental health issues, lack of employment, medical issues, lack of comprehensive sexual education) - what happens next?"

"Who pays for the prenatal or postnatal care? Surely not a couple working a minimum wage who can barely afford their rent. Who provides healthcare and funds medical bills for a single woman with no place to live? Or a married couple who struggle to afford the children they already have? Who assists the millions of children in foster care, still waiting to be adopted? Who helps them when they hit the street at 18 with no money or life skills?"



Will you and your ilk - the self-proclaimed 'pro-life' community help to fund comprehensive sexual education for teens? How about access to affordable birth control? Why not promote a vasectomy as a viable option for men who don't want children? How about funding scientific research so men can have more birth control options than just condoms? Is your community going to help pay for healthcare and education costs? Once you have succeeded in stopping the termination of a pregnancy, what role will you have in ensuring a quality of life for the foetus you so desperately wanted to save?"
The pro-birther simply responded by claiming it's the parents' responsibility, which ushered in a final call out of the hypocrisy of many factions of the pro-life movement.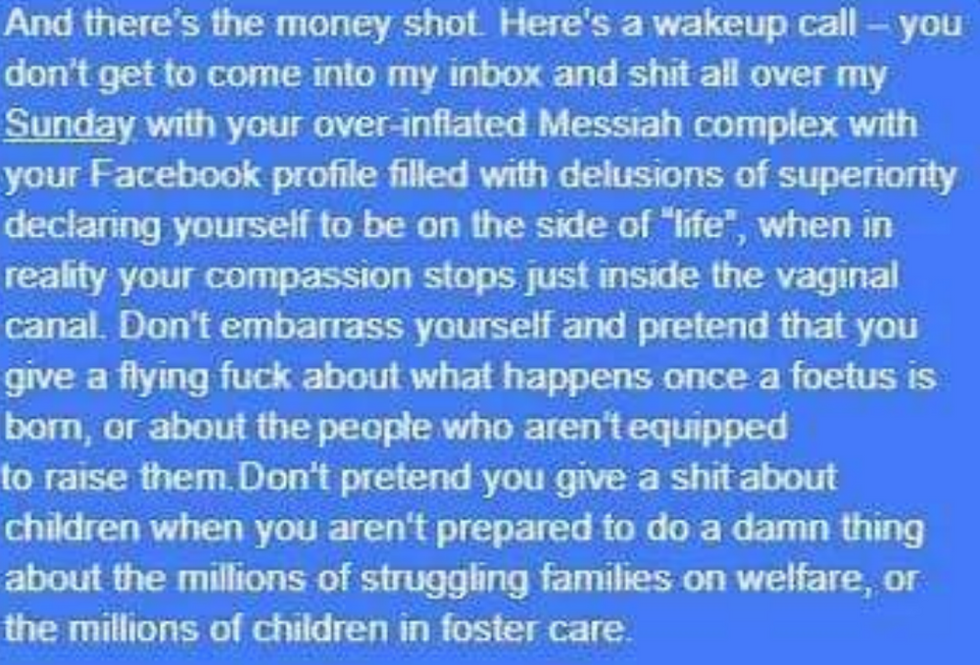 The pro-choicer's rebuttal ended with a bang, calling out all the ways the pro-birth community fails to support life after conception:
"And there's the money shot. Here's a wakeup call - you don't get to come into my inbox and shit all over my Sunday with your over-inflated Messiah complex with your Facebook profile filled with delusions of superiority declaring yourself to be on the side of "life." when in reality your compassion stops just inside the vaginal canal."

"Don't embarrass yourself and pretend that you give a flying fuck about what happens once a foetus is born, or about the people who aren't equipped to raise them. Don't pretend you give a shit about children when you aren't prepared to do a damn thing about the millions of struggling families on welfare, or the millions of children in foster care."



Don't pretend you give a shit about life, when you would rather just sit by and smugly proclaim women should 'close their legs' because it's less energy to do so than it is to lobby for resources that would make it easier for people to become parents. Go away."
Suffice it to say, the pro-birther had no rebuttal after that.
This article originally appeared on SomeeCards. You can read it here.