Democracy
People are sharing the things America does best. Here are 17 things they're totally right about.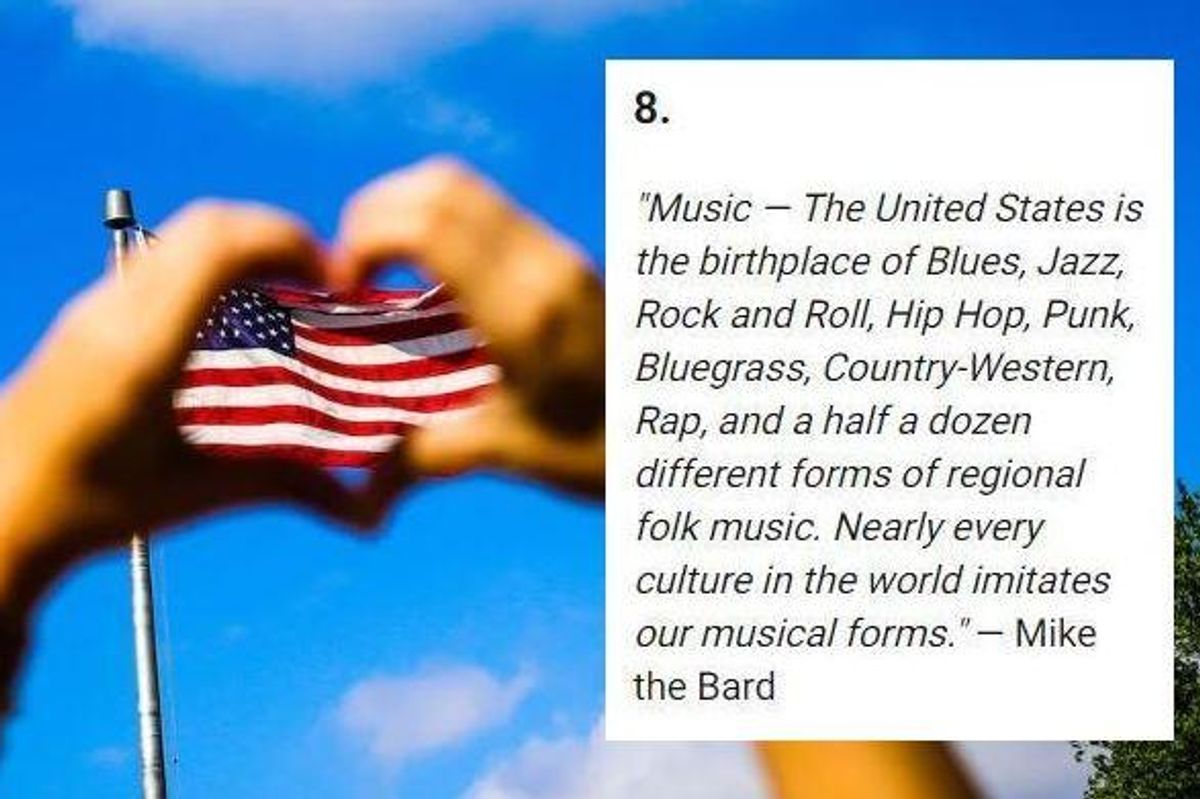 via Pexels
If you watch the news all day, you'll probably think that America is a politically divided, dangerous, bigoted, contentious, depressing place that's slowly losing its grip on being a world power. That's because there are very few media outlets that can stay in business reporting good news. (Unless they're Upworthy, of course.)

Humans have a negativity bias, so they are much more interested in hearing about the world's problems than what's going well. That makes it easy for them to develop a warped view of their country and the world that is much more negative than it should be.
Thousands of people on Reddit came together to make people feel a lot better about being an American recently after a user named KyleB2131 asked, "What does America do better than most other countries?" The post received thousands of responses from Americans and people abroad about the things that truly make the country great.
---
A lot of the responses are about how America excels in innovation and has wonderful topography highlighted by a fantastic system of national parks. Americans are also incredibly creative and make the best entertainment in the world.
"This may be one of my favorite Reddit threads of all time," a Reddit user named BigPlainV wrote. "Being tuned in to American mass media makes me feel like I live in the most fucked up armpit of the world. This thread has single handedly made me proud to be an American again."
"The American mass media, I believe, is our biggest downfall," circ2day added. "Because bad news makes more money than good news, that's all we get. Everything is aggressively sensationalized for the sake of getting views. This makes America look incredibly bad to outsiders."
Here are 17 of the best responses to the question, "What does America do better than most other countries?"
1. 
"Turning corn into things that are not corn." — rlemon
2. 
"I was going to say cornbread but everyone said rest stops. Have y'all ever had cornbread?" — Admirable-Ad-2554
3. 
"I love the Interstate Rest Areas on road trips. I'm a Canadian from the west coast, and was always VERY impressed with the 24/7 rest areas. Clean washrooms, nice grassy areas for dogs, picnic tables, and a lot of times people selling crafts, or offering free coffee!
"I've only driven through the western states, (WA,OR,CA,NV,UT,AZ) but yeah, those rest areas were always reliable. Always well-marked signs when the next one was coming up. Just made everything about traveling easier! Thanks, neighbors!" — Ubba-Ga
4. 
"Jazz." — PuzzleheadReveal58
5. 
"National Parks." — Big-Win6220
SmellLikeSheepSpirit added:
"Absolutely. People complain about crowds at the national parks, but this is somewhat by design. As you mention the American national parks are very accessible, they have handicapped trails. They have large educational visitor stations. They have viewpoints on the roads. They're meant to "market" the outdoors to the masses. They're a "park" much like an urban park is. Most have truly amazing drives that give a great sampling of what they offer.
"They also have amazing landscapes that see much less usage only a few miles out. People miss the point that they work for both the layperson/day visitor AND the person who will spend 5 days in a roadless wilderness. And of course there are wilderness designations for that reason."
6. 
"Make sure there's ice in your beverage." -- HegemoniHarbinger
DJ33 added:
"I asked where the ice machine was in a hotel in Dublin and the woman at the desk thought I was damaged in the head. She'd clearly never, ever had anyone ask that before."
7. 
"Buffets. No buffet I've had can beat the one's I had in the states." — sueRiot
8. 
"Music — The United States is the birthplace of Blues, Jazz, Rock and Roll, Hip Hop, Punk, Bluegrass, Country-Western, Rap, and a half a dozen different forms of regional folk music. Nearly every culture in the world imitates our musical forms." — Mike the Bard
9. 
"While we have a LONG way to go, the USA is comparatively better than a lot of places regarding supporting people with disabilities." — Kittenesque02
10. 
"The ability of the American farmer to produce food. It is really staggering the amount of food that is grown here." — fat-dum-stoopid
11. 
"Women's sports are really well supported here - so are female athletes. Despite many things Americans might say about it - if you go to other countries female athletics is really almost non-existent." — Juls7243
12. 
"America wins EVERY Super Bowl!" — Leyline
13. 
"Air conditioners everywhere and free public restrooms. You have to pay to use the restrooms in Europe." — SnooDoughnuts231
14. 
"Business. Hands down. It's their biggest advantage in my opinion. Deals with Americans just get done easier. Compared to other countries American businesses are more open-minded to new things, don't try to fuck you over, want a win for both sides, want simpler agreements, negotiate fairly, hold up their end of the bargain, etc.
"If you have even done business internationally you really see what a strong advantage it is. Other countries everyone is fucking everyone over, or are close-minded, slow as snails, and obsessed with bureaucracy. Commerce just flows better there." — Stopinstinker
15. 

"Think big and be bold. I am originally from Europe where people often just think small." — throwaway32132190432
16.
"Serious answer? Logistics. We're quite a large country and we've gotten very good at moving things around." — weirdoldhobo1978
17. 
"Chatting, I'm from an Asian country where most people will avoid talking to stranger. But you can literally talk to anyone you met in the street in the US and most of them are willing to talk." — _formosa_