Culture
This adorable Twitter thread captures a woman's surprise reunion with her foster dog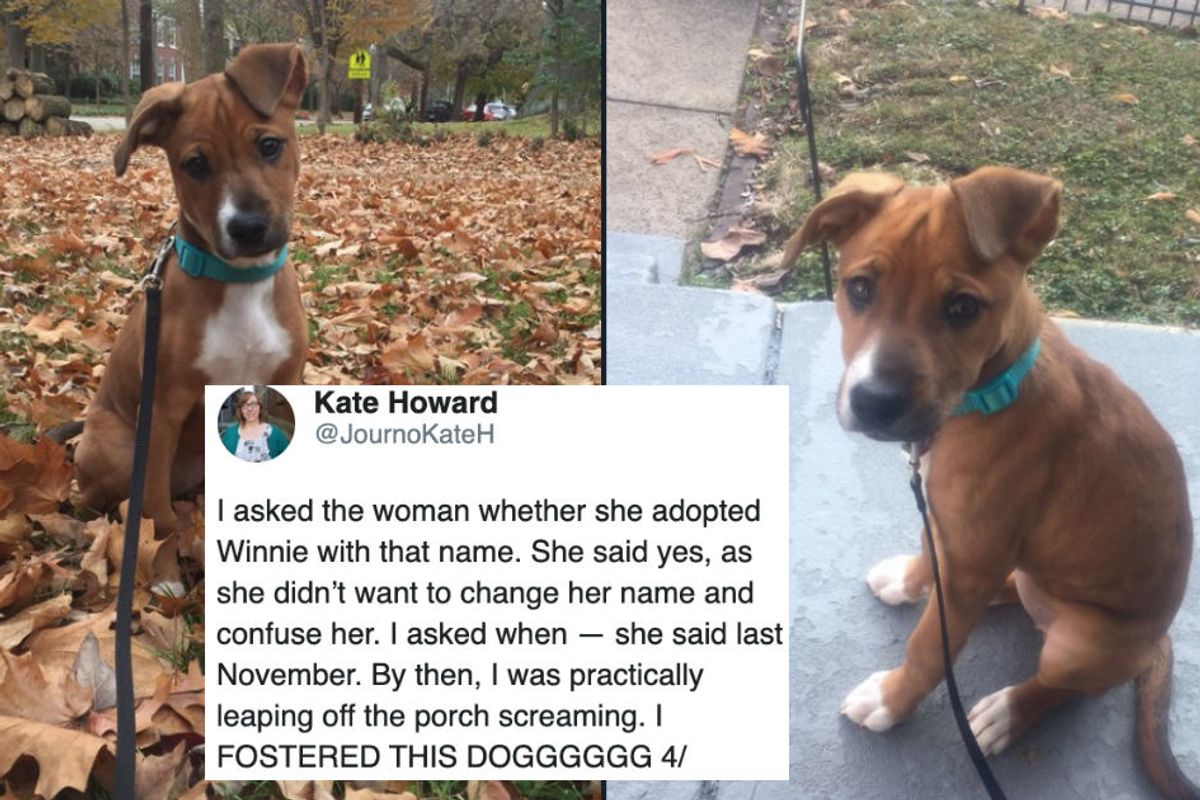 There's nothing like a good reunion story to get you misty in the ol' tear ducts. Kate Howard, the managing editor of Kentucky Center for Investigative Reporting, shared a story of randomly running into the dog she used to foster on Twitter. You know all those dog reunion movies? The ones with names like A Dog's Hope and A Dog's Sloppy Kiss? The ones that make you cry buckets no matter how hard you think your heart is? Well, this is that, but in real life.
---
The dog was cute, a brown pitty girl with white markings. All dogs are perfect but she was particular charming. Her… https://t.co/sAj5UIaWz9

— Kate Howard (@Kate Howard) 1571100464.0
The name sounded familiar to Kate, and for a very good reason.
This immediately registered because last November, I fostered a dog for the first time over Thanksgiving. She was a… https://t.co/F6SLBX1DFX

— Kate Howard (@Kate Howard) 1571100477.0
I asked the woman whether she adopted Winnie with that name. She said yes, as she didn't want to change her name an… https://t.co/Wue2DTJ5Zq

— Kate Howard (@Kate Howard) 1571100480.0
According to the American Humane Association, one in 10 pets are given up six months after they're adopted from a shelter, with destructive behaviors and disobedience cited in the top reasons why they're returned.
It turns out Winnie's mom had recently lost a dog. When saw Winnie's precious face on the Animal Services web site,… https://t.co/KPcHNmvBiq

— Kate Howard (@Kate Howard) 1571100482.0
Kate running into Winnie was – dare we say it – an act of destiny.
Now, I just moved into this house a couple months ago. And it turns out this house is a block over from Winnie! I w… https://t.co/yIQD6y7BKk

— Kate Howard (@Kate Howard) 1571100483.0
Winnie was also introduced to Kate's dog, Foxy.
Side note: Winnie loved foxy more than foxy loved Winnie 😂 https://t.co/Xtjx6veLRF

— Kate Howard (@Kate Howard) 1571151460.0
Kate's story resonated with other dog-owners and dog-lovers on Twitter.
@JournoKateH two of my dogs are looking at me right now wondering why I'm crying. this is beautiful. thank you for sharing.

— Kevin, respected (@Kevin, respected) 1571112739.0
@JournoKateH I have seen dogs who were fostered run into their foster mom at the dog park and run up to her and gre… https://t.co/1KrRdtJH8g

— C S (@C S) 1571140389.0
@JournoKateH Yes ago I had to find our dog a new home. We did, but everyday it was on my mind & I worried that he w… https://t.co/I4LOL5ulH9

— Vicki Campbell 🇨🇦 (@Vicki Campbell 🇨🇦) 1571136214.0
@KevINthe406 @JournoKateH My cat is sitting on my lap purring at me because of noise I'm making. Dogs make humans… https://t.co/hHjk9xD8tz

— joyce c 🌈🇺🇸🐈☕🐈 (@joyce c 🌈🇺🇸🐈☕🐈) 1571142167.0
@JournoKateH I am currently fostering a dog. You made my ugly cry and smile.

— Gerri Boyce (@Gerri Boyce) 1571103927.0
@JournoKateH My dog still gets excited when we see her foster moms around town 7 years later. Winnie will never for… https://t.co/wu3ktw46N2

— Spooky Clever Username (@Spooky Clever Username) 1571144036.0
Kate was also inspired by her own experience.
I have heard from so many of you who have loved rescue dogs and fostered yourselves. Thank you! I was SO sad after… https://t.co/B8RnqzKiyk

— Kate Howard (@Kate Howard) 1571150988.0
Taking a dog into your home also gives the dog a safe space to stay in until they're adopted. Sometimes a rescue group doesn't have space, so they rely people to take in dogs out of the goodness of their hearts. Other times, a dog is just too young to go into a shelter.

Fostering a dog can make all the difference in the life of a troubled pooch. It can help a dog iron out behavior issues, making them more likely to be accepted into their new home. Currently, 44% of households have dogs, and 23% of dogs were obtained through an animal shelter or humane society.
And sometimes it has a happy ending, like this story.