Jameela Jamil is a gift to the world. The Good Place actor is a tireless champion for the body positive movement and has no problem calling out other celebrities for hawking dangerous diet products. She has come for the Kardashians, Iggy Azaelia, and even Cardi B (brave), and she WILL come for you if you use your massive platform to promote products that dangerously encourage young girls to lose weight. So consider yourself warned.
At the center of these controversies is a company called Flat Tummy Co., which markets diet and detox (read: diarrhea) teas, mainly to young women and girls. According to their website, these products have "not been evaluated by the Food and Drug Administration." And apparently the company wasn't satisfied with their teen consumer base and decided to expand....by marketing to pregnant women.
Reality star Amber Rose, who is currently pregnant, shared an ad yesterday for a Flat Tummy Tea product that is specifically geared towards helping pregnant women stay thin and "not bloated." Hell, while we're at it, let's put the baby on a diet, too, shall we!!!??? This might seem like an episode of Black Mirror, but I assure you, it's not. Here's the ad:
---
The caption, which Amber edited following the immense backlash, reads:
Okay listen up @flattummyco just launched an Organic Pregnancy Tea to help us moms with those bloated, nauseous, blah feeling days! It's safe to take while pregnant and breastfeeding. This is not a detox tea - it's specially designed to help reduce occasional nausea and support digestion during pregnancy - haters stop riding the bandwagon and think for yourselves.

The ad clearly ruffled feathers, attracting a slew of comments like these: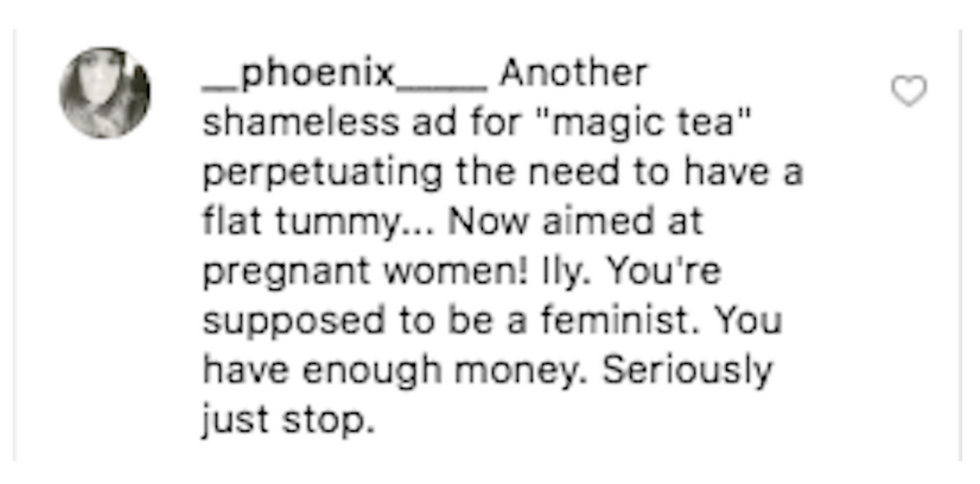 It was only a short time before this nightmare caught Jameela Jamil's eye, and she'd had ENOUGH. The actor took to Twitter to call out Amber Rose and the company for their dangerous bullsh*t. She's not messing around! She used ALL CAPS and even tagged the FDA!
She followed up with this tweet:
One of Jamil's followers did some research and found this terrifying info. on the product's website, which directly contradicts Amber Rose's claim about the product being "safe" for pregnant women:
Jamil's replies lit up with people supporting her for calling out Amber and this dangerous product:
Jamil also posted her message to Instagram, captioning the photo "NO AMBER ROSE, NO."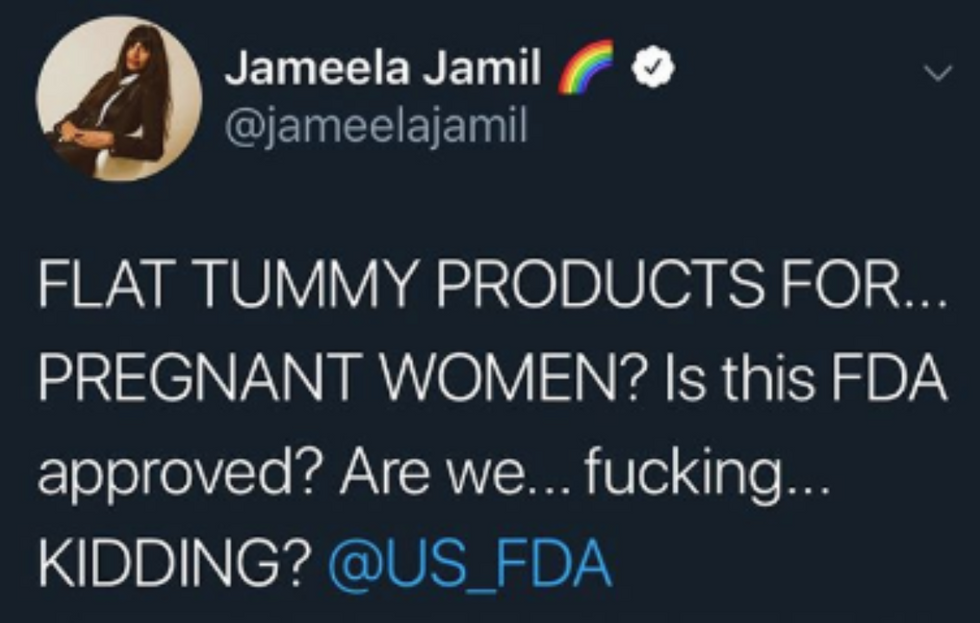 Jamil's fight has not been for nothing, as evidenced by the overwhelmingly positive response to her posts. This comment from a Broadway actress is just another reminder of how she's making a difference:

THANK YOU, JAMEELA, ON BEHALF OF WOMEN AND GIRLS EVERYWHERE AND OUR TUMMIES. Every woman deserves the right to a not-flat tummy and no one deserves that right more than pregnant women. Can we stop trying to flatten every woman into a pancake already and just let us LIVE OUR DAMN LIVES?! This post sponsored by Bloated Tummy™.
This article originally appeared on SomeeCards. You can read it here.