The 36th season premiere of "Doctor Who" treated viewers to something they had never seen before in the show's 54-year history.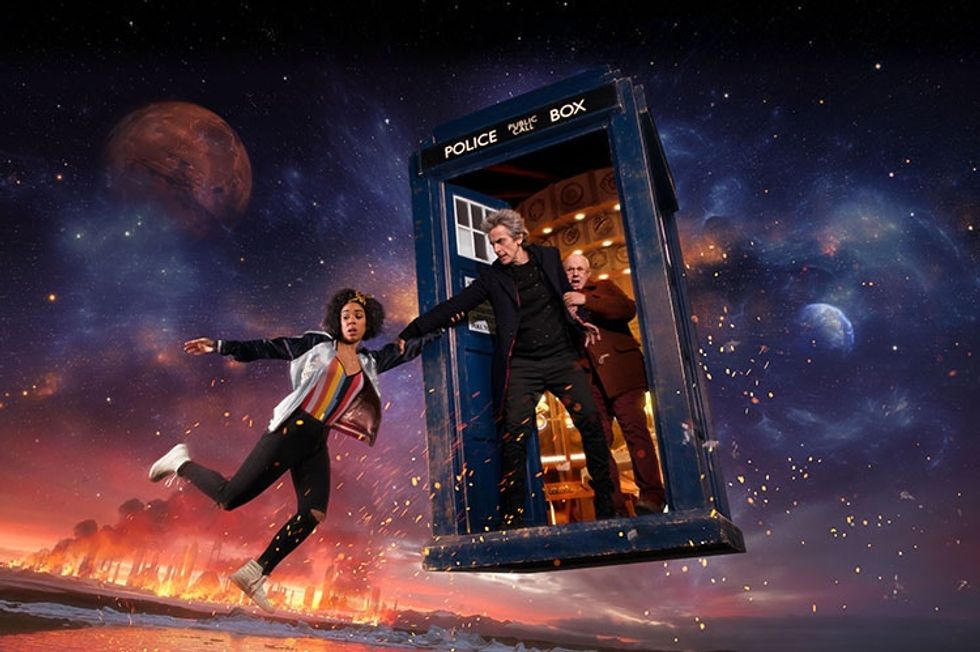 The Doctor's newest companion and co-star is Bill Potts, an openly gay woman.
The Doctor (who has been played by 13 different actors over the years) always has a traveling companion to keep him grounded on his adventures throughout time and space. His companions are almost always female, often young, and conventionally attractive. Their relationships are not always romantic, but as is the case in many shows featuring male and female leads, the romantic and sexual tension is always there, hovering in the subtext.
<p>New companion Bill Potts (Pearl Mackie) is different. She's gay, a fact that she mentions nonchalantly during her first conversation with the Doctor, seconds after appearing on screen.</p><div><div class="push-wrapper--mobile" data-card="image" data-reactroot=""><img type="lazy-image" data-runner-src="https://assets.rebelmouse.io/eyJhbGciOiJIUzI1NiIsInR5cCI6IkpXVCJ9.eyJpbWFnZSI6Imh0dHBzOi8vYXNzZXRzLnJibC5tcy8xOTQ3NDkxNy9vcmlnaW4uanBnIiwiZXhwaXJlc19hdCI6MTY1MDQ2NDExMn0.VB9ziHOstQZ8WH0eJeuzzg0cp-k8BtSQ-oWE03acRY4/img.jpg?width=980" id="258a8" class="rm-shortcode" data-rm-shortcode-id="d005b93a72f8c2e59af55eced3050761" data-rm-shortcode-name="rebelmouse-image"><div class="image-caption"><p>Photo courtesy of BBC Worldwide Limited.</p></div></div></div><h2>Bill's sexual orientation is not the most interesting thing about her character. That's a good thing.</h2><p>Viewers see her inquisitive nature, her determination as she audits classes at the university she can't afford to attend, and her sense of adventure before the first act is over. Her positive demeanor and radiant attitude draw viewers in instantly. The fact that she happens to be gay is just another facet of her character. It doesn't define her.</p><p>The Doctor doesn't bat an eye in reaction to the news, and Mackie hopes the response will be the same in real life. "It shouldn't be a big deal in the 21st century. It's about time, isn't it?" <a href="http://www.bbc.co.uk/news/entertainment-arts-39444025" target="_blank">she told the BBC</a>.</p><p>Showrunner and writer Steven Moffat had a more "Moffatesque" response to the overwhelming attention given to this plot point: </p><p>"So just to be clear, we are not expecting any kind of round of applause or pat on the back for [introducing a gay companion]. That is the minimum level of representation you should have on television, and the correct response should be, 'What took you so long?'" <a href="http://metro.co.uk/2017/04/05/steven-moffat-says-we-shouldnt-make-a-fuss-about-new-doctor-who-companion-bill-being-gay-6555012/" target="_blank">he answered when asked about it at the premiere</a>.</p><div><div class="push-wrapper--mobile" data-card="image" data-reactroot=""><img type="lazy-image" data-runner-src="https://assets.rebelmouse.io/eyJhbGciOiJIUzI1NiIsInR5cCI6IkpXVCJ9.eyJpbWFnZSI6Imh0dHBzOi8vYXNzZXRzLnJibC5tcy8xOTQ3NDkxOC9vcmlnaW4uanBnIiwiZXhwaXJlc19hdCI6MTY0Njc2MDcwNX0.ULyIgZwI2RObqg7AAqtKzPiS6A3-mvXYPnIoaoSGdNE/img.jpg?width=980" id="7e5f9" class="rm-shortcode" data-rm-shortcode-id="9a3cef74f80d784ea07438b27804b609" data-rm-shortcode-name="rebelmouse-image"><div class="image-caption"><p>Photo by Tabatha Fireman/Getty Images.</p></div></div></div><h2>In 54 years, the Doctor's companions have all looked and acted pretty similarly. </h2><p>Depending on who you ask and how they count repeat appearances, anywhere between <a href="http://s.telegraph.co.uk/graphics/projects/doctor-who/" target="_blank">30 and 40 companions have taken adventures with the Doctor</a> <a href="http://www.radiotimes.com/news/2011-09-24/matt-smith-and-james-corden-talk-doctor-who" target="_blank">(and yes, I do count James Corden as one of them</a>). </p><p>Looking at the companions featured before Bill Potts since "Doctor Who" was rebooted in 2005, all of the Doctor's long-term female companions have been young and straight. Almost all of them have been white, with big eyes and pouty lips. Other characters often assume they are romantically involved with the Doctor even if they aren't, a pattern that has led to Moffat getting grilled for creating companions who are <a href="https://www.theguardian.com/tv-and-radio/tvandradioblog/2014/aug/23/doctor-who-steven-moffat-sexism" target="_blank">just there to flirt with the Doctor</a>.</p><div><div class="push-wrapper--mobile" data-card="image" data-reactroot=""><img type="lazy-image" data-runner-src="https://assets.rebelmouse.io/eyJhbGciOiJIUzI1NiIsInR5cCI6IkpXVCJ9.eyJpbWFnZSI6Imh0dHBzOi8vYXNzZXRzLnJibC5tcy8xOTQ3NDkxOS9vcmlnaW4uanBnIiwiZXhwaXJlc19hdCI6MTY3NDA1NDI1NH0.CrlIOuvbl3GWiezr6D-M2Aiq-b7wV_pD4pbWUWyqjcU/img.jpg?width=980" id="0f0a5" class="rm-shortcode" data-rm-shortcode-id="cbcf4210ee7febf8d95e105fb6567ebc" data-rm-shortcode-name="rebelmouse-image"><div class="image-caption"><p>All photos by BBC/Everett Collection.</p></div></div></div><p>We have yet to see how Bill Potts will develop over the series — or whether she'll fall victim to one of the most common endings for queer characters: the "bury your gays" trope. <a href="http://glaad.org/files/WWAT/WWAT_GLAAD_2016-2017.pdf" target="_blank">GLAAD's annual report on LGBTQ inclusion</a> found that almost 10% of the LGBTQ characters on the shows they analyzed died or were killed. </p><p>From the pilot alone, however, Mackie's Bill is a welcome breath of fresh air and representation that "Doctor Who" has sorely needed. </p><h2>LGBTQ lead roles in television are on the rise, but there is still much work to do. </h2><p>In the seasons of "Doctor Who" that have aired since 2005, just 3% of its characters have been LGBTQ. That's not great, considering the show has an incredibly large universe to play around in and explore.</p><p>Broadcast television as a whole fares slightly better, but not by much: In 2017, just 4.8% of characters on broadcast series (not including Netflix other streaming services) identify as LGBTQ, according to <a href="http://www.glaad.org/whereweareontv16" target="_blank">GLAAD</a>. That's the highest percentage GLAAD has ever seen, according to the report. </p><div><div class="push-wrapper--mobile" data-card="image" data-reactroot=""><img type="lazy-image" data-runner-src="https://assets.rebelmouse.io/eyJhbGciOiJIUzI1NiIsInR5cCI6IkpXVCJ9.eyJpbWFnZSI6Imh0dHBzOi8vYXNzZXRzLnJibC5tcy8xOTQ3NDkyMS9vcmlnaW4uanBnIiwiZXhwaXJlc19hdCI6MTYxMzkzMzE1MH0.XhH4DHimcXAPrbPIoqz4-4izkUlfJKROqXHdUbpx04E/img.jpg?width=980" id="2a265" class="rm-shortcode" data-rm-shortcode-id="dfd0ae0736fbc5736492c42d2cdbf084" data-rm-shortcode-name="rebelmouse-image"><div class="image-caption"><p>Photo by Tim P. Whitby/Tim P. Whitby/Getty Images.</p></div></div></div><p>The TARDIS — the name of the Doctor's blue police call box spaceship — comes with the familiar phrase, "It's bigger on the inside." With the introduction of the first openly gay lead character on the show, audience members are finally seeing the inclusiveness exhibited across all dimensions and time in the Who-verse.  </p><p>The <a href="https://www.theguardian.com/media/2016/oct/17/bbc-producers-diversity-commissioning-tv-guidelines?CMP=twt_gu" target="_blank">BBC has mandated</a> that by 2020 at least 8% of all on-screen characters must be LGBTQ. Whether Moffat's creation of Bill Potts came about organically or because of this mandate, it shows us what this world can look like if we let everyone play. When writers create characters out of their established comfort zones, it reinforces that good things can happen on screen and in real life. </p><p>This era of "Doctor Who" — and our TV media landscape — is finally catching up with universes thousands of years in the future. It's about damn time.</p>