The Boy Scouts of America forbids its chapters from pursuing "any objectives related to political or social advocacy, including partisan politics."
As a result, many parents, volunteers, and former scouts were outraged when President Donald Trump took the stage at the organization's annual jamboree on July 24 and turned the nationwide gathering into a campaign rally.
In a characteristically free-form address, the president cursed, encouraged attendees to boo former President Barack Obama, and alluded to sexual activity that took place at a cocktail party he attended in the 1980s.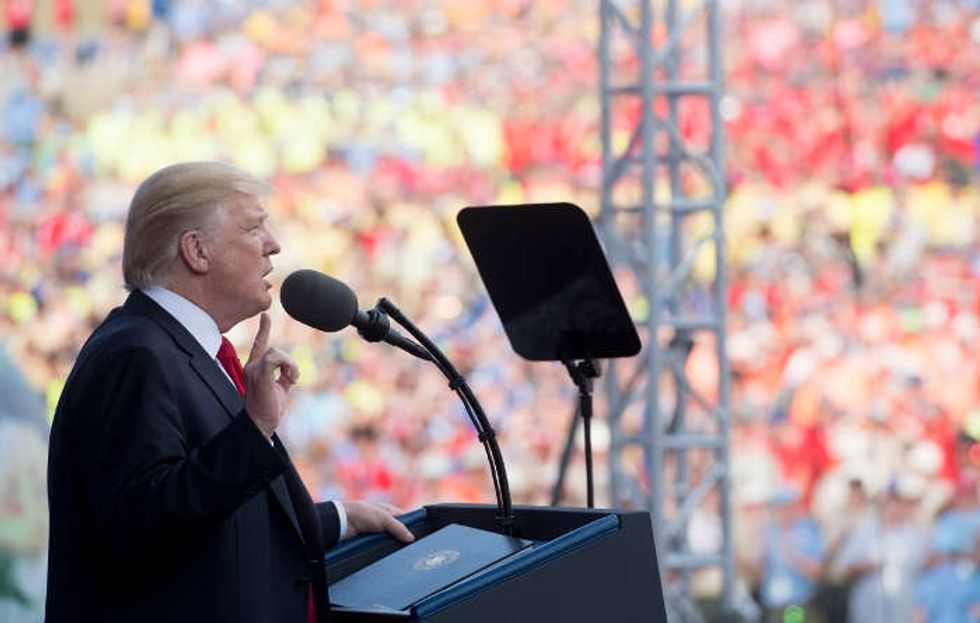 Photo by Saul Loeb/Getty Images.
<p>Not long after <a href="https://www.youtube.com/watch?v=Jpu-elZI1yY" target="_blank">video of the event</a> went viral, hundreds of alumni and relatives of current scouts posted their reactions to the <a href="https://www.facebook.com/theboyscoutsofamerica/" target="_blank">organization's Facebook page</a>.</p><h2>The responses were overwhelmingly frustrated, angry, and mournful.</h2><p>Some noted that by condoning Trump's furiously partisan speech, the Scouts were implicitly supporting the goals of the Republican party, in a violation of the organization's charter.  </p><p class="shortcode-media shortcode-media-rebelmouse-image"><img type="lazy-image" data-runner-src="https://assets.rebelmouse.io/eyJhbGciOiJIUzI1NiIsInR5cCI6IkpXVCJ9.eyJpbWFnZSI6Imh0dHBzOi8vYXNzZXRzLnJibC5tcy8xOTUzMDQ0NS9vcmlnaW4uanBnIiwiZXhwaXJlc19hdCI6MTU4OTE3ODg4MH0.RErkwRp0s8J3wdkvH4HxGAwBKj1G5hOUXBJk3O-ej4g/img.jpg?width=980" id="5840a" class="rm-shortcode" data-rm-shortcode-id="9e52c2065545e8cd9dda9fffd2413c80" data-rm-shortcode-name="rebelmouse-image"><small class="image-media media-caption" placeholder="add caption...">All comment images from Boy Scouts of America/Facebook.</small></p><p class="shortcode-media shortcode-media-rebelmouse-image"><img type="lazy-image" data-runner-src="https://assets.rebelmouse.io/eyJhbGciOiJIUzI1NiIsInR5cCI6IkpXVCJ9.eyJpbWFnZSI6Imh0dHBzOi8vYXNzZXRzLnJibC5tcy8xOTUzMDQ0Ni9vcmlnaW4uanBnIiwiZXhwaXJlc19hdCI6MTYzNDcyNDA4MH0.5NNHq7GQCAmZjPAUKYWrEXIsFIZYgQVKYEQK--vMZL0/img.jpg?width=980" id="58364" class="rm-shortcode" data-rm-shortcode-id="5f67f8012707d5f246a6581958a6d1f6" data-rm-shortcode-name="rebelmouse-image"><small class="image-media media-caption" placeholder="add caption..."></small></p><p class="shortcode-media shortcode-media-rebelmouse-image"><img type="lazy-image" data-runner-src="https://assets.rebelmouse.io/eyJhbGciOiJIUzI1NiIsInR5cCI6IkpXVCJ9.eyJpbWFnZSI6Imh0dHBzOi8vYXNzZXRzLnJibC5tcy8xOTUzMDQ0Ny9vcmlnaW4uanBnIiwiZXhwaXJlc19hdCI6MTYyNDM3MTM1OX0.-Rzi0LMgWPwYrNpKhpcEA-28TMouT3nfplSQr9AL2aU/img.jpg?width=980" id="6f6eb" class="rm-shortcode" data-rm-shortcode-id="84139d82edce0f2bfc7b7dbaa8af9bc2" data-rm-shortcode-name="rebelmouse-image"><small class="image-media media-caption" placeholder="add caption..."></small></p><p>Others argued that the speech — and its speaker — conflicted with the stated values of the organization... </p><p class="shortcode-media shortcode-media-rebelmouse-image"><img type="lazy-image" data-runner-src="https://assets.rebelmouse.io/eyJhbGciOiJIUzI1NiIsInR5cCI6IkpXVCJ9.eyJpbWFnZSI6Imh0dHBzOi8vYXNzZXRzLnJibC5tcy8xOTUzMDQ0OC9vcmlnaW4uanBnIiwiZXhwaXJlc19hdCI6MTY0NDc4NzQzOH0.PmxCyfOtgUiDDnrBXzh8qpEWWE59lEN2M_bXTa_kU3E/img.jpg?width=980" id="b9f79" class="rm-shortcode" data-rm-shortcode-id="2364008c6bd0bd729a022dce73794083" data-rm-shortcode-name="rebelmouse-image"><small class="image-media media-caption" placeholder="add caption..."></small></p><p class="shortcode-media shortcode-media-rebelmouse-image"><img type="lazy-image" data-runner-src="https://assets.rebelmouse.io/eyJhbGciOiJIUzI1NiIsInR5cCI6IkpXVCJ9.eyJpbWFnZSI6Imh0dHBzOi8vYXNzZXRzLnJibC5tcy8xOTUzMDQ1MC9vcmlnaW4uanBnIiwiZXhwaXJlc19hdCI6MTYxNDUwNDM0MX0.HnuR_q1FE_CyD3HgGN-W3FkeyLu_bE_x6i0cHkWhDNM/img.jpg?width=980" id="2d730" class="rm-shortcode" data-rm-shortcode-id="f0883694b90cae8fdb061b13027e3325" data-rm-shortcode-name="rebelmouse-image"><small class="image-media media-caption" placeholder="add caption..."></small></p><p>...while many were simply saddened that the organization's leaders would permit such a violation of what they believe to be the core Scout ethos.</p><p class="shortcode-media shortcode-media-rebelmouse-image"><img type="lazy-image" data-runner-src="https://assets.rebelmouse.io/eyJhbGciOiJIUzI1NiIsInR5cCI6IkpXVCJ9.eyJpbWFnZSI6Imh0dHBzOi8vYXNzZXRzLnJibC5tcy8xOTUzMDQ1MS9vcmlnaW4uanBnIiwiZXhwaXJlc19hdCI6MTY0NDgyMjc3OH0.WH0ob0zDEaJ4dAAPuAVdK0v5sm8INTDA9-10Y0R0ch4/img.jpg?width=980" id="a4600" class="rm-shortcode" data-rm-shortcode-id="38e53c2aaa76c49d78eb54da9fcfb231" data-rm-shortcode-name="rebelmouse-image"><small class="image-media media-caption" placeholder="add caption..."></small></p><p class="shortcode-media shortcode-media-rebelmouse-image"><img type="lazy-image" data-runner-src="https://assets.rebelmouse.io/eyJhbGciOiJIUzI1NiIsInR5cCI6IkpXVCJ9.eyJpbWFnZSI6Imh0dHBzOi8vYXNzZXRzLnJibC5tcy8xOTUzMDQ1Mi9vcmlnaW4uanBnIiwiZXhwaXJlc19hdCI6MTYzMjA5MjQyNn0.sNJcoXXEWirlP2OS6NpDDD9CV4zssI1CMeVmwzxH7mE/img.jpg?width=980" id="6aa71" class="rm-shortcode" data-rm-shortcode-id="6eacc60771dd9f53156984f8c1533584" data-rm-shortcode-name="rebelmouse-image"><small class="image-media media-caption" placeholder="add caption..."></small></p><h2>The Boy Scouts of America <a href="https://twitter.com/NBCNews/status/889829197920825348" target="_blank">released a statement the following morning</a> that reaffirmed the group's nonpartisan character, though it remained quiet on Trump's conduct. </h2><p>"The invitation for the sitting U.S. president to address the national jamboree is a long-standing tradition and is in no way an endorsement of any political party or specific policies," the statement read. </p><h2>This is not the first time the Boy Scouts have found themselves at the center of a political struggle. </h2><p>For decades, the Scout bylaws held that, "homosexual conduct," is "inconsistent with the obligations in the Scout Oath," and openly gay children were banned from participating. The ban was ultimately removed in 2013 after years of mounting public backlash, though <a href="https://www.aclu.org/blog/speak-freely/dont-clap-just-yet-boy-scouts" target="_blank">openly gay adults can still be prohibited from being scout leaders</a>. </p><p class="shortcode-media shortcode-media-rebelmouse-image"><img type="lazy-image" data-runner-src="https://assets.rebelmouse.io/eyJhbGciOiJIUzI1NiIsInR5cCI6IkpXVCJ9.eyJpbWFnZSI6Imh0dHBzOi8vYXNzZXRzLnJibC5tcy8xOTUzMDQ1My9vcmlnaW4uanBnIiwiZXhwaXJlc19hdCI6MTYxMzc0NjUzM30.NSmL73vfLDpJk7ROcxZAytj5N89DIPgpmDnuKEGaz-w/img.jpg?width=980" id="28db0" class="rm-shortcode" data-rm-shortcode-id="9004ec1ab4b52e87e4b7d599507633be" data-rm-shortcode-name="rebelmouse-image"><small class="image-media media-caption" placeholder="add caption...">Photo by George Frey/Getty Images.</small></p><p>The controversy flared again when a <a href="https://www.nytimes.com/2017/01/30/us/boy-scouts-reversing-century-old-stance-will-allow-transgender-boys.html?_r=0" target="_blank">transgender scout was kicked out of a Cub Scout pack in New Jersey in December 2016</a>.</p><p>Transgender scouts were officially permitted the following January. </p><h2>But a sitting president involving the 117-year-old organization with party politics is new — and unsettling.</h2><p>Trump's speech broke with <em>eight decades</em> of precedent, upheld by presidents from both parties, of <a href="https://www.washingtonpost.com/news/morning-mix/wp/2017/07/25/trumps-boy-scouts-speech-broke-with-80-years-of-presidential-tradition/?utm_term=.f0bc89041677" target="_blank">using the speech to speak broadly about citizenship and service</a> in a nonpartisan fashion.</p><p>In response, alumni, parents, and commentators from across the political spectrum are taking notice — and asking the Boy Scouts of America to stand up for their stated values.</p><iframe width="100%" height="150" scrolling="no" id="twitter-embed-889855841070972928" src="/res/community/twitter_embed/?iframe_id=twitter-embed-889855841070972928&amp;created_ts=1500993139.0&amp;screen_name=JRubinBlogger&amp;text=If+the+Boy+Scouts+are+going+to+host+campaign+rallies+they+shouldn%27t+be+tax+exempt.+Their+feeble+statement+doesn%27t+help+any&amp;id=889855841070972928&amp;name=Jennifer+Rubin" frameborder="0" class="rm-shortcode" data-rm-shortcode-id="BDBFVP1559350157"></iframe><p>Whether they find the loyalty, courtesy, and bravery to do so remains to be seen.</p><p><em><strong>Clarification 7/25/2017:</strong> This post was updated to clarify that while the Boy Scouts of America does not prohibit openly gay troop leaders, it does allow for individual charters to do so.</em><br><strong><em>Updated </em></strong><em><strong>7/27/2017:</strong> This post was updated to clarify that groups of Cub Scouts are "packs," not "troops."</em><br></p>