popular
Julia Roberts just revealed that MLK personally paid for the hospital costs when she was born
Sometimes history is so cool that it sounds made up.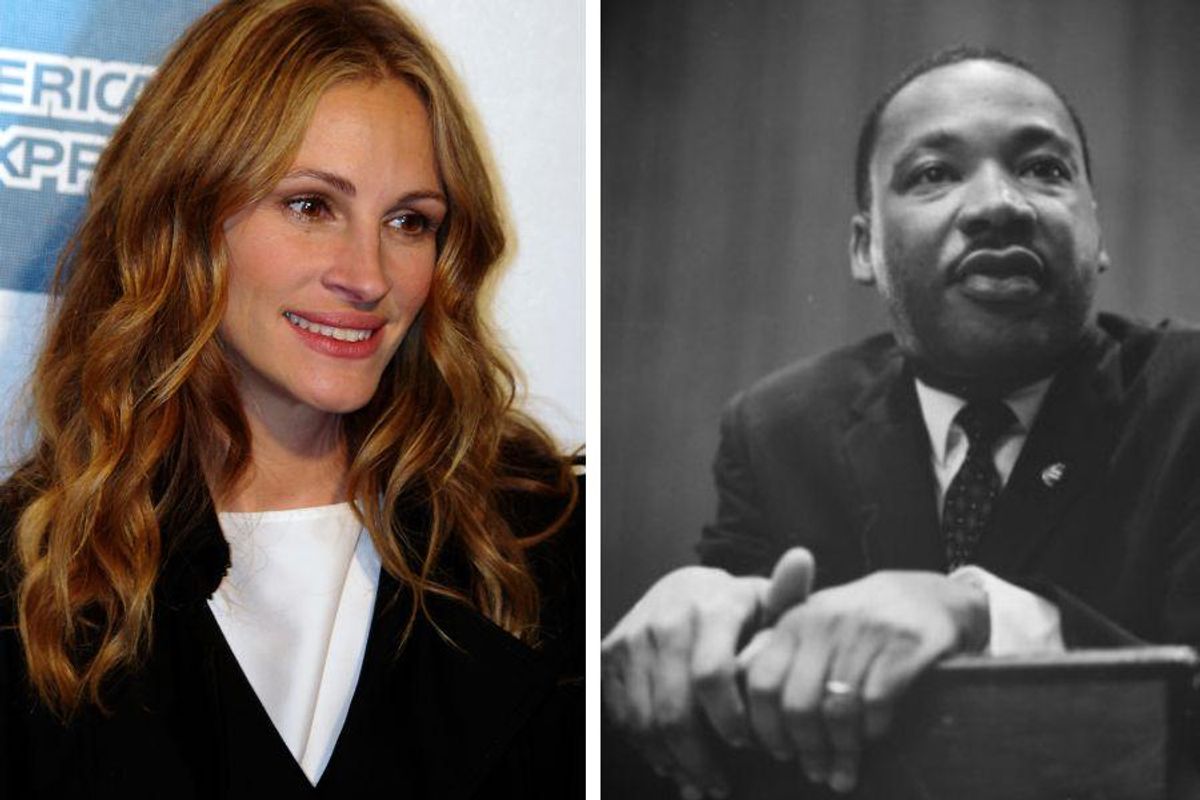 When most people think of Julia Roberts, they think of "Pretty Woman" or "Ocean's Eleven" or one of the other plethora of films she's acted in. Most people don't see her signature red hair and broad smile and immediately think of a civil rights icon. But there's a connection that Gayle King encouraged Roberts to share during a recent interview.
Martin Luther King Jr. and his wife Coretta Scott King paid for the birth of the Academy Award winning actress when her parents were in a bind with medical bills.
Roberts explained to Gayle King that her parents became acquainted with the Kings after Coretta Scott King asked if her children could attend the acting school Roberts' parents owned. The two couples became good friends after that, and thanks to a fateful phone call, Roberts was welcomed into this world carrying a little bit of unknown history with her.
---
The internet is buzzing with disbelief, because who the heck can say their birth was paid for by the Martin Luther King Jr.? Jay Willis commented on Twitter "No this is one of those history facts that my brain can't process."
Another commenter reminded us how recent this piece of history was, saying, "Illustrates just how young MLK was when he was assassinated and how recently he lived. Too many of us think America's racist past was long ago. It is living memory."
Most other reactions were just complete shock that this happened and isn't documented, while others noted how uncomfortable Roberts appeared when she relayed the story. Turns out, there was likely good reason for the discomfort. Someone reposted a tweet from 2021 by Ashley Reynolds that included an article detailing how Roberts' parents were targets of hate after they cast Yolanda King, one of the King's children, as the lead in their play where she had to kiss a white boy.
The whole connection between the Roberts family and the iconic King family is simply fascinating. Listen to Roberts tell how the friendship happened below.
\u201cToday is Julia Roberts birthday! 55 years ago MLK and Coretta Scott King paid for her parents hospital bill after she was born. Can\u2019t stop thinking about this since I read it. Here she is talking about it with @GayleKing\u201d

— Zara Rahim (@Zara Rahim) 1666976495