Paul Collins is a designer. He's also colorblind.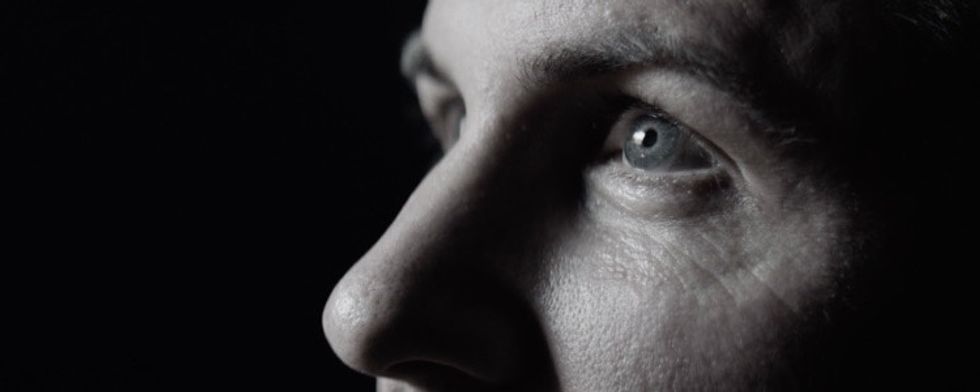 Colorblindness affects about 1 in 12 men and 1 in 200 women with northern European ancestry, and there are a lot of different types and causes for it. Not everyone who's colorblind is too put out by it, although there are some real ways colorblind people have been overlooked.
But for Collins, as an artist, colorblindness presented some particularly tough challenges.
<p>"As an artist, I want to be able to fully express that which is inside of me," says Collins. "I feel like I can only give some of myself." </p><h2>Collins dealt with this struggle at work for a long time. Then, his wife told him about some weird glasses she'd seen.</h2><p>They were from a company called EnChroma, and they reportedly helped colorblind people see colors. At first, Collins says he wasn't interested. "She was like, 'You should check this out,' and I'm like, 'No, that's OK. Thank you, but no thank you. I love you, but no thank you.'"</p><p>But after a while, he decided to give them a shot.</p><h2>The glasses work by tweaking how our eyes see the color spectrum.</h2><div><div class="push-wrapper--mobile" data-card="image" data-reactroot=""><img type="lazy-image" data-runner-src="https://assets.rebelmouse.io/eyJhbGciOiJIUzI1NiIsInR5cCI6IkpXVCJ9.eyJpbWFnZSI6Imh0dHBzOi8vYXNzZXRzLnJibC5tcy8xOTUxNDkzOC9vcmlnaW4uanBnIiwiZXhwaXJlc19hdCI6MTYyMzU0ODkwOX0.BguHnCsx5k-XXA0DCfwV5AC19fScEBrTP_3yeQ5yDgU/img.jpg?width=980" id="10e25" class="rm-shortcode" data-rm-shortcode-id="1967cbe2bad2491a929ed09c6fdeea66" data-rm-shortcode-name="rebelmouse-image"></div></div><p>Color is a smooth rainbow from violet to red. So what the glasses basically do is use filtered lenses to hide certain in-between colors. For example, by filtering out the "almost-red/almost-green" colored light, the glasses trick the eyes and brain into seeing red and green as two distinct categories. </p><p><strong>It's kind of like taking a picture and turning up the contrast. Except the picture is the entire world.</strong></p><p>That said, the glasses don't work for all kinds of colorblindness or every person. There have been a lot of people who've had <a href="http://www.theatlantic.com/technology/archive/2015/03/a-cure-for-colorblindess/386450/" target="_blank">kind of a "meh" reaction</a>.</p><h2>But for Collins, the change was pretty spectacular.</h2><div><div class="push-wrapper--mobile" data-card="image" data-reactroot=""><img type="lazy-image" data-runner-src="https://assets.rebelmouse.io/eyJhbGciOiJIUzI1NiIsInR5cCI6IkpXVCJ9.eyJpbWFnZSI6Imh0dHBzOi8vYXNzZXRzLnJibC5tcy8xOTUxNDkzOS9vcmlnaW4uanBnIiwiZXhwaXJlc19hdCI6MTYyMDU1MzM0Nn0.HrIazrou09ggGrcRY32TapRJdGRdfznG6zVUo_PSJLo/img.jpg?width=980" id="9caa6" class="rm-shortcode" data-rm-shortcode-id="000ec3199a840cfbcaf69228af7a7f12" data-rm-shortcode-name="rebelmouse-image"></div></div><p>"I put them on, and I was like, "Oh my God, these work," says Collins. "It's almost like an amusement park ride just walking. The undersides of leaves, the color of the red track, people's clothing."</p><p>Of course, these glasses won't cure colorblindness, and they won't work for everyone. But they're still a really amazing step toward helping folks see the colors of our world. "Technology is so cool," said Collins. </p><h2>Watch Collin's story below:</h2><div><div data-card="youtube" data-reactroot=""><div><span style="display:block;position:relative;padding-top:56.25%;" class="rm-shortcode" data-rm-shortcode-id="d3640a16398a9e4a3f59ca0d093e728e"><iframe type="lazy-iframe" data-runner-src="https://www.youtube.com/embed/6GFOvfaD9xg?rel=0" width="100%" height="auto" frameborder="0" scrolling="no" style="position:absolute;top:0;left:0;width:100%;height:100%;"></iframe></span></div></div></div>