Pop Culture
People are sharing the greatest movie, music and TV projects that never got made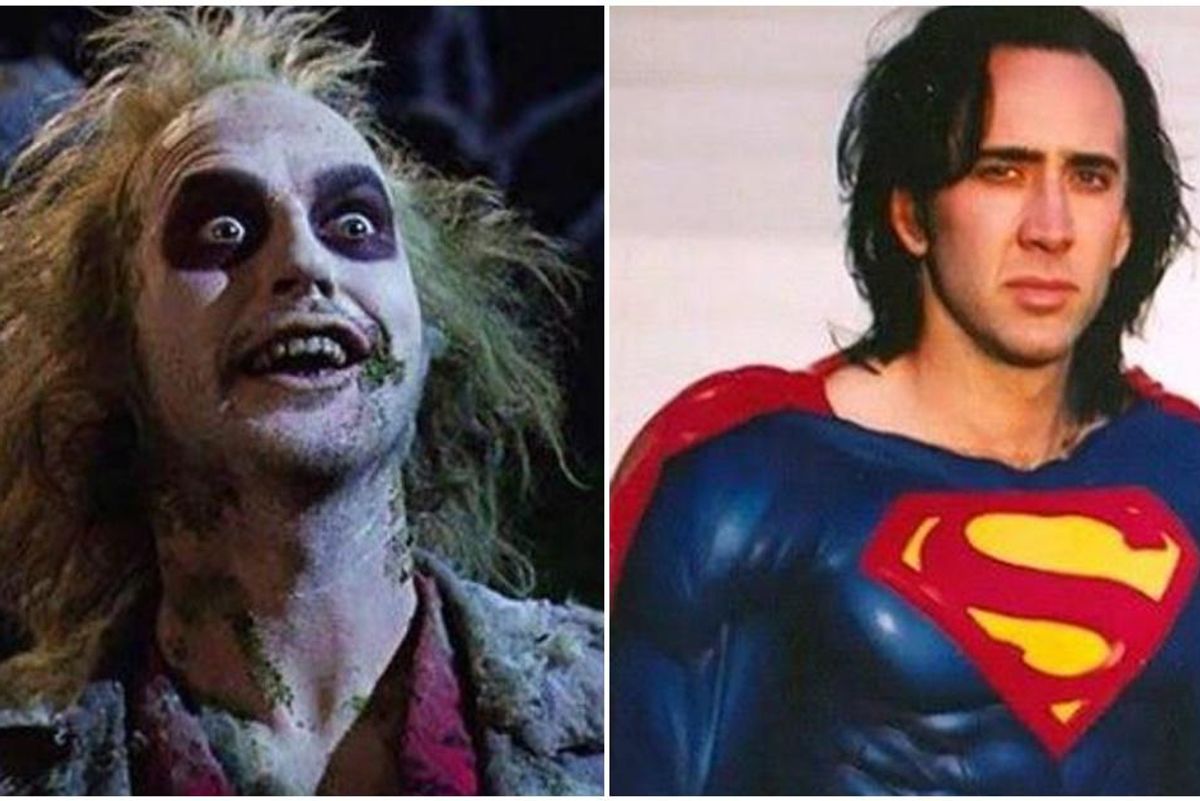 It's thrilling to wonder "what could have been" when we hear stories of great screenplays that were never shot, incredible musical collaborations that were almost recorded or TV pilots that sounded great on paper but never got the green light.

I sometimes daydream about what would have happened if John Lennon had got on the plane in 1975 and joined Paul McCartney for the recording of his Wings album "Venus and Mars." Lennon had planned to join McCartney at the sessions in New Orleans for what would have been their first official reunion since the Beatles break-up in 1970, but was told not to go at the last minute by his wife, Yoko Ono.
I also wonder what if director Alejandro Jodorowsky ("El Topo") had been able to make his epic version of "Dune" starring Mick Jagger, Orson Welles and Salvador Dali in the mid-'70s. That film looked so promising that the making of it became an award-winning documentary in 2013.
There was also a planned sequel to Beetlejuice where the ghost with the most goes to Hawaii.
Michael Jackson asked Prince to duet on his 1987 hit "Bad," but His Royal Badness refused.
---
When it comes to TV pilots, a lot of folks couldn't wait to see the Dwight Schrute-centered "Office" spinoff, "The Farm," that was never picked up by NBC. Or Judd Apatow's follow-up to "Freaks and Geeks" and "Undeclared," called "North Hollywood," that would have starred Jason Segel as a struggling actor who worked as Frankenstein at Universal Studios.
There are also a whole host of films that could have been a whole lot different. George Lucaswas originally slated to direct Francis Ford Coppola's 1979 masterpiece, "Apocalypse Now." Instead, he made a space movie called "Star Wars."
TV writer Dan Chamberlain took to Twitter on Sunday and asked his followers about their favorite "pop culture white whale" meaning the "unreleased/unrealized stuff" they wished they could have experienced. He gave two examples, one "The Day the Clown Cried," an unreleased Jerry Lewis film about a clown during the Holocaust, and a Jay-Z "The Blueprint 3" track "Crispy Benjamins," which supposedly sampled Regina Spektor's "Chemo Limo."
what's your pop culture white whale? i mean unreleased/unrealized stuff like "the day the clown cried" - mine is the rumored jay-z blueprint 3 track "crispy benjamins" which supposedly sampled regina spektor's "chemo limo"

— dan chamberlain (@dan chamberlain) 1644796225
The Lewis film, originally shot in 1972, is allegedly so bad that he donated an incomplete copy of the film to the Library of Congress in 2015 under the stipulation that it was not to be screened before June 2024.
Here are some of the best responses to the pop culture "white whales" people have been yearning to see and hear.
THE CHEAPEST MUPPET MOVIE EVER MADE - original concept from Juhl and Henson in '85, more recent Disney-rejected rewrite by Oz. Gonzo directs and blows the budget on the opening credits. The movie get cheaper as it goes… https://t.co/Kb6AUqAPVK…!

— Michael Lapinski (@m_lapinski) February 14, 2022
The 3 1/2 hour Director's Cut. Explained so many things that happened, like the burglar who steals Del's wallet in the hotel room. pic.twitter.com/nPDxUccBd5

— Greg Rohrbough (@GregRohrbough) February 14, 2022
February 15, 2022
A long, long time ago I got my hands on the script to "Dieter Movie," about Mike Myers' character from SPROCKETS. To this day it remains the funniest script I have ever read.

— Michael Mohan (@michaelmohan) February 14, 2022
I think about the Beatles' LotR 15 times more often than I think about either #TheBeatles or #LotR. Don't even get me started on the Kubrick piece of the puzzle!

The only thing that could have killed it was J.R.R. Tolkien himself. So he did. pic.twitter.com/gMwvtOFVFS

— VIDEO MAN (@McKinleyName) February 15, 2022
Charlie Kaufman's FRANK OR FRANCIS, which was set to star Steve Carell, Jack Black, Nicolas Cage, Kevin Kline (in 2 roles), Elizabeth Banks, Catherine Keener, and Paul Reubens.

Also Mike Myers' SPROCKETS movie. https://t.co/IZ7TAXgd0O

— Buck LePard (@BuckLePard) February 14, 2022
February 14, 2022
There was going to be a Marx Brothers reunion movie in which each played the head of a different state running amok in the U.N. — written and directed by Billy Wilder following The Apartment. Chico died before it could be made.

— Eric Allen Hatch (@ericallenhatch) February 14, 2022
James Gunn wrote a Spy vs Spy script in the late 90s for Jay Roach (Austin Powers director) with Jim Carrey and Damon Wayans allegedly playing the spies. Gunn wrote with Nic Cage and Eddie Murphy in mind as the spies.
One day maybe. One day... 😓 pic.twitter.com/Lljdzo2VUH

— Tay (winterized) (@GrizzlyPhantoms) February 14, 2022
McCartney went to his farm when the Beatles broke up, missing Hendrix's telegram invite sent to Apple's office: "We are recording an LP together this weekend in NewYork. How about coming in to play bass? Peace Jimi Hendrix Miles Davis Tony Williams." pic.twitter.com/zubeaoT1tK

— Donald Drumpf (@Donald_JDrumpf) February 15, 2022
Beetlejuice Goes Hawaiian. Good script!

— Morgan Evans (@totallymorgan) February 14, 2022
The uncut version of The Black Cauldron. Supposedly, Disney does have this version in their vault but have never made it public. Only a few surviving shots and cels have surfaced. https://t.co/Ar7Bd6Iev0

— Mister T (@Ipityfoo) February 15, 2022
I just want the full SNL archive (with musical guests) and all the filmed sketches that were cut after dress rehearsal.

I've heard rumors and stories of so many sketches that have been scrubbed or are sitting in the NBC vault!!

— Chris Darden (@CGDarden) February 14, 2022
Big Bug Man. It was never released and it's Marlon Brando's last performance, as he recorded dialogue a month before he died in 2004 pic.twitter.com/gNcuJKcFfA

— Elden Punongbayan (@FindElden) February 15, 2022
Some of the white whales mentioned seem so incredible that if they did materialize, it'd be hard for them to deliver on their promises. Sometimes it's more fun to imagine what something would sound or look like than actually experiencing it in real life.

Comedian Harry Shearer claims to have seen a rough cut of the aforementioned Lewis film, "The Day the Clown Cried" and says that most of the time there's no way these white whales can live up to their expectations. However, Lewis' film is the exception that proves the rule.
"With most of these kinds of things, you find that the anticipation, or the concept, is better than the thing itself. But seeing this film was really awe-inspiring, in that you are rarely in the presence of a perfect object. This was a perfect object," Shearer said.
"This movie is so drastically wrong, its pathos and its comedy are so wildly misplaced, that you could not, in your fantasy of what it might be like, improve on what it really is. 'Oh, My God!'—that's all you can say," he continued.