Internet
Mom sparks passionate debate after saying she would choose her own life over child's during birth
Having an older child to come home to really changes your perspective.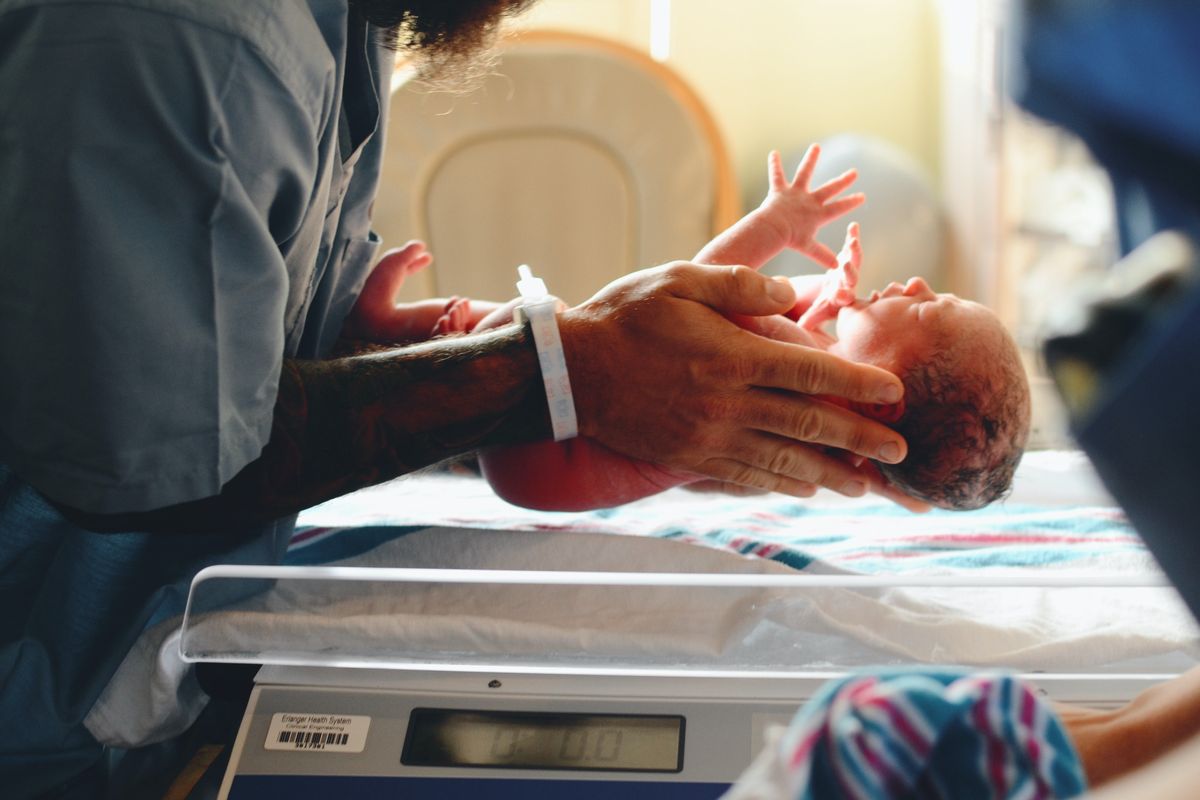 Surprise! There's a debate going around social media, specifically TikTok, about mothers who would choose to save their own lives over their baby's life if complications arose during birth. Apparently, the internet is having some big feelings, and surprisingly—or maybe not surprisingly—it's coming from other women.
Honestly, when I first saw the videos going around about this very heated debate, I didn't think much of it. But the conversation continued to grow and the judgment of moms who would choose themselves was abundant, so I decided to have a look-see. The debate started after Anabel Morales went viral on the platform for posting a video with a text overlay.
---
"To my husband: If I'm giving birth, and the doctor says you need to pick between me or the baby. Please save me. I don't want Ethan to grow up without a mom, & I don't want you to have to raise two babies alone while also grieving your wife," Morales wrote.
Unsurprisingly, many moms agreed, myself included. The thought of leaving behind children to grieve the loss of their mother while being cared for by a father who is also grieving his wife seems unfathomable to some when there's a choice involved. But to others, the clear choice is on the other end of the spectrum because they couldn't imagine living without their child. Currently, the 6-second video has 6.6 million views and over a half million likes.
"My mom sadly passed away because it was either me or her. But no one understands how hard it was for me and my dad. Having him raise me alone and me having to grow up without a mom. So I will choose myself no matter how forced I am to choose the baby. Because I don't want the baby going through what I did. It sucks," one commenter shared.
That certainly adds another layer that I don't think many people considered when having this hypothetical but very possible debate. In America, the pregnancy mortality rate is much higher than in other developed nations, with the 2018 CDC data showing that the pregnancy mortality rate among white non-Hispanic people at 13.7 deaths per 100,000 births. The rate is significantly higher for Indigenous and Black people at 26.5 and 41.4 deaths per 100,000 births, respectively.
@anabelmoralezz

😩😩 #trending #viral #pickme #husbandwife #laboranddelivery #savethemoms #foryou #foryoupage #fy #fyp #momsoftiktok
"I used to say save the baby not me. Now that I have a daughter I think so differently," another mom wrote.
"I had these feelings during my third pregnancy and felt so guilty. I'm glad I'm not the only one that feels this way," someone else commented.
On the other side of the camp, plenty of people said they would choose their baby. While some were more respectful in their word choice than others, the sentiment was clear.
What you would do in a situation where the choice is between you and your soon-to-be Earth-side baby is completely personal. It's something discussed in hopes that the choice never has to be made, but for some families it does, and it's one of those instances where there's no right answer. The choice between grief and grief feels impossible because no matter what, everyone will hurt.