Innovation
Man's seemingly obvious 'dishwasher hack' is blowing everyone's minds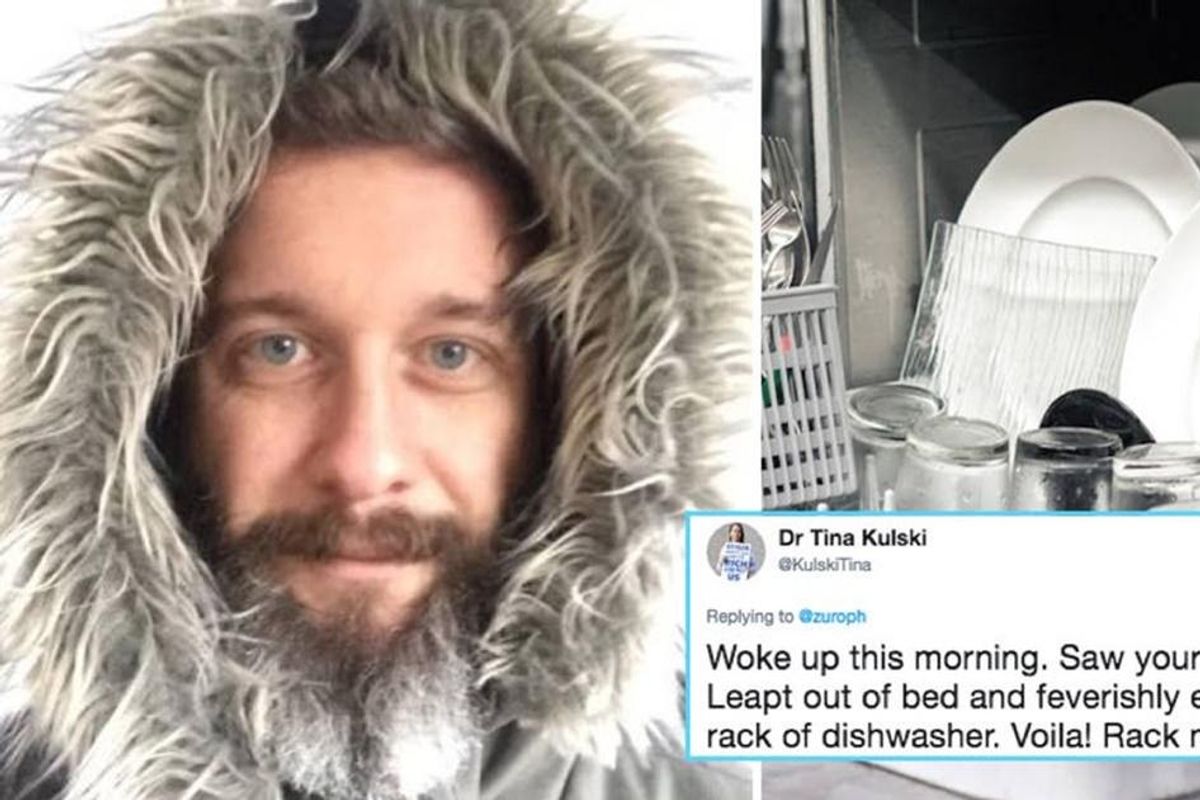 This article first appeared on 8.16.18.

No one likes doing the dishes, but the tedious chore is made much easier when using a dishwasher. However, an alarming amount of people have reported that their dishwashers can actually make the job harder because they don't properly fit their dishes.

And that's where Twitter user Mike McLoughlin (@zuroph) comes in.
Back in January, McLoughlin made an observation about his dishwasher that would change the way he does dishes forever. For a decade, the Irishman thought that the bottom rack of his washer simply was too small for his large dinner plates. Then he made an amazing discovery:
---
I moved into this house in 2008. It always annoyed me that the lower level of the dishwasher wasn't tall enough to… https://t.co/VC9wCf34Yu

— Mike McLoughlin (@Mike McLoughlin) 1517003779.0
The tweet went totally viral, and was shared over 14,000 times. He even tweeted a picture to show just how much he could fit in the dishwasher now that he knows the racks are adjustable:
For those who asked, the workhorse of a dishwasher that's lasted somewhere between 10-15 years is an Izzi by Zanussi @electrolux. The wheels sometimes pop off but hopefully we'll get another year out of it pic.twitter.com/h8KI7O6vbU
— Mike McLoughlin (@zuroph) February 15, 2018
The "hack" (is it still called a hack if the appliance is doing what it is supposed to be doing?) blew people's minds:
18 YEARS! I've had mine 18 years and only just realised! I used to lie the plates down so they would wash! I'm raging and ecstatic all at the same time. Do you have any other helpful hints about how to live life efficiently?!
— Toby 🏳️🌈 (@balhamyte) January 28, 2018
The magic of twitter. 5 years of confusion about why my dishwasher was the only one on the planet that didn't fit n… https://t.co/5sYo7knbkm

— Lisa Power (@Lisa Power) 1517070654.0
O. M. G.
I hate that my dishwasher is too short for my plates. Every time I load it, I shout "who designed this stupid thing?"

Thank you 1000 times, Mike.
— Sidney Merritt (@sidmerritt) July 29, 2018
Omg. This is breaking news to me. I avoid my dinner plates all the time. You're my kind of genius.
— Edel Walsh (@ullamuddle) January 27, 2018
Woke up this morning. Saw your tweet. Leapt out of bed and feverishly emptied top rack of dishwasher. Voila! Rack moved up a notch and my dinner plates now fit perfectly! Thank you..it's been five years of frustration..life changing:)
— 🕯 Tina Kulski 💧🌾 (@KulskiTina) January 28, 2018
But other people were basically like, "seriously, dude?"
Ah Mike, i think all dishwashers do that.
— Adrian Shanahan (@adrianshanahan) January 26, 2018
While a group of others tried to one-up McLoughlin with stories of their own:
Makes 2 years of luke warm showers in my current house before I realised the tap came OUT and left for ultimate hotness. Was such a bittersweet moment. Never thought to ask once.
— Swimmers Jackson (@SwimmersJackson) January 27, 2018
Haha, brilliant. My car key central locking is dodgy so I've been getting in on passenger side for ages, hauling myself across the handbrake. I paid mechanic €100 to show me that the problem is solved by putting the key in driver door and turning it. Click!
— Sharon Diviney (@SharDivi) February 1, 2018
Thats neat but hold my beer😎....my friend just found out in 2017 that her kitchen HAD a dishwasher. She thought it was a false cabinet as it was so hard to open. Her niece forced it open and voila instant dishwasher! She owns the property and lived there for 8yrs by then..😂
— Ay Fabulous (@ayusfagbo) January 28, 2018
Try this one on for size. I grew up in anAsian house hold and thought it was only a drying rack until sophmore year… https://t.co/8zbtJKtqIc

— Jeremy Le (@Jeremy Le) 1532931696.0
Okay, go on and check your own dishwasher. You know you want to.