popular
People are going absolutely bonkers for this video revealing the "Ultimate Spaghetti Trick"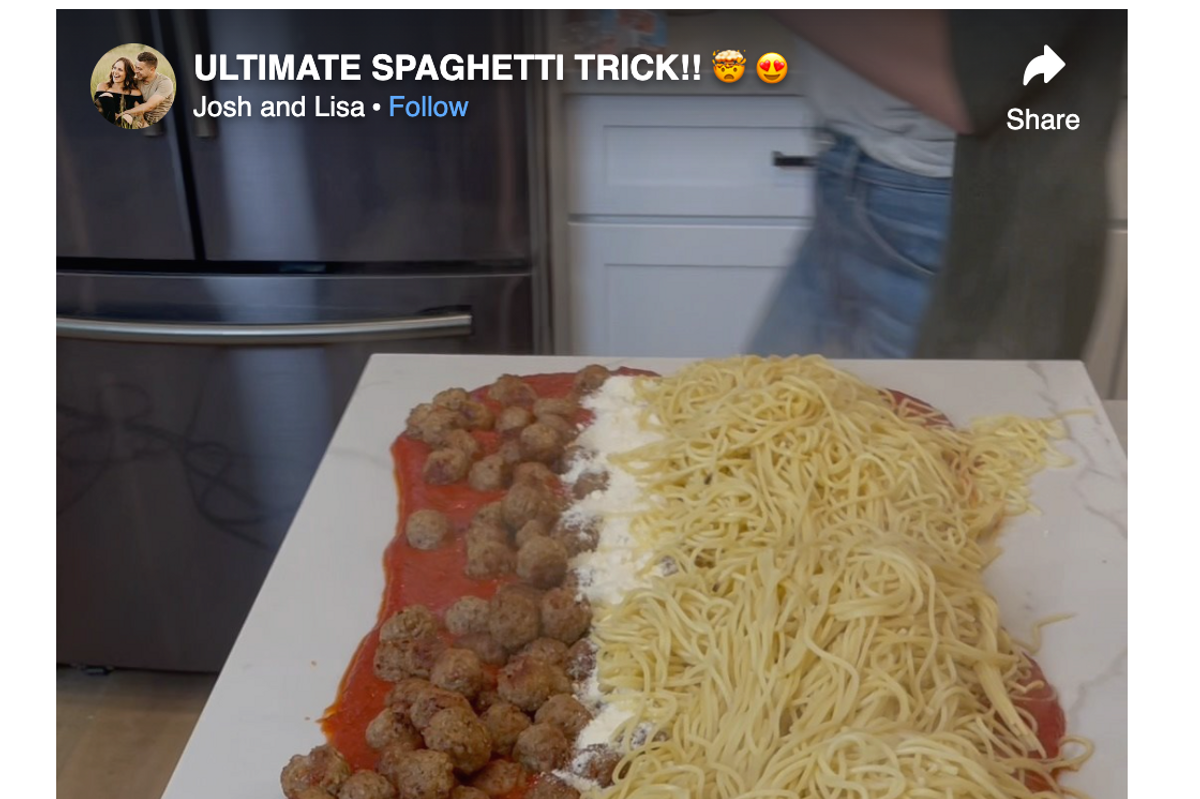 A woman named Lisa posted a video on Facebook where she shared "the easiest way to make spaghetti for a crowd" as "you don't have to worry about dishes or a mess." I know there are a lot of people out there who love cooking a large Italian meal for family get-togethers, so it's incredible that Lisa discovered a way to do so without filling the dishwasher with a billion dishes.

It's also pretty amazing that she decided to share it with us.
In the video, Lisa explains that this is how "real Italians" cook for a large family gathering. What's really interesting is that she didn't have to cut corners with her recipe being that it's made for easy clean-up. It truly appears to be made with fresh, authentic Italian ingredients.
She even tops off the recipe with a salad made with Italian-style dressing. So you know it's authentic.
---
Real Italian cooking. Check. No mess. Check. This may be the greatest cooking hack ever.
Just imagine inviting your family over for dinner and feeding 10, 11, heck even 12 of them all around the counter. You can even go completely dish-free by asking them to eat with their hands. You may have to have some extra napkins handy because spaghetti can get everywhere if you're not careful.

The cool thing is that it can be ready in just a few minutes. The only thing that takes any real time is waiting for the noodles to boil which should take around eight minutes. It'll also take a few seconds to zap the meatballs in the microwave. That way you can spend more time with your family without having to waste time in the kitchen.
This spaghetti trick is pretty amazing, but I do have one way to make it even better. I'd warm up the spaghetti sauce in a large pot before serving. Nobody likes cold spaghetti sauce. Plus, I'd probably add a bit of salt to the recipe. I guess that's how real Italians in Sicily like it.
For those of you who would like to try this at home, here's the recipe:

2 40 oz bottles of Prego Traditional pasta sauce (Note: she uses Traditional flavor to make it taste authentic.)
2 pounds of meatballs
16 oz of grated Market Pantry brand parmesan cheese (you can buy that at Target where, I guess, real Italians shop)
2 pounds of spaghetti noodles
The Salad:
1 head of chopped romaine lettuce
1 cup of Kraft Zesty Italian dressing (make sure it's Kraft! Keep it authentic)
As they say in Italy, "Bon Apetit!"

The trick also inspired a copycat taco hack which would also be fantastic for a family gathering. It also appears to be an authentic Mexican recipe.
You thought the spaghetti prego video was bad? Wait until you see the taco vid: https://t.co/jArTIS7gNN

— Sachin4D (@Sachin4D) 1620711157.0
When it comes to food, everyone's a critic, so there have been more than a few who have a problem with the spaghetti hack. There's no accounting for taste.

There's only one person I want showing me spaghetti hacks. https://t.co/K3z0T3FdUh

— Jason Diamond (@Jason Diamond) 1620736826.0
Actually how I always assumed people who consume Prego would make spaghetti. https://t.co/cSpUG6OpyP

— Philip Klein (@Philip Klein) 1620700487.0