Family
Babies and kids are unable to resist this guy's magical smiling powers on TikTok
Borzah and his contagious grin even got one kid to go from crying to smiling in less than 10 seconds.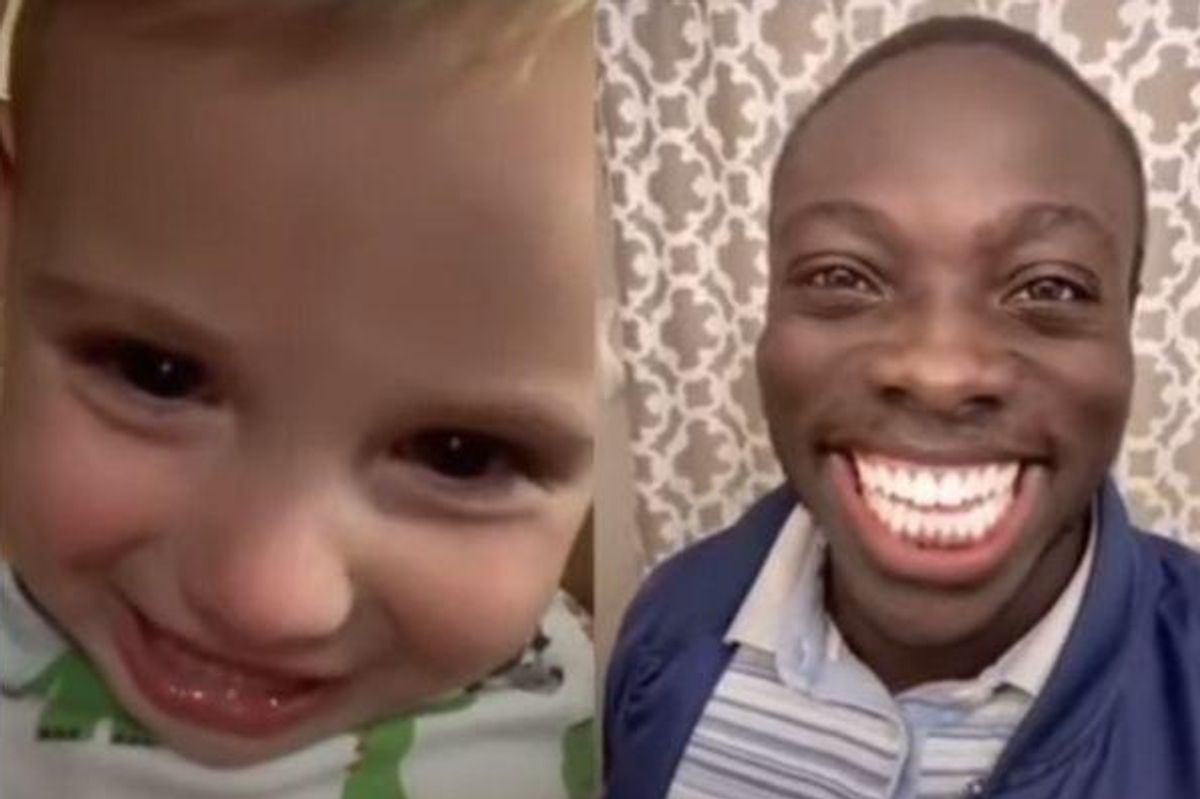 Joy is contagious.
That's not just some trite, farmhouse home decor saying, but an actual, studied phenomenon. We've likely experienced it ourselves—surrounding ourselves with happy people generally makes us happier—but even science says it's true.
So perhaps it's not surprising to see babies and children naturally respond to someone letting a smile slowly spread across their face—but it sure is cute.
TikTok user Borzah Yankey has made a name for himself with his irresistible smile and his "try not to smile" challenges that have millions of views. As it turns out, the wee ones are particularly susceptible to Borzah's bright smile, as evidenced by a viral compilation of babies and little kids' reactions to one of his smile challenges.
---
To me as an adult, the slowly building smile seems a little creepy, but for the kiddos who haven't been subjected to too many horror movies yet, it's just an infectious grin.
(Parental side note: Not all of Borzah's videos are kid-friendly, so don't take this as a recommendation to send your children off to peruse his channel.)
From babies to toddlers to preschoolers, it's amazing to see that the reaction to Borzah's big grin is nearly identical. There's even one kid who is crying when the video starts and smiling and giggling 10 seconds later. (New parenting hack? Whatever works, I say.)
Watch:
Borzah's smile is pretty epic, but for me, it's the little one's smiles that make it impossible not to smile at this video. Why does a child smiling hit us like that? Perhaps it's their innocence and purity. When a small child smiles, it's real.
That "real" smile has a name, by the way—a Duchenne smile. Named after 19th-century scientist Guillaume Duchenne, who was instrumental in mapping out the muscles of the human body, a Duchenne smile is one that reaches the eyes. To get technical, it's when the zygomaticus major muscle (cheek muscle) lifts up the corners of your mouth while the orbicularis oculi (eye muscle) raises your cheeks, creating the crinkley-eyed smile we generally recognize as a smile of genuine joy.
Humans smile for all kinds of reasons besides joy—embarrassment, amusement, politeness, social conditioning, manipulation and even fear. But we know a genuine, joyful smile when we see one, and in my experience those are the ones that are hard to resist responding to in kind.
That's why those baby smiles get us. They're just so real.