Business
Bartender shares her $9.28 paycheck to remind everyone why tipping is so important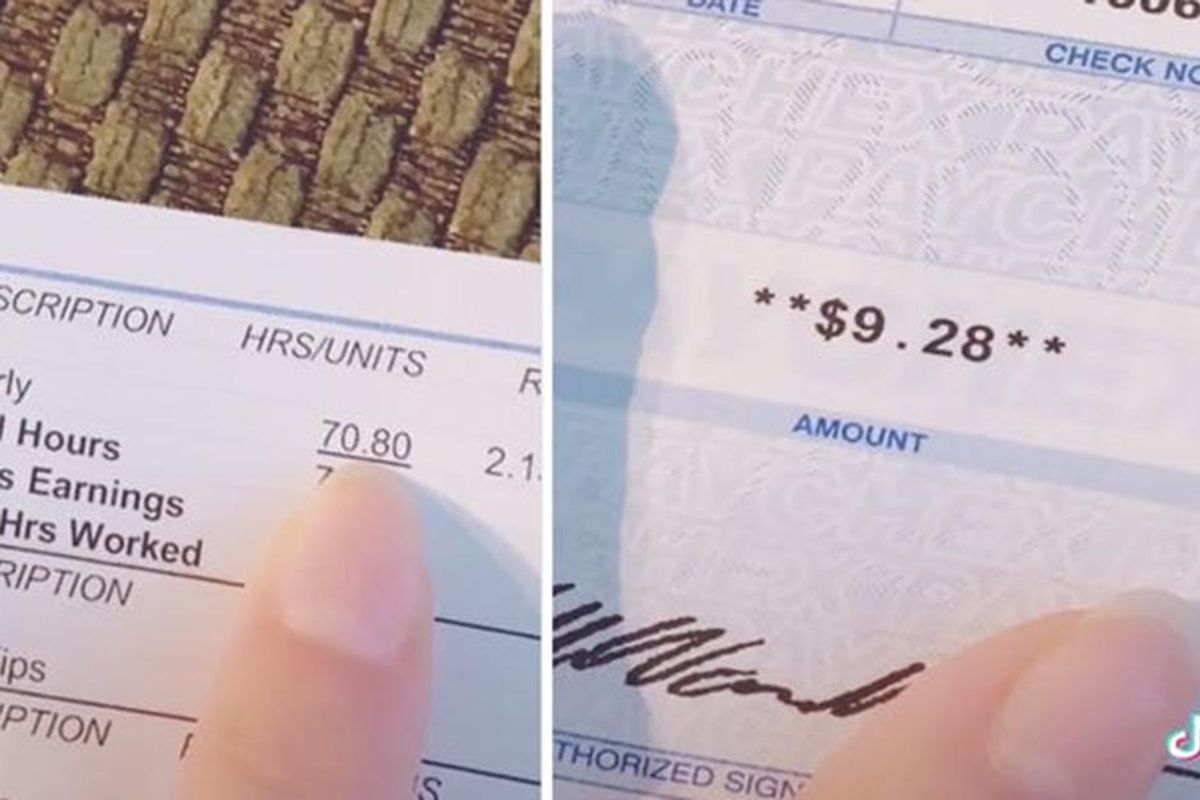 via Aaliyah Cortez / TikTok
A server in Texas shared some personal information on TikTok to remind everyone why it's so important to tip those who serve us our meals, drinks, and cut our hair.

The reminder is important at a time when restaurants, bars and hair salons are reopening across the country and many service industry workers are reeling from the downturn in business during the pandemic.
Aaliyah Cortez filmed a video of her paycheck where she shows that although she worked 70.80 hours during a pay period, she only received a check for $9.28. "So this is why you should always tip your bartenders and servers, anyone who waits on you, or provides a service for you," she said.
---
The video shows that even though she was paid the criminally low federal minimum tipped wage of $2.13, the money she received in her check was further reduced by taxes, social security, and Medicare payments.

"Of course, I got tips, but this is what I got for my hourly," Cortez said. "This is why you tip."
The rules for wages in tipped industries vary across the country. Texas is among the 16 states where the state minimum cash wage payment is the same as that required under the federal Fair Labor Standards Act ($2.13/hr.).
Now, if a server making $2.13 an hour doesn't reach the federal minimum wage of $7.25 an hour with tips, then their employer must make up the difference.
The best state to work in for tipped wages is California where the minimum wage is $13 to $14 an hour, depending on the size of the business.
In a follow-up video, Cortez further discussed the issue, noting that she doesn't agree with "state laws that allow restaurants to pay under minimum wage and expect the customer to pay our wages," she said.

"I make great money in tips, she added, "However, this is not the case for all service industry workers." According to Cortez, people aren't always that generous with their tips, even though their "state is expecting them to tip."
Cortez's video is a great reminder of two things:
First, that we should all be mindful to take care of those who serve us by giving them a decent tip. Secondly, that the U.S. needs to address the issue of the tipped minimum wage because it hasn't changed in 30 years.
"Since 1991, the federal tipped minimum wage has been frozen at $2.13 an hour," gender economist Katica Rot told NBC. "Meanwhile, the non-tipped federal minimum wage has risen 70.6% and consumer prices have gone up 90.24%."
In fact, tipped employees are twice as likely (and servers three times as likely) to live in poverty than non-tipped workers.
Women bear the biggest burden of the tipped minimum wage. They represent 70% of all workers in tip-dependent occupations.
Recently, the Senate rejected attempts to raise the federal minimum wage as part of the Biden administration's wide-sweeping COVID-19 relief package. Although that fight is far from over, it means the average person needs to step up and do their part to help out.
Cortez says that a big problem with her industry is that people just don't tip enough. Let that be a reminder that in a world where it's been painfully difficult to raise the minimum wage, we are all deputized to help those who serve us by pitching in with a generous tip to show appreciation and humanity.