popular
Watch elderly residents revert to their childhood selves with joyful indoor tube rides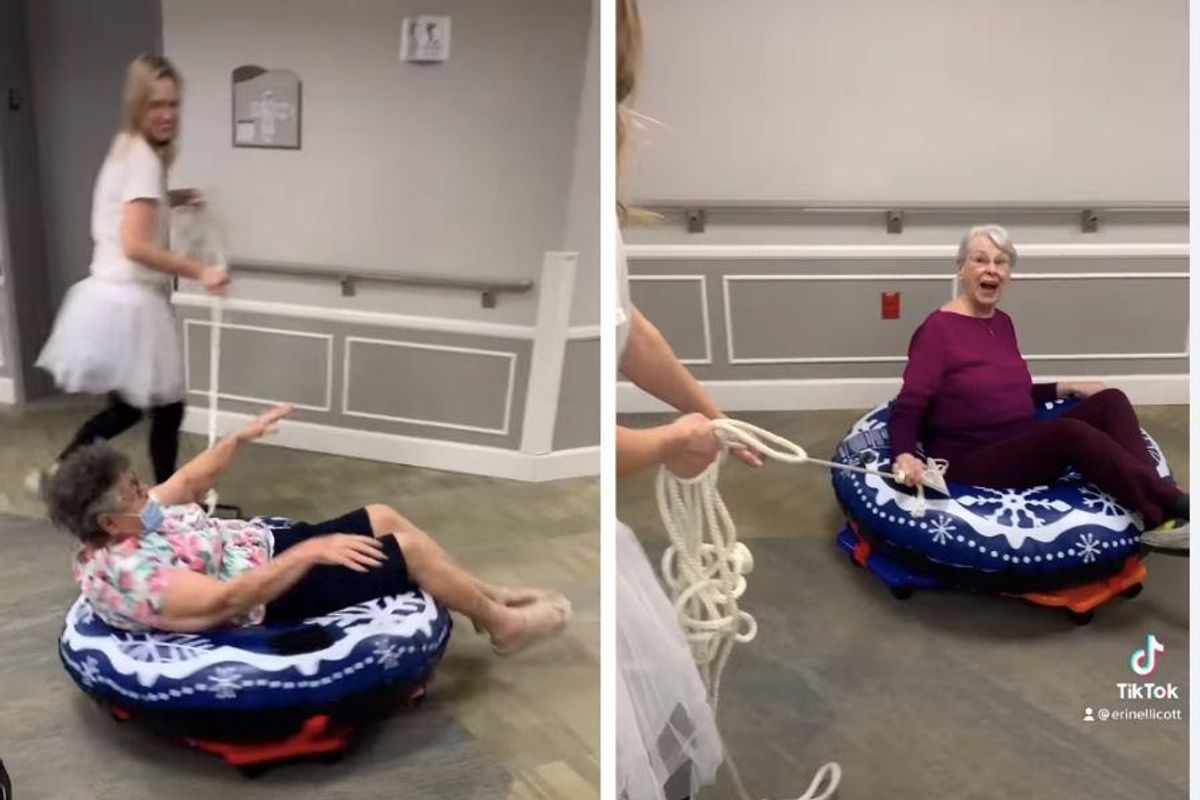 No matter how young or old, every person benefits from experiencing pure, unbridled joy.
Some forms of joy are rich and meaningful, such as spending quality time with a child or grandchild, laughing together with an old friend or building a bond with a beloved pet. Other forms of joy are lighter, such as watching a comedy routine, riding a roller coaster or making a sandcastle at the beach.
We need both kinds of joy in and throughout our lives. In fact, research has shown that laughter therapy is good for the general health of seniors, and that joy is linked to a long life. A University College London study found that older people were up to 35% less likely to die during a five-year period if they reported feelings of happiness, excitement and contentment on a typical day.
---
Joy is good for our elders, which is probably why a video of older folks being dragged around on inner tubes like children has gone viral.
The video was shared on Facebook by the StoryPoint Saline Retirement & Assisted Living Facility, and it's just sheer delight.
It appears the inner tube was secured to the top of a rolling platform, which allowed it to be pulled easily around on the hard floor.
And the elderly folks weren't the only ones who got in on the fun. The younger employees and/or volunteers also took turns being flung around.
People loved the video and the joy it clearly brought the residents.
"I'm sure they all loved this and it probably took them back to their childhood day's of fun in the outdoors," wrote one commenter. "Such a wonderful time to share with these residents…laughter is the best medicine."
"Those folks looked so happy and probably had a feeling of being a kid again even if just for that moment and time," wrote another. "Everyone deserves to remember how good it felt as kids again. Kudos to who put this in motion and did it!!"
"That's absolutely brilliant," wrote another. "It's beautiful seeing them so happy and enjoying themselves, just love it!!!"
"Omg love the excitement and happiness on everyone's faces........looks like everyone had a blast!!!!!!" wrote another. "Who wouldn't want to live at this senior's community?"
Indeed, most of us would appreciate living in a community that showed this much care and was this much fun in our golden years. While not every elderly person would physically be able to do this, many would—and what a great way to safely bring some thrills into these residents' lives and some childlike happiness to their hearts.
And as an added bonus, we get to see it and share in their joy too. Nothing but smiles all around.