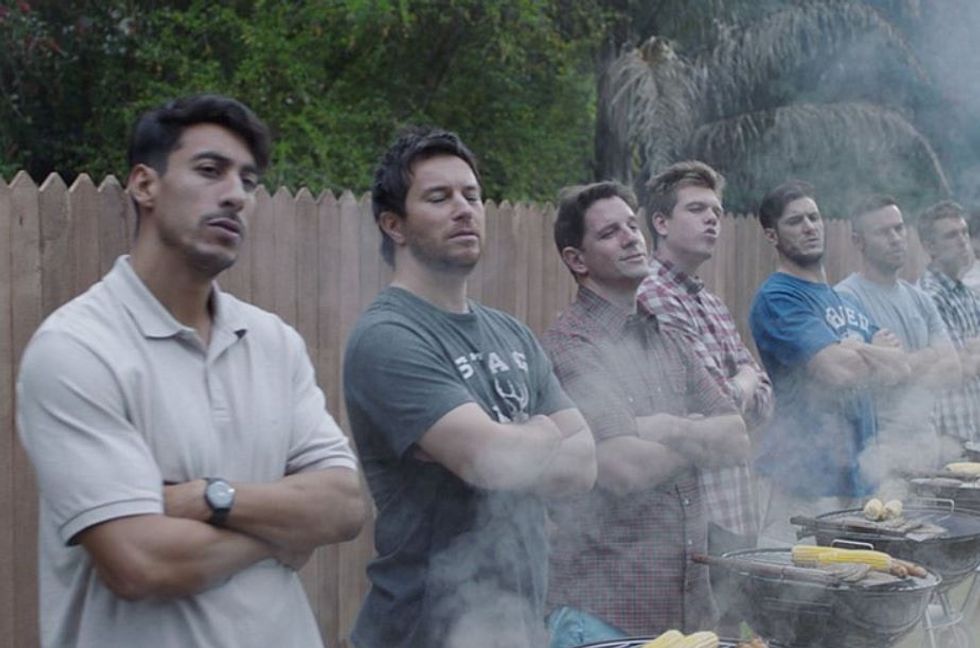 (Ad photo via Procter & Gamble Co.)
The social media outrage index isn't a very accurate way judging how everyday Americans feel about events in the news.
Social media platforms, like Twitter and Facebook, are great places for the most closed-minded, opinionated, thin-skinned, and angriest among us to vent their frustrations.
But, while those people are foaming at the mouth, most people are going about their day, worrying about making ends meet and thinking about how to care for their families and friends.
---
They're probably happier, too.
If you were on Twitter in the weeks before the Super Bowl you probably would have thought conservatives everywhere were irate over the "controversial" Gillette "Best Men Can Be" advertisement.
The nearly two-minute digital ad opens with a montage of news reports on bullying, #MeToo, and toxic masculinity and then frames the current moment as a turning point in which men can choose to be better while still being men.
It seems these folks incorrectly conflated the term "toxic masculinity" to mean "masculinity as a whole" and started #gilletteboycott. Here's a nice explainer on toxic masculinity for those unfamiliar with the term.
Hey @Gillette, I have an idea, stay out of politics. Real men already stop other guys from acting badly. A razor… https://t.co/3zlhrbpV7N

— Joe Pags Pagliarulo (@Joe Pags Pagliarulo)1547516746.0
Just need my razor supplier to sell me razors, not lecture me on being a man #GilletteAd #gilletteboycott #Gillette https://t.co/cbhYjuz7BM

— Randy Stewart (@Randy Stewart)1548818724.0
My #gillette razors in the garbage. #GilletteAd #gilletteboycott @RealJamesWoods @charliekirk11 @larryelder… https://t.co/GEboYqEWGQ

— Michael Peterson (@Michael Peterson)1549206859.0
However, all that hollering on social media wasn't indicative of how the average American thought about Gillette after seeing the ad. In fact, studies show that Americans are smart enough to know the difference between toxic masculinity and masculinity in-general and liked the ad.
Before watching the ad, 42% of consumers said they agreed Gillette "shared their values." After watching, that figure increased to 71%.
65% said the ad made them more or much more likely to purchase Gillette.
84% of women and 77% of men responded positively or neutral to the campaign.
Ace Metrix, an advertising analytics firm, conducted a study and came up with similar results:
65% of viewers indicated the Gillette ad made them more/much more likely to purchase from the brand.
66% rated the message to be the single best thing about the ad.
Only 8% of viewers were turned off, reporting they were less/much less likely to purchase after watching the ad.
"These results suggest that (once again) the naysayers on social media do not necessarily represent the majority opinion," Ace Metrix wrote, "and that consumers overwhelmingly support and applaud the messaging in Gillette's new 'The Best Men Can Be' creative."
To look at things from a business perspective, Gillette is a brand worth over $17 billion, it obviously did its research before releasing an ad that may turn off some consumers.
The brand has been facing stiff competition from brands like Harry's and Dollar Shave Club, so the ad was a great way to appeal to younger shavers — customers the brand hopes to win over for life. To do so, the brand took the risk of offending some older, more conservative consumers, who present less lifetime value to the brand.
In the end, a razor is just a razor, but by attaching values to its product and taking a side in the culture wars, Gillette believes it can sell more razors because they know people want more than just a close shave, but an identity, too.