It's amazing what an extra chromosome can do.
Humans typically have 23 pairs of them, but some people have 22 matched pairs and a set of three. That genetic sequence often leads to Down syndrome. While medical books call this phenomenon "trisomy," parents usually prefer the term "miracle."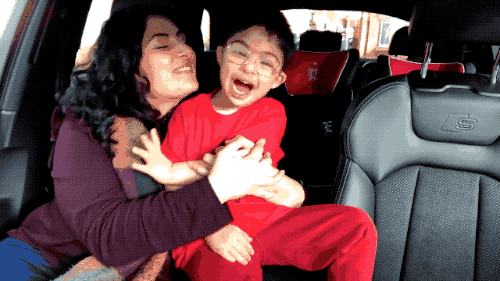 All GIFs via Wouldn't Change a Thing/YouTube.
<h2>That's probably why 50 different mothers and their children with Down syndrome joined forces to celebrate World Down Syndrome Day. </h2><p>The families each lip-synced and signed along to Christina Perri's hit ballad "A Thousand Years." </p><p><strong><em>"I have died everyday, waiting for you."</em></strong></p><p class="shortcode-media shortcode-media-rebelmouse-image"><img type="lazy-image" data-runner-src="https://assets.rebelmouse.io/eyJhbGciOiJIUzI1NiIsInR5cCI6IkpXVCJ9.eyJpbWFnZSI6Imh0dHBzOi8vYXNzZXRzLnJibC5tcy8xOTUzNDEyNC9vcmlnaW4uZ2lmIiwiZXhwaXJlc19hdCI6MTYyMjQ5MjAwMX0.a_gXu0r4-nj2-VYYeCCe26FBPAxEj7NkBHX5pLvJKoU/img.gif?width=980" id="19f53" class="rm-shortcode" data-rm-shortcode-id="82c40582fe1b41279b36789487310719" data-rm-shortcode-name="rebelmouse-image"><small class="image-media media-caption" placeholder="add caption..."></small></p><p><strong><em>"Darling, don't be afraid."</em></strong></p><p class="shortcode-media shortcode-media-rebelmouse-image"><img type="lazy-image" data-runner-src="https://assets.rebelmouse.io/eyJhbGciOiJIUzI1NiIsInR5cCI6IkpXVCJ9.eyJpbWFnZSI6Imh0dHBzOi8vYXNzZXRzLnJibC5tcy8xOTUzNDEyNS9vcmlnaW4uZ2lmIiwiZXhwaXJlc19hdCI6MTYxODI1MTI3OH0.RwsdyeN3ijEmjetMR6mb6dJWbSXHrUY_iSioievREFU/img.gif?width=980" id="7b36d" class="rm-shortcode" data-rm-shortcode-id="a1ee0f1a7f1444caaae75c54398dc179" data-rm-shortcode-name="rebelmouse-image"><small class="image-media media-caption" placeholder="add caption..."></small></p><p><strong><em>"I have loved you for a thousand years."</em></strong></p><p class="shortcode-media shortcode-media-rebelmouse-image"><img type="lazy-image" data-runner-src="https://assets.rebelmouse.io/eyJhbGciOiJIUzI1NiIsInR5cCI6IkpXVCJ9.eyJpbWFnZSI6Imh0dHBzOi8vYXNzZXRzLnJibC5tcy8xOTUzNDEyNi9vcmlnaW4uZ2lmIiwiZXhwaXJlc19hdCI6MTY0ODUxOTE2Nn0.hHowe4HkqE5uekDeil2J_SwU2lgw-23YoAw5iGcuSg0/img.gif?width=980" id="0772c" class="rm-shortcode" data-rm-shortcode-id="90a7dd218de6fa34949aeaeebe2e0cb5" data-rm-shortcode-name="rebelmouse-image"><small class="image-media media-caption" placeholder="add caption..."></small></p><p><strong><em>"I'll love you for a thousand more."</em></strong></p><p class="shortcode-media shortcode-media-rebelmouse-image"><img type="lazy-image" data-runner-src="https://assets.rebelmouse.io/eyJhbGciOiJIUzI1NiIsInR5cCI6IkpXVCJ9.eyJpbWFnZSI6Imh0dHBzOi8vYXNzZXRzLnJibC5tcy8xOTUzNDEyNy9vcmlnaW4uZ2lmIiwiZXhwaXJlc19hdCI6MTY2MjE2NTY0OX0.RDiaZVClTYZHHHN_fRPvJL6meSX7ZzSdUk_g3IJ6gNw/img.gif?width=980" id="2a24b" class="rm-shortcode" data-rm-shortcode-id="758eb8490b1df5fd07368e9feff5d80f" data-rm-shortcode-name="rebelmouse-image"><small class="image-media media-caption" placeholder="add caption..."></small></p><p>The parents met as part of Designer Genes, a Facebook group for parents who have a child with Down syndrome born in 2013 or 2014. (There are several<a href="https://www.facebook.com/search/groups/?q=designer%20genes" target="_blank"> different digital chapters</a> of the group online.) </p><p>Each parent recorded a video in the car, a send-up to the popular <a href="https://www.youtube.com/playlist?list=PLZ1f3amS4y1ffYEhGZDtawaEyRQQu69Bw" target="_blank">Carpool Karaoke </a>segment on "The Late Late Show With James Corden." The pieces were edited together to create a heartwarming music video, capturing the beautiful, happy, and perfectly ordinary lives these families lead. </p><h2>The signs they're using in the video aren't American or British Sign Language, but <a href="https://www.makaton.org/" target="_blank">Makaton</a>. </h2><p>Makaton is a language program that employs hand signs and written symbols to help people of all ages communicate. Unlike traditional sign language, the symbols and signs are used in spoken word order. It's a flexible system and can be adapted across different languages and cultures. <a href="https://www.makaton.org/aboutMakaton/" target="_blank">More than 100,000 people </a>currently use the language, with many starting as children and phasing it out when they develop speech while others continue to use Makaton into adulthood. </p><p class="shortcode-media shortcode-media-rebelmouse-image"><img type="lazy-image" data-runner-src="https://assets.rebelmouse.io/eyJhbGciOiJIUzI1NiIsInR5cCI6IkpXVCJ9.eyJpbWFnZSI6Imh0dHBzOi8vYXNzZXRzLnJibC5tcy8xOTUzNDEyOC9vcmlnaW4uZ2lmIiwiZXhwaXJlc19hdCI6MTYxMDM5MzgyNH0.KvMyhtPJ140rDbpYZ35u6MDXV4rZM0_rkFVMR7vQggk/img.gif?width=980" id="a9e75" class="rm-shortcode" data-rm-shortcode-id="ba029ab43badaba6945bc9b12bc5270c" data-rm-shortcode-name="rebelmouse-image"><small class="image-media media-caption" placeholder="add caption..."></small></p><p>The video was inspired by <a href="https://singinghands.co.uk/" target="_blank">Singing Hands</a>, an organization in the U.K. that offers Makaton classes, videos, and songbooks. Singing Hands released their own version of "A Thousand Years," which inspired the moms of "Designer Genes" to put their compilation together in time for the annual <a href="https://worlddownsyndromeday.org/" target="_blank">World Down Syndrome Day</a> on March 21. </p><h2>That extra chromosome may seem like too much to handle or something to fear. But it's just the opposite. </h2><p>It's not something to shy away from. It's something to embrace, celebrate, take pride in, and love. With representation and visibility opportunities like this, these parents and families are telling the world and their kids that extra chromosome or no, they "<a href="http://www.wouldntchangeathing.org/" target="_blank">Wouldn't Change a Thing</a>."</p><h2><strong>Grab a tissue and enjoy the heartwarming video in full. </strong></h2><div><div data-card="youtube" data-reactroot=""><div><span style="display:block;position:relative;padding-top:56.25%;" class="rm-shortcode" data-rm-shortcode-id="42408aa1714c5f4dbc055f6c4faa5e1b"><iframe type="lazy-iframe" data-runner-src="https://www.youtube.com/embed/Biex1XR_mpo?rel=0" width="100%" height="auto" frameborder="0" scrolling="no" style="position:absolute;top:0;left:0;width:100%;height:100%;"></iframe></span></div></div></div>