Mike Pence said he plans to be in Kansas City, Missouri, on July 11 to boast about the GOP's tax law that largely benefits the 1%.
Photo by Chip Somodevilla/Getty Images.
Not so coincidentally, a "sausage fest" was planned to take place in Kansas City the same day — right across the street.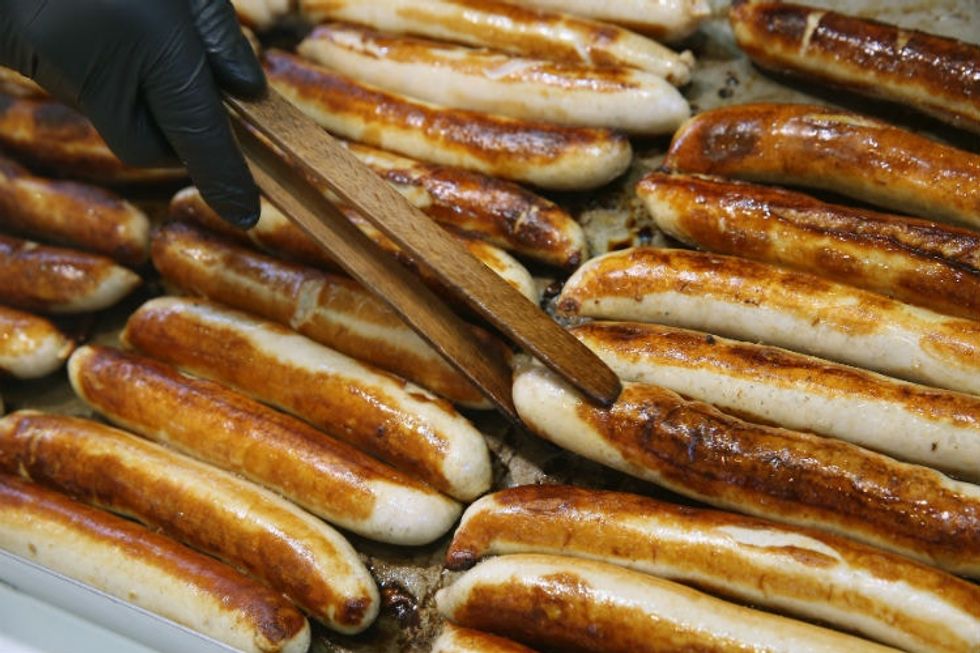 Photo by Sean Gallup/Getty Images.
<h2>Yeah, people are (literally) cooking up some good old-fashioned trolling of the vice president. </h2><p>Again.</p><p>Local radio station 96.5 The Buzz is throwing "The Mike Pence Sausage Fest" and giving away free hot dogs at Barney Allis Plaza — right across the street from the downtown Marriott hotel where Pence is scheduled to speak. </p><p>"Pence is no fan of the LGBTQ+ community," the station tweeted on July 9. "And we're no fan of his."</p><div id="ad5ef" class="rm-shortcode" data-rm-shortcode-id="K90C141559348454"><blockquote class="twitter-tweet twitter-custom-tweet" data-twitter-tweet-id="1016452644682989568" data-partner="rebelmouse"><div style="margin:1em 0">Mike Pence is coming to Kansas City this Wednesday. Pence is no fan of the LGBTQ+ community, and we're no fan of hi… https://t.co/1JqP6w8xAf</div> — 96.5 The Buzz (@96.5 The Buzz)<a href="https://twitter.com/965TheBuzz/statuses/1016452644682989568">1531176169.0</a></blockquote></div><h2>It's admittedly pretty fun to troll Pence when it comes to LGBTQ issues.</h2><p>Lots of others have done it. </p><p>His neighbor in Colorado hung a "<a href="https://www.theguardian.com/us-news/2017/dec/31/mike-pence-make-america-gay-again-sign" target="_blank">Make America Gay Again</a>" rainbow flag on a pillar near the VP's driveway in January. In March, John Oliver published a kids' book, "<a href="https://www.upworthy.com/john-oliver-is-selling-a-kids-book-about-mike-pence-s-rabbit-but-there-s-a-twist">A Day in the Life of Marlon Bundo</a>," telling the tale of Pence's supposedly gay rabbit (proceeds benefitted an LGBTQ nonprofit). </p><p>In January 2017, when then-vice-president-elect Pence was making the leap from Indiana to Washington, LGBTQ advocates threw a "<a href="http://time.com/4639152/mike-pence-queer-dance-party/" target="_blank">queer dance party</a>" outside his temporary residence near D.C. (I'm not sure what would be more fun: free hot dogs or a #Resistance block party?)  </p><div id="65af2" class="rm-shortcode" data-rm-shortcode-id="7NAQQK1559348455"><blockquote class="twitter-tweet twitter-custom-tweet" data-twitter-tweet-id="821883872350793733" data-partner="rebelmouse"><div style="margin:1em 0">Queer dance party outside Mike Pence's house https://t.co/sQvlha4uGW</div> — Discount Karate Champion (@Discount Karate Champion)<a href="https://twitter.com/CrappyMovies/statuses/821883872350793733">1484787359.0</a></blockquote></div><h2>Laughs aside, though, Pence's egregious history on queer issues is downright scary. </h2><p>At one point, Pence <a href="https://www.nytimes.com/2016/11/30/us/politics/mike-pence-and-conversion-therapy-a-history.html" target="_blank">supported gay conversion therapy</a> — a fact he wholeheartedly disputes to this day despite <a href="https://www.snopes.com/fact-check/mike-pence-supported-gay-conversion-therapy/" target="_blank">evidence</a> to the contrary. </p><p>As governor, Pence effectively legalized discrimination against LGBTQ patrons in Indiana businesses with his <a href="https://www.indystar.com/story/news/2018/04/25/rfra-indiana-why-law-signed-mike-pence-so-controversial/546411002/" target="_blank">religious freedom law.</a> (Backlash to the draconian legislation was so swift, Pence was forced to carve out an amendment clarifying that the law couldn't be used to target the LGBTQ community.)</p><p>In the past, he's <a href="http://www.indems.org/a-timeline-of-mike-pences-discrimination-against-the-lgbt-community/" target="_blank">fought marriage equality</a>, criticized the repeal of "<a href="http://time.com/4406337/mike-pence-gay-rights-lgbt-religious-freedom/" target="_blank">Don't Ask, Don't Tell</a>," and <a href="https://fox59.com/2016/05/13/indiana-schools-react-to-obama-administrations-directive-on-transgender-access-to-school-bathrooms/" target="_blank">slammed the Obama administration</a> for passing guidelines to protect transgender students in school. </p><p>For LGBTQ people and their allies, Pence may be the perfect motivation to throw a sausage fest — but he's still nothing short of a nightmare.</p><p><em>Learn more about and support LGBTQ groups — like <a href="https://www.glsen.org/" target="_blank">GLSEN</a>, <a href="https://www.lambdalegal.org/" target="_blank">Lambda Legal</a>, <a href="https://www.hrc.org/" target="_blank">The Human Rights Campaign</a>, <a href="https://www.glaad.org/" target="_blank">GLAAD</a>, <a href="https://www.thetrevorproject.org/" target="_blank">The Trevor Project</a>, and <a href="https://www.diversitybestpractices.com/news-articles/22-lgbt-organizations-you-need-know" target="_blank">others</a> — fighting back against the Trump-Pence administration's attacks on queer people and protecting those who are most vulnerable along the way.</em></p>