Most Shared
The SI Sportsperson of the Year doesn't disappoint.
Serena Williams is a badass. This is a well-established fact.
And 2015 has been a pretty amazing year for her. She won three Grand Slam titles, shut down body-shamers, pushed back against pushy reporters, got some major praise from one of tennis' greats, struck a powerful pose in a world-famous calendar, and deservedly took home Sports Illustrated's Sportsperson of the Year award.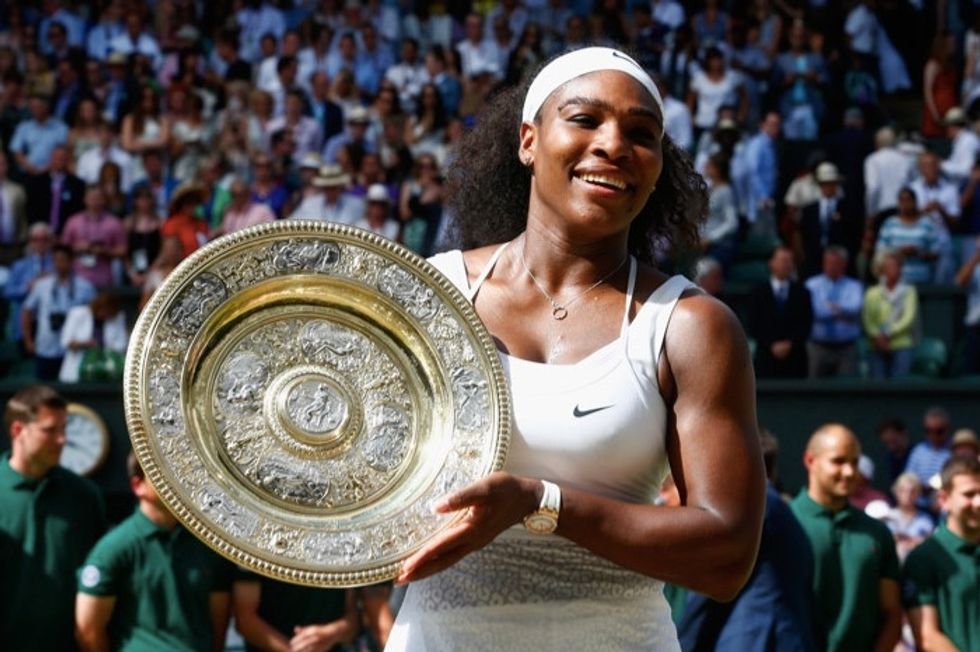 <p class="image-caption">Photo by Julian Finney/Getty Images.<br></p><h2>On Tuesday, Dec. 15, 2015, she gave one powerhouse of a speech at the Sportsperson of the Year awards ceremony.</h2><p>It's the type of speech that'll inspire you to get up and start checking things off that long-neglected to-do list. It's the type of speech that sounds like it belongs in a commercial for something ungodly expensive. It's the type of speech that'll make you want to <em>be a better you</em>.</p><p>It's the type of speech that stresses the message that yes, sometimes things in life are stacked against you, but no, that doesn't mean you're doomed to failure. You, like Serena, can overcome.</p><p><img type="lazy-image" data-runner-src="https://assets.rebelmouse.io/eyJhbGciOiJIUzI1NiIsInR5cCI6IkpXVCJ9.eyJpbWFnZSI6Imh0dHBzOi8vYXNzZXRzLnJibC5tcy8xOTQ3MjYyNC9vcmlnaW4uZ2lmIiwiZXhwaXJlc19hdCI6MTYyMDgzMjQwN30.cU_En6A7az6Nc_kA_JFkff2z-nmu8BwzdBXa0tIDOFU/img.gif?width=980" id="722b5" class="rm-shortcode" data-rm-shortcode-id="f83320b5eebc0db1c113ac1ced3d25e0" data-rm-shortcode-name="rebelmouse-image"></p><p class="image-caption">GIFs from Sports Illustrated.</p><h2>She's faced criticism for her looks, her gender, and her race — but she won't stand for it.</h2><p>Earlier this year, <a href="http://www.nytimes.com/2015/07/11/sports/tennis/tenniss-top-women-balance-body-image-with-quest-for-success.html?smid=tw-nytimes" target="_blank">The New York Times</a> published an article focused on her looks.</p><p>And, not only that, some interviewed in the article even suggested that Williams, a very muscular 5'9", was somehow less a woman as a result of how she looks.</p><p><img class="tweet-placeholder" data-content="Serena Williams has a muscular frame. Her rivals choose not to emulate her physique http://t.co/IecMzg4AwV pic.twitter.com/gEGHd3NI3z— The New York Times (@nytimes) July 10, 2015" data-tweet="https://twitter.com/nytimes/status/619643546472194048" src="/assets/tweet-placeholder.png"><br></p><p><strong>In her speech, she had a few things to say about that and about criticism she's received because she is a black woman.</strong></p><p><img type="lazy-image" data-runner-src="https://assets.rebelmouse.io/eyJhbGciOiJIUzI1NiIsInR5cCI6IkpXVCJ9.eyJpbWFnZSI6Imh0dHBzOi8vYXNzZXRzLnJibC5tcy8xOTQ3MjYyNS9vcmlnaW4uZ2lmIiwiZXhwaXJlc19hdCI6MTYyNzk0MzkyOH0.oqgzaVxqwtr7biiXoVd_xP5ivqUj5St90A9nuONPBdU/img.gif?width=980" id="72320" class="rm-shortcode" data-rm-shortcode-id="e9db6192672416799ebaa313c39c5632" data-rm-shortcode-name="rebelmouse-image"><br></p><p><img type="lazy-image" data-runner-src="https://assets.rebelmouse.io/eyJhbGciOiJIUzI1NiIsInR5cCI6IkpXVCJ9.eyJpbWFnZSI6Imh0dHBzOi8vYXNzZXRzLnJibC5tcy8xOTQ3MjYyNi9vcmlnaW4uZ2lmIiwiZXhwaXJlc19hdCI6MTYzNDY0NTAwMH0.2LB706uK2FxteU24ZLfrw4mW4xQgfMvucFKGYRnO7Ew/img.gif?width=980" id="ded49" class="rm-shortcode" data-rm-shortcode-id="b9f60408939dd12368c70531716140bf" data-rm-shortcode-name="rebelmouse-image"></p><p><img type="lazy-image" data-runner-src="https://assets.rebelmouse.io/eyJhbGciOiJIUzI1NiIsInR5cCI6IkpXVCJ9.eyJpbWFnZSI6Imh0dHBzOi8vYXNzZXRzLnJibC5tcy8xOTQ3MjYyNy9vcmlnaW4uZ2lmIiwiZXhwaXJlc19hdCI6MTYwNDk2ODU1MX0.RD1PjmZFe18vrgOjExWcIJoyiOzFaLGh-t4IIcFLOrM/img.gif?width=980" id="e81d9" class="rm-shortcode" data-rm-shortcode-id="a1e3782d37a074f56dfac971e39f899e" data-rm-shortcode-name="rebelmouse-image"></p><h2>She shut down doubters who underestimated her resolve and declared her career done-and-over years ago.</h2><p>She's won <a href="http://espn.go.com/espnw/news-commentary/slideshow/13239037/rewinding-all-21-serena-williams-grand-slam-titles" target="_blank">21 Grand Slam titles</a> over 16 years (and she's quick to remind us all that she's not done). And at 34 years old — ancient in professional athlete years — she's still crushing the competition. Just three titles away from tying the all-time record, she's got a shot.</p><p><img type="lazy-image" data-runner-src="https://assets.rebelmouse.io/eyJhbGciOiJIUzI1NiIsInR5cCI6IkpXVCJ9.eyJpbWFnZSI6Imh0dHBzOi8vYXNzZXRzLnJibC5tcy8xOTQ3MjYyOC9vcmlnaW4uZ2lmIiwiZXhwaXJlc19hdCI6MTYwMDY4ODkxOH0.UkE0S-BpS_tY2Tlj4BqFoY5t5s064lJ3REeyaRxiS7g/img.gif?width=980" id="216ea" class="rm-shortcode" data-rm-shortcode-id="4706793a9c93ea523ef8a23aa7495bc8" data-rm-shortcode-name="rebelmouse-image"></p><p><img type="lazy-image" data-runner-src="https://assets.rebelmouse.io/eyJhbGciOiJIUzI1NiIsInR5cCI6IkpXVCJ9.eyJpbWFnZSI6Imh0dHBzOi8vYXNzZXRzLnJibC5tcy8xOTQ3MjYzMC9vcmlnaW4uZ2lmIiwiZXhwaXJlc19hdCI6MTY0MjUzMzk5N30.LokICiSgZXgdYFX1Lb8FWAS9gcI9sSwuzdDvLYxyLUM/img.gif?width=980" id="d4809" class="rm-shortcode" data-rm-shortcode-id="304f8c1457d9a154cac3e39b0fef55a4" data-rm-shortcode-name="rebelmouse-image"></p><h2>But perhaps the best part of Williams speech was her reading of Maya Angelou's "Still I Rise."</h2><p>It's a powerful poem about overcoming society's expectations, about pushing back against oppression and succeeding in a world that wants nothing more than to see a black woman fail. The full poem, as read by Maya Angelou, can be found <a href="https://www.youtube.com/watch?v=JqOqo50LSZ0" target="_blank">here</a>.</p><span style="display:block;position:relative;padding-top:56.25%;" class="rm-shortcode" data-rm-shortcode-id="7f8b22d13bcc5fc4e5f76994b510eece"><iframe type="lazy-iframe" data-runner-src="https://www.youtube.com/embed/I9eoPS1Rzug?rel=0" width="100%" height="auto" frameborder="0" scrolling="no" style="position:absolute;top:0;left:0;width:100%;height:100%;"></iframe></span><p><span></span></p>