via Trip Advisor
For business owners, reviews on social media platforms such as Yelp!, Google or TripAdvisor are both a blessing and a curse.
They provide amazing social proof for prospective customers that show you're providing a great service, tasty food or manufacture high-quality products.
However, online reviewers can be picky or downright dishonest. Getting a negative review taken down on most of these social media platforms is difficult and in some instances impossible. One bad review can turn off countless potential customers costing business owners countless dollars.
A cafe owner in Stockport, England, a city just south of Manchester, fought back against a one-star review with a dash of humor and self-deprecation and it brought his business a ton of attention.
It all started with a TripAdvisor review knocking the Nook Neighbourhood Café for its "tepid" and "undercooked" porridge. The customer claims to have asked for three servings before eventually giving up.
(For the uninitiated, porridge is a hot breakfast cereal made from starchy grains similar to oatmeal.)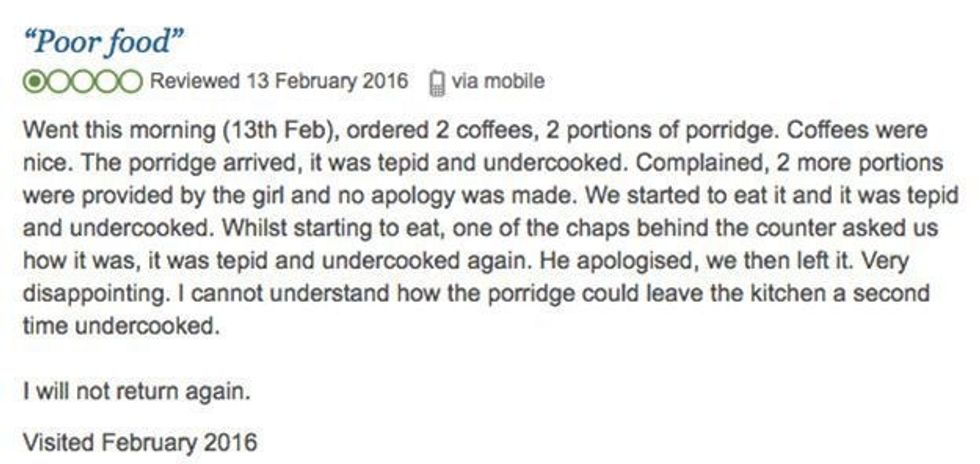 via Trip Advisor
"The lady's comment was quite disappointing because we try to provide the best service at all times," Arlo Calderbank, the café's manager, told Manchester Evening News. "Seeing the comment pop up on TripAdvisor was a bit of a shame."

He was also miffed because the review was dishonest.
"I was working when the lady complained," he continued. "I remember her face. She wasn't particularly happy, she had a bit of a grumble and we gave her a refund. The next thing there was a nasty comment left on TripAdvisor."
So Calderbank decided to turn cold porridge into gold by creating a funny street sign that references the review in a tongue-and-cheek manner. "Come in & try the worst porridge that one woman on TripAdvisor had in her life."
A passersby took a photo of the sign and posted it to Instagram and it quickly went viral. Calderbank and his fellow employees were shocked by the public's reaction.

"I'm gobsmacked about the amount of shares and reaction the sign has had on social media," he said. "I do like the little quirky drawings the staff sometimes do, but so far this one has beaten them all for reaction. All the staff are gobsmacked about it too."

The post got some funny responses as well.

via Justinmoorhouse / Instagram
Even though his café got slammed on TripAdvisor, Calderbank still belives that online feedback is valuable for the business. "I check what's being said on there every day," he said. "We do genuinely take all comments seriously. It's really useful to see what the customers have been saying and to take on board feedback."
Running a business means dealing with the public, which can be tricky, especially in the age of social media. But great customer service is all about knowing that bad things are bound to happen and knowing how to handle them the best way possible.
And for that, Calderbank deserves "5 stars — will recommend."